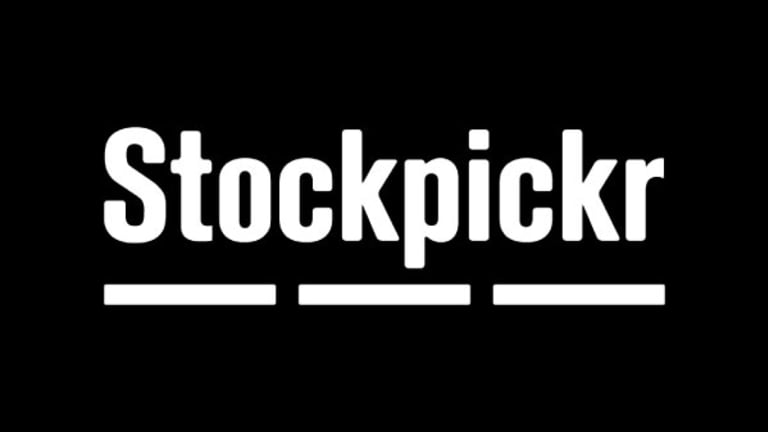 Publish date:
Dividend Preview: 4 Stocks Ready to Pay You More
These dividend stocks look poised to hike their payouts to shareholders soon.
These dividend stocks look poised to hike their payouts to shareholders soon.
BALTIMORE (Stockpickr) -- With conspicuous new all-time highs in the S&P 500 this week, you'd be forgiven for forgetting about dividend stocks. After all, it's easy to forget about the 1.9% annual yield in the S&P, when the big index is above 2,000 for the first time, and up 8.3% year-to-date.
But if you ignore the dividends for too long, you're leaving a lot of money on the table.
That's because, relative to near-zero interest rates, dividend payouts in the S&P 500 are currently higher than they've been in decades. And they're getting higher. In the last year, S&P components have put their record $1.53 trillion in corporate cash to work, ratcheting total dividend payouts by 15%.
All of that adds up. In total, dividends have contributed almost 20% of the S&P's total returns in 2014 (that's a number that's magnified even more when stocks aren't in rally mode). According to research from Wharton Professor Jeremy Siegel, reinvested dividends account for as much as 97% of total long-term market performance. Better yet, dividends even impact how big your capital gains are. Data from Ned Davis Research reveals that, over the last 36 years, dividend stocks have outperformed the rest of the S&P 500 by 2.5% annually, and they outperformed nonpayers by nearly 8% every year, all while paying out cash to their shareholders.
But to find the biggest gains, it's not enough to simply buy names with big payouts today. You've got to think about what they'll be paying tomorrow too. So instead of chasing yield, we'll try to step in front of the next round of stock payout hikes .
For our purposes, that "crystal ball" is composed of a few factors: namely a solid balance sheet, low payout ratio and a history of dividend hikes. While those items don't guarantee dividend announcements in the next month or three, they do dramatically increase the odds that management will hike their cash payouts to shareholders.
Without further ado, here's a look at five stocks that could be about to increase their dividend payments in the next quarter.
Lockheed Martin
First on our list is Lockheed Martin (LMT) - Get Report , the $56 billion defense contractor. Lockheed has shown investors some stellar performance in 2014, rallying close to 19% since the calendar flipped to January, but that number doesn't tell the whole story. LMT's dividend tacks on another 3.01% on an annual basis, thanks to a hefty $1.33 quarterly payout. Now, after four straight quarters of static dividends, that payout looks ready to rise in the next quarter.
Lockheed Martin is the biggest of the defense contractors, and that's a good business if you can get it. The firm supplies Uncle Sam with everything from fighter jets to IT services, diversification that Lockheed has worked hard at as the threat of potential budgetary cuts started looming a few years ago. An abundance of mission-critical contracts means that the Department of Defense is locked into paying Lockheed regardless of political shifts on Capitol Hill. Lockheed has also been approved to sell to our allies, opening important new markets, especially as geopolitical tension escalates in 2014.
From a financial standpoint, LMT is in fighting shape. The firm currently carries more than $3.4 billion in cash on its balance sheet, largely offsetting a $6.2 billion debt load. Deep net margins leave plenty of room for a dividend increase on Lockheed's income statement in the coming quarter. Look for a potential announcement a month from now.
Kraft Foods Group
Kraft Foods Group (KRFT) has done a good job of keeping pace with the rest of the S&P 500 in 2014 -- until you factor in dividends, that is. Kraft's 3.6% dividend yield pulls this food and beverage maker squarely ahead of the broad market. And a dividend hike could put more space in between KRFT and similar-sized peers.
Kraft Foods owns a valuable collection of household name brands ranging from Kraft and Oscar Mayer to Maxwell House, Jello-O and Kool-Aid. All told, the firm's brands can be found in an estimated 98% of Americans' pantries, making it absolutely massive in scale. While the business is a little less exciting following the spin off of snack foods unit Mondelez International (MDLZ) - Get Report back in 2012, it's hard to argue with the stable cash generation capabilities left in legacy Kraft right now. That's especially true in today's ultra-low interest rate environment.
Last quarter, Kraft converted ten cents out of every sales dollar into profits, a fat net margin compared to other names in the food business. KRFT has paid out a 52.5-cent dividend for the last four straight quarters. Investors are due for a raise in the third quarter.
Sysco
Sysco (SYY) - Get Report is another food stock that's looking likely to boost its high-yield dividend payout in the coming quarter. Right now, Sysco shells out a 29-cent dividend check for investors each quarter, a number that adds up to a 3.06% dividend payout based on current price levels. If history is any indication, I'd expect to see a dividend hike in the middle of November.
Even though Sysco is another food stock, its business doesn't get much more different than Kraft's. Unlike KRFT, Sysco doesn't sell directly to consumers. Instead, the firm's foods are served at more than 425,000 restaurants, hotels and institutional dining facilities worldwide. By relying on a distributor like Sysco, restaurants get a one-stop vendor for their ingredients, as well as a resource for add-on services like menu analysis that can save costs. Right now, Sysco tips the scales as the world's biggest commercial food distributor -- and a pending $8.2 billion merger with US Foods would increase Sysco's scale advantages even more.
It's not just the fundamentals that bode well for Sysco right now. Shares have a solid technical trajectory in August as well, pressing up against new multi-year closing highs in the last several sessions. For income-seekers looking for a cost-basis above 3%, now looks like a good time to jump on SYY.
Seagate Technology
Technology stocks don't typically get the credit they're due for their "income stock" status, but computer storage leader Seagate Technology (STX) - Get Report has done a good job of proving that momentum and yield aren't mutually exclusive. Since the tech sector bottomed at the beginning of May, this name is up more than 23%, but in spite of that run higher, shares still yield 2.8% in cold, hard cash at current levels.
Seagate is one of the world's largest hard drive makers. The firm earns more than 95% of revenues from its legacy hard drive business, where the firm was a pioneer in installed storage. But more recently, Seagate has been moving forward with new product offerings like solid-state drives and hybrid drives, which provide faster speeds and smaller form factors in exchange for a higher cost. As the newer tech comes down in price, it's taking share from traditional hard drives, particularly in enterprise deployments where network administrators are working hard to remove bandwidth bottlenecks. That shift makes STX's big investments in solid-state technology all the more critical in 2014.
Because Seagate generates around 70% of its revenue by selling storage directly to original equipment manufacturers, the firm is able to stay ahead on industry trends and avoid the high costs of a bigger consumer business. And while profitability should continue to erode for legacy drives, SSDs offer the promise of fat margins for years to come. That fact, coupled with a balance sheet that's nearly debt-neutral, makes a dividend boost look likely in the next quarter.
For now STX pays out a 43-cent quarterly check to investor.
TD Ameritrade Holdings
Finally, a confluence of factors are looking bullish for investors in shares of online brokerage firm TD Ameritrade (AMTD) - Get Report . That includes a dividend hike -- not counting a 50-cent special cash payout back in December, AMTD has paid out a 12-cent dividend for the last four quarters. Now we're looking for a dividend raise alongside earnings in late October.
Two big macro factors have been haranguing TD Ameritrade's earnings potential for the last few years: record low participation rates (squashing commission fees) and record low interest rates (reducing AMTD's float interest earnings). But those extremes look like they're finally abating after being priced into TD Ameritrade's shares as "business as usual." If either of those extremes reverses, investors could be in store for a much higher level of profitability in the years ahead. As this equity rally charges on, it should continue to raise AMTD's profitability.
Even after paying out a large special dividend at the end of last year, TD Ameritrade still sports a debt-neutral balance sheet. That lack of leverage means that as profits increase at this brokerage firm, so too should shareholders' yields. For now, AMTD's dividend adds up to 1.43% annually at current price levels.
To see these dividend plays in action, check out the at Dividend Stocks for the Week portfolio on Stockpickr.
-- Written by Jonas Elmerraji in Baltimore.
RELATED LINKS:
>>These 5 Toxic Stocks Could Be Poisoning Your Portfolio
>>5 Stocks Set to Soar on Bullish Earnings
>>4 Big Stocks on Traders' Radars
Follow Stockpickr on Twitter and become a fan on Facebook.
At the time of publication, author had no positions in the names mentioned. Jonas Elmerraji, CMT, is a senior market analyst at Agora Financial in Baltimore and a contributor to TheStreet. Before that, he managed a portfolio of stocks for an investment advisory returned 15% in 2008. He has been featured in Forbes , Investor's Business Daily, and on CNBC.com. Jonas holds a degree in financial economics from UMBC and the Chartered Market Technician designation. Follow Jonas on Twitter @JonasElmerraji