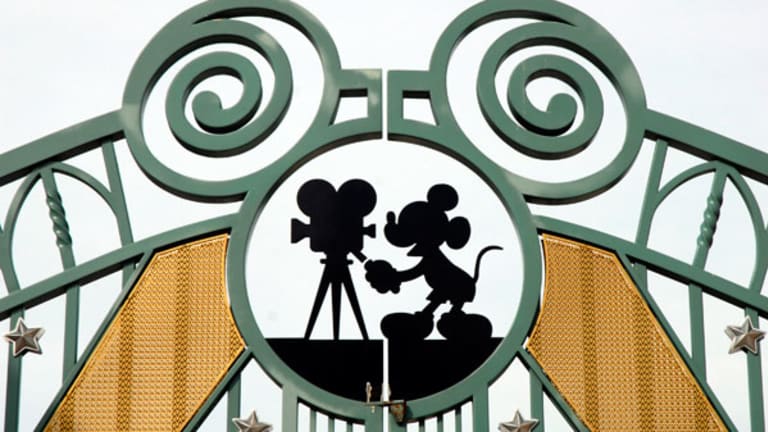 Disney's Wonderful World of Content
In a content dominated world, Disney's world dominates.
In a content dominated world, Disney's world dominates.
NEW YORK (TheStreet) -- In an entertainment-driven world, viewers have been flocking to whichever provider has the best movies and shows. As a result, we've seen drastic changes in home entertainment during the past several years.
Think about it. Ten years ago, the 150-pound, flat screen television was the coolest thing around. Now we have razor thin LCD and LED screens that weigh a couple dozen pounds, if that. We can rewind and record live television. Hell, we even have 3-D TVs in our living rooms now.
But tablet and TV producers aren't the only winners here. The popular slogan,
content is king
, refers to the companies that actually own the content. They can auction it off to content providers such as
Netflix
(NFLX) - Get Report
and
Amazon
(AMZN) - Get Report
in the form of lucrative licensing deals.
The content usually goes to the highest bidder, which is a definite win for content owners. Thus, content is king. Well, investors, look no further than
Disney
(DIS) - Get Report
, the entertainment kingpin.
Let's pretend that Disney isn't diversified with resorts, hotels and cruises for a minute. Let's only think about the company from a content perspective. In 2012, it had the third all-time best selling movie at the box office, with
The Avengers
. This year, Disney had
Iron Man 3
, which is currently fifth best all-time and still in theaters.
Fortunately,
The Avengers
will have a sequel, currently set for May 1, 2015. But Disney hasn't continually come up with great movies decade after decade. It would be rather difficult and nearly impossible to be that good for that long.
Also see: Can Brazil Teach the U.S. about Financial Literacy? >>
Instead, Disney's CEO Bob Iger is okay with spending money to make money. Sometimes this can be a bad thing, but with Iger, this is a great thing. The guy can buy. One of the first things he did when he became CEO of Disney was orchestrate a deal to acquire Pixar, which at the time was run by none other than, Steve Jobs.
Pixar has proved to be a money printing machine and if Disney didn't acquire it, they probably wouldn't be where they are today. Disney didn't stop there, acquiring Marvel in 2009 and Lucasfilm in 2012.
The Marvel takeover paid obvious dividends with the
Iron Man
trilogy and
The Avengers
having tremendous box office success. Marvel has plenty of gas left, with
Captain America
The Avengers 2
and
Man of Steel
(Superman) still left to debut.
The $4 billion deal for Lucasfilm was done for one obvious reason:
Star Wars
. Iger wanted to continue the saga and saw it as a huge opportunity, both on the big screen and on television, (don't forget, Disney runs the ABC network).
Although investors seemed skeptical at first about potentially overpaying, which was obvious in the price action after the deal was first announced, they seem to have faith in Iger. The first
Star Wars
film is due out in the summer of 2015.
Toss in the four movies Disney's Pixar division has planned between now and 2015 and you start to realize that there's lot of upside left.
Also don't forget Disney's deal with Netflix. Towards the end of 2012, it was
that Netflix would begin streaming the following Disney partners on their platform: Pixar Animation Studios, Marvel Studios, Walt Disney Animation Studios and Disneynature.
Also see: A 21st Century Les Miserables >>
While the financial terms were not disclosed, investors know that Disney received favorable terms if they dropped Starz for it. Let's put it this way, Disney didn't get the short end of the stick.
If content is king, then Disney has the castle.
-- Written by Bret Kenwell in Petoskey, Mich.
.
At the time of publication the author is long DIS.
Follow @traderboy23
This article is commentary by an independent contributor, separate from TheStreet's regular news coverage.
Bret Kenwell currently writes, blogs and also contributes to Rocco Pendola's Weekly Options Newsletter. Focuses on short- to intermediate-term trading opportunities that can be exposed via options. He prefers to use debit trades on momentum setups and credit trades on support/resistance setups. He also focuses on building long-term wealth by searching for consistent, quality dividend paying companies and long-term growth companies. He considers himself the surfer, not the wave, in relation to the market and himself. He has no allegiance to either the bull side or the bear side.