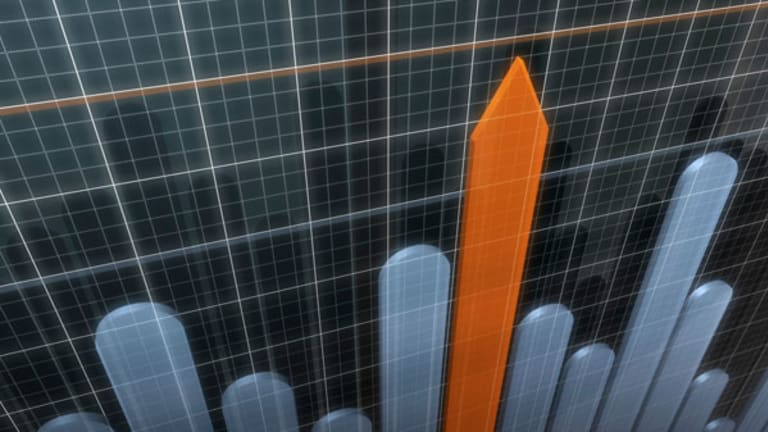 Disney's Big Character Test
Disney is proving owning instead of renting Pixar and Marvel characters can offer a big return.
NEW YORK (
) --
Disney's
(DIS) - Get Walt Disney Company Report
box office success with summer blockbusters
Brave
and
The Avengers
-- along with the opening of its
Cars Land
theme park -- may prove that the company's future growth lies beyond Mickey Mouse and with M&A.
In a media industry filled with bad mergers, broken synergy promises and assets that perform better independently, the success of Disney's Marvel and Pixar acquisitions should give investors reason to believe that they have uncovered a rare winning conglomerate formula, just as the company's stock hovers near all-time highs hit earlier in June.
The Avengers, from Walt Disney Studios
Over the weekend,
Brave
posted an estimated $66.7 million in box office receipts, proving that Pixar's first original movie concept since its $7 billion 2006 acquisition by Disney wouldn't flop as an unlucky 13th animated film after 12 previous openings stretching back to
Toy Story
topped the box offices. The weekend result, which is Disney-Pixar's fifth best ever opening weekend, is the latest positive data point in a series of tests to chief executive Robert Iger's belief that the media giant can use M&A to realize outsized revenue opportunities and synergies.
Earlier this summer
The Avengers
had a record opening, taking $207 million in box office receipts and grossing nearly $600 million domestically to date, according to
Box Office Mojo
.
In June, Disney also opened the gates to Cars Land - a theme park reincarnation of Pixar's
Cars
movies -- to thousands of diehard fans who spent a night waiting to get a chance to see 'Radiator Springs' and 'Lightning McQueen' in person.
In CEO Iger's plan, Disney can use its creative minds, parks, retail platform and media networks to make more money from owning Marvel and Pixar than either business could independently. To that end, Disney will push expected synergies, highlighted by the $1.1 billion put into updating its Disney California Adventure Park with a
Cars
theme.
Nevertheless, investors should remain skeptical, given that media competitors have attempted the same strategy and failed miserably.
From 2000 to 2009, the largest media conglomerates wrote down $200 billion in assets as a result of a bad acquisitions and misguided 'strategic' investments, according to
The Curse of the Mogul
, a sweeping study on why an overstretch of C-Suite ambition has destroyed shareholder value throughout the industry.
But it's not just Disney's recent Pixar and Marvel success that may give credence to Iger's plan to grow the conglomerate as others like
Time Warner
(TWX)
and
McGraw-Hill
(MHP)
shrink. Since acquiring Marvel in 2009 - a deal that was initially viewed skeptically -- Disney's shares have nearly doubled to $46.70.
In the last five years, the company's shares are up roughly 40% compared with a near 7% drop in the
Dow Jones Industrial Average
. Disney has also outperformed the broader market and peers like Time Warner,
News Corp.
(NWSA) - Get News Corporation Class A Report
and
Viacom
(VIA) - Get Via Renewables, Inc. Class A Report
year-to-date and in the past 12 months.
Shareholders now need to figure the root of Disney's outperformance to get a better sense of whether its conglomerate plans will work, or falter and cause shares to stagnate, as they did in the bull market between the dot-com bust and the financial crisis.
Ten years ago, media conglomerates bought up studios, Web startups, networks and retail stores in a failed effort to push intellectual property through a growing number of distribution platforms, says Peter Cuneo, a principal at media investment company Cuneo & Co. He blames failed cross-synergies on weak content, likening industry efforts to fueling a Ferrari with regular grade gasoline.
Previously, Cuneo headed a turnaround of Marvel as it emerged from bankruptcy in the late 1990s and early 2000s, and was vice chairman of the company when it was sold to Disney for $4 billion in 2009.
In experiencing Marvel's evolution into a factory for blockbuster movies, Cuneo cites the company's decision to use motion pictures to breathe new life into its comic book characters as a reason why Disney will now benefit from its ownership.
When Disney bought Marvel, Viacom's Paramount unit had distribution rights for
Iron Man
and other Marvel-inspired films. Meanwhile,
Sony
and
Twentieth Century Fox
hold the film rights to
Spider-Man
and
X-Men
films in perpetuity, meaning that Disney doesn't see an ownership benefit.
While
Spider-Man
and
X-Men
are ubiquitous characters and their on-screen success isn't surprising, Cuneo points out that Marvel's
Iron Man
movies revived an action hero that had vanished into obscurity, with a big studio and comic books payoff.
Disney will need to replicate that type of success with some of the thousands of lesser-known Marvel characters for its acquisition to truly be a blockbuster deal.
Since buying Marvel, Disney has paid a big price to pull some of its movies in-house. In 2010, Disney took back the distribution rights to
The Avengers
and
Iron Man 3
only after amending Paramount's previous agreement with Marvel for a minimum $115 million payment. In fact, in the hit launch of
The Avengers
, a movie concept that Cuneo says was underway prior to Disney's acquisition of Marvel,
Reuters
recently reported that Paramount still stands to collect 8% of the film's box office, DVD and Web-related revenue, citing unnamed sources.
While licensing arrangements on Marvel franchises underway prior its acquisition might shave some present revenue, CEO Iger intends to make big investments to exploit a full ownership of most future Marvel movies, park rides and merchandising opportunities.
Like with Disney's Pixar-inspired Cars Land, CEO Iger said on a recent conference call that the company expects to use Marvel characters to expand its theme parks, particularly in California, Europe and Asia, where it is currently completing a Shanghai Disney Resort. Meanwhile, Disney owns all current and future Marvel related retail revenues.
"
The box office is only one part of it. There are multiple opportunities to continue to mine this great set of characters," said CEO Iger of its Marvel unit and properties like
The Avengers
, in a May 8 earnings call. In particular, Iger pointed to Disney's integrated retail of Marvel characters and its "Imagineering" team's work to build Marvel-based attractions at many parks in the U.S. and internationally.
"In this case, one plus one equals three," says Cuneo, who notes that Marvel has expanded Disney's connection to a teenage and adult male audience that translates well in the U.S. and in key growth markets like Asia.
Of course, most of Disney's Pixar and Marvel movie-making, retail and theme park ambition could be realized without acquiring either company.
"There was never anything that stopped them, or anyone else, from building rides, movies, etc. around these characters on the basis of licenses," says Bruce Greenwald, a Columbia Business School professor and a co-author of
The Curse of the Mogul
. "This does not mean that it makes sense for them to have bought Marvel and Pixar for billions of dollars to achieve the same result," he adds.
In
The Curse
, the authors concluded that paying to own talent, international franchises and assets across disparate consumer media platforms is generally a hard to manage and loss-leading strategy. They highlight focused media companies like
Discovery Communications
(DISCA) - Get Discovery, Inc. Class A Report
, efficient operations like
McGraw-Hill
(MHP)
and businesses with a distinct, non-consumer competitive advantage like
Bloomberg
as far more valuable models.
Ava Seave, a co-author of
The Curse
and a principal at consultancy Quantum Media is skeptical of Disney's ability to gain added performance from Marvel or Pixar, relative to what either company could get independently. "You want to sell to everybody, whether you own it or not," says Seave, of a movie studios ability to gain pricing power in licensing content competitively to distributors. Still, she concedes that Disney has a record of finding and deploying talent.
Cuneo, the former Marvel CEO, believes Disney's ability to run Marvel and Pixar characters through its assets
is
its competitive advantage. Citing Disney's interest in bringing Marvel to theme parks, Cuneo says "to do this quickly would require capital that other entertainment companies don't have today." Cuneo doesn't currently own Disney shares.
"Disney's whole is greater than the sum of its parts," says Martin Pyykkonen, an analyst at Wedge Partners, who adds that Disney's broad base of characters gives it more segment-to-segment synergy than any other consumer media company. He expects that CEO Iger could use Marvel characters to bolster Disney's international presence. "It's much more germane to what Disney does."
The notion of synergy cuts against de-consolidation plans underway at
Dow Jones Industrial Average
giants like
Pfizer
(PFE) - Get Pfizer Inc. Report
,
ConocoPhillips
(COP) - Get ConocoPhillips Report
and
Kraft Foods
(KFT)
and a post-crisis shareholder focus on realizing the full value of assets across Corporate America. Still, some investors own Disney for the benefits of its scale.
"We like Disney's stock because of their ability to leverage various platforms to maximize their advertising revenues," says Robert Key, a portfolio manager at CCM Investment Advisers, which houses $2.5 billion in assets under management and held roughly $13 million of Disney shares, as of March 31.
While Pyykkonen and other analysts are confident Disney benefits from being a conglomerate, there's still reason for shareholders to question whether the company's magic will run cold.
Disney's Studio Entertainment unit posted a second quarter operating loss of $84 million in May on it sci-fi epic dud
John Carter
, which prompted the unit's head Rich Ross to step down. Even counting the success of
The Avengers
, Miller Tabak analyst David Joyce expects the division to post declining revenue in 2012, on the loss.
Meanwhile, as of fiscal 2011, over 30% of Disney's revenue and 40% of its operating income came from its cable networks, fueled by ESPN sports programming. But with costs to broadcast the NFL's Monday Night Football rising in 2014, among other sports programming price increases, ad rates at ESPN will need to rise just as fast for Disney to maintain margins at its single biggest profit center.
Because of spending for initiatives like Shanghai Disney and the uncertainty of future ESPN margins, Matthew Harrigan, an analyst at Wunderlich Securities says that Disney is expensive on a free cash flow basis. "Are we at peak margins for ESPN?" wonders Pyykkonen of Wedge Partners.
Those spending and future margin concerns underscore just how crucial it is for Disney to be correct in its assumptions on the benefits of owning Pixar and Marvel.
In Disney's May earnings call, Iger highlighted Marvel and emerging market joint ventures as keys to an international push, citing limited inroads for ESPN abroad. "
The opportunities for ESPN internationally I think are somewhat limited. That's not to say that they don't exist, but it's never going be a big part of ESPN's business," said Iger.
While Disney may be venturing in unchartered territory for a media conglomerate in proving the benefits integration, there's reason to believe that after replacing former CEO Michael Eisner with tremendous success, Iger could still get hit by the media mogul's curse.
Of the $200 billion in writedowns that media companies took between 2000 and 2009, the first paragraph of
The Curse
notes that those losses on M&A and spending pushes into new corners of the media world, "reflects the level of desperation among media moguls faced with new competitors, new technologies, and new customer demands."
For now, Disney investors may yet believe in its synergy magic, as they breathe a sigh of relief on a successful opening of
Brave
, one of Pixar's riskiest plotlines yet.
Meanwhile, Cuneo remains convinced that character-based intellectual property is a durable opportunity in media and entertainment. He and his son recently made a big investment in Valiant Entertainment, a company with 1,500 comic book characters, including
Bloodshot
, which sold movie rights to Columbia Pictures earlier in 2012.
-- Written by Antoine Gara in New York