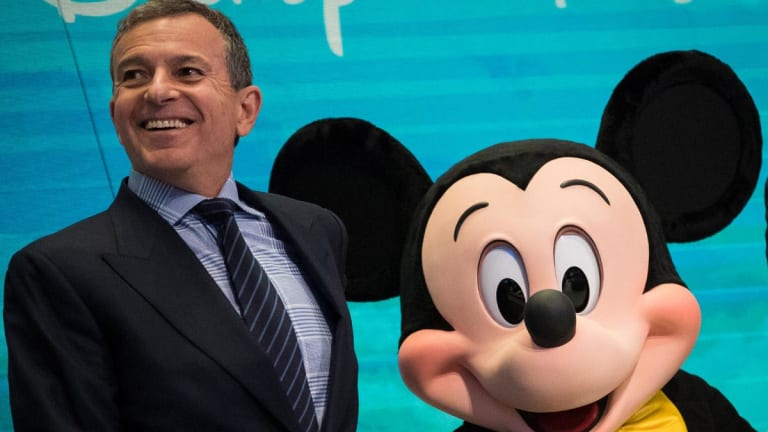 5 Noteworthy Things We Just Learned About Disney's Streaming Video Efforts
Among other things, the media giant signaled it wants to launch Hulu in more countries and provide discounts to consumers who sign up for multiple services.
Slowly but steadily, the details of Disney's (DIS) - Get The Walt Disney Company Report streaming strategy are coming into focus.
During Tuesday afternoon's earnings call, CEO Bob Iger and other execs made some noteworthy disclosures about the upcoming Disney+ service and the recently-launched ESPN+ service, as well as Disney's plans for Hulu after its planned acquisition of much of 21st Century Fox (FOXA) - Get Fox Corporation Report goes through and leaves it with a 60% stake Hulu stake. The remarks came ahead of Disney's April 11 investor day, where it plans to demo Disney+ and discuss its strategy for the service in detail.
Disney is the Stock of the Day on Real Money, our premium site for active investors. To see Real Money's extensive coverage of Disney, please click here.
As discussed in November, I think Disney's strategy could succeed in spite of the fact that few consumers hooked on Netflix (NFLX) - Get Netflix Inc. Report  and/or Amazon Prime (AMZN) - Get Amazon.com Inc. Report are likely to cancel. Disney's supporting of three streaming services that each target a different demographic, together with its content library, intellectual property and ability to potentially bundle non-streaming perks, leave it in a markedly better position to create a large direct-to-consumer (D2C) streaming business than most old media peers.
Check out Eric Jhonsa's new tech blog, Tech Check, on Real Money.
Here are some of the noteworthy things that Disney shared about its streaming efforts on Tuesday:
1. Disney Is Willing to License Some Third-Party Content to Enhance Disney+
Disney previously disclosed that Disney+ will -- after a licensing deal with Netflix expires at year's end -- be the exclusive streaming home for films created by its Disney, Pixar, Marvel and Lucasfilm studios, which will appear on the service after a theatrical release window. The company has also said that it will create original shows and movies specifically for Disney+ that rely on its IP assets.
When asked on the call whether Disney is also willing to license third-party content for Disney+, Iger said it is, but added the service's strategy will be "pretty heavily weighted" towards internally-developed content. He added that Disney is choosing to license some material in the short-term because the Fox deal hasn't yet closed, thus preventing Disney from leveraging Fox's studio output capabilities for now.
2. Disney Wants to Grow Hulu's International Footprint
When asked about Disney's plans for Hulu, which was estimated last summer to have an annual loss of around $1.5 billion, Iger insisted Disney wants Hulu to eventually be profitable. However, he also suggested this could take a while, since "at some point [Disney] will look more aggressively at some international rollouts of Hulu."
For the moment, Hulu is only available in the U.S. and Japan. Iger's remarks come a couple weeks after Hulu cut the price of its ad-supported service by $2 to $5.99 per month, albeit while leaving the price of its ad-free service at $11.99 per month.
3. Hulu Could Feature Original Content from Fox
As the Disney/Fox deal raises the risk that Hulu's minority owners (Comcast/NBCUniversal (CMCSA) - Get Comcast Corporation Class A Common Stock Report and AT&T/Time Warner (T) - Get AT&T Inc. Report ) will license less content for the service, Iger says there's an "ample opportunity" for Fox's FX Networks unit to "produce more programming and to leverage its relationships in the creative community and its ability to manage creativity, specifically for Hulu as we expand Hulu."
On the flip side, Iger reiterated that content from Fox's National Geographic brand will appear on Disney+. Disney has previously suggested that it wants Disney+'s content library to be family-friendly, and that adult-focused material produced by its studios is more likely to appear on Hulu.
Disney, Amazon.com and Comcast are holdings in Jim Cramer's Action Alerts PLUS member club. Want to be alerted before Jim Cramer buys or sells DIS, AMZN or CMCSA? Learn more now.
4. Disney Plans to Offer Discounts to Consumers Who Sign Up for Multiple Streaming Services
With the help of a common tech infrastructure, Disney wants consumers to eventually be able to sign up for all three of its streaming services using the same login credentials and save payment card info. The company also wants to provide discounts to those who sign up for more than one of its services.
"If they wanted to buy all three, we'd give them an opportunity [to buy them] potentially at a discount, or two for that matter," Iger said. "But if they wanted to buy [just] one of them, we believe they should be able to."
5. ESPN+ Now Has Over Two Million Paid Subscribers
This disclosure comes five months after Disney said ESPN+, which launched in April 2018 and for now is only available in the U.S., had topped one million paid subs. For comparison, Hulu has over 20 million paid U.S. subs, and Netflix over 58 million.
Disney's wish to avoid cannibalizing ESPN proper's massive pay-TV affiliate fee revenue streams remains a handicap for ESPN+, which costs just $4.99 per month. Though the service provides access to a selection of MLB games, NHL games and international sporting events, it doesn't feature ESPN's most valuable live sports content, which it reserves for pay-TV subcribers.