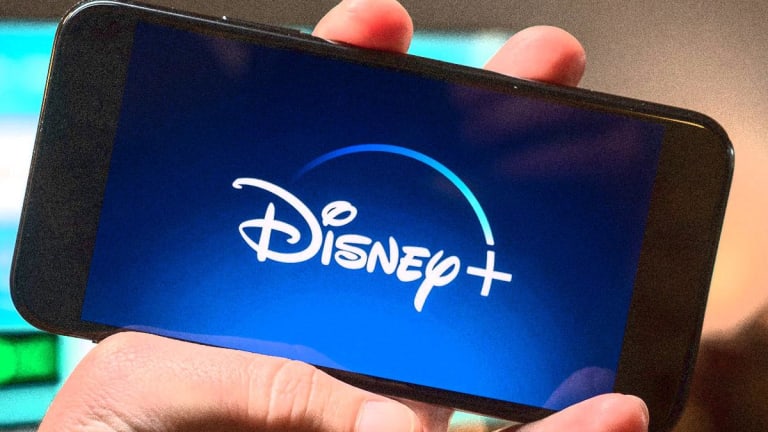 Disney+'s Secret Weapon in the Streaming Wars -- Distribution
Disney is targeting between 60 and 90 million global subscribers by 2024, and the distribution deals it struck with Amazon, Roku, Verizon and others, as well as its own platforms -- are a critical part of the plan.
Disney is about to be everywhere. 
Starting Nov. 12, Disney's long-awaited streaming service goes live on a multitude of devices and platforms, potentially giving the media giant a head start in amassing millions of subscribers for Disney+ out of the gate.
Disney (DIS) - Get Report is aiming for between 60 and 90 million global subscribers by 2024, and distribution deals will play a key role in that goal. Last week, Disney announced that it struck a distribution deal with Amazon that will place the Disney+ app on Amazon Fire TVs. Roku (ROKU) - Get Report , Samsung (SSNLF) , Alphabet's (GOOGL) - Get Report Chromecast and Google TV, Apple (AAPL) - Get Report TV, Sony's (SNE) - Get Report Playstation and Microsoft's (MSFT) - Get Report Xbox will also carry Disney+.
Disney did not disclose terms of the deal with Amazon, but according to the WSJ, the negotiation hinged on gaining a share of ad space across Disney's various streaming apps, which include ESPN, ABC and Disney channel. Although Disney+ itself is ad-free, Amazon reportedly used ad space on other apps as a bargaining chip in the negotiations.
"The bigger the platform, the more leverage they're going to have over the publisher, in this case Disney," said Steve Shannon, CEO of Tetra TV, a connected TV ad network, and a former executive at Roku.
Roku is the market leader in connected TVs, accounting for roughly 30% of U.S. device sales according to Strategy Analytics. Amazon is another significant player, at roughly 12% share, followed by Samsung (11%) and Google (GOOGL) - Get Report (9%), with the rest a fragmented group of smaller players. 
Distribution deals generally fall into two categories: Advertising revenue or revenue share agreements, Shannon said. Although he didn't have any specific knowledge of Disney's discussions with Roku, he noted that a starting point for a typical negotiation might be approximately 20% of subscription revenue share -- for sign-ups that occur on the Roku app -- or 30% share of ad space.
According to Dan Rayburn, a principal analyst at Frost & Sullivan, subscription revenue share agreements are less common in streaming nowadays, unless there is a specific promotional aspect determined to be highly valuable, such as the Netflix (NFLX) - Get Report button found on Roku remotes, or specific prominent placement of an app within a platform's interface.
"There are few deals left in the industry where someone is taking a percentage [of subscription revenues], and you'll start hearing Disney disclose more on that in the coming quarters," Rayburn said. 
Right now, devices, platforms and publishers appear to be mutually incentivized to make new streaming apps available on viewing devices. Device makers need the content to sell units, and publishers need to get their content out there to sell subscriptions. 
"The promotional consideration goes both ways: What is Disney doing for the platforms, and what are the platforms doing for Disney?" Shannon added. 
That dynamic may change as the streaming industry evolves over the next few years, as demands change from customer acquisition to customer retention. Distribution deals are typically renegotiated once every two or three years, Shannon noted.
But it isn't all about devices and platforms: Incentives for wireless subscribers are another critical piece of the distribution puzzle. Disney also struck a deal with Verizon (VZ) - Get Report to make Disney+ available free for one year to wireless customers on an unlimited data plan.
In a recent note, MoffettNathanson analyst Michael Nathanson estimated that the Verizon bundle could reel in nine million Disney+ U.S. subscribers just in the first year -- equivalent to roughly half of eligible Verizon customer accounts.
Specific terms of the Verizon deal weren't disclosed, but it is presumed that Verizon is paying Disney on a per-subscriber basis, possibly at a discounted rate off the $69.99 annual rate.
In the comparatively mature world of wireless subscriptions, adding content deals to wireless packages mean sweetening the deal for existing subscribers, potentially lowering churn. 
In its recent HBO Max presentation, AT&T said that it will offer HBO Max at no extra charge to AT&T (T) - Get Report subscribers. AT&T CEO John Stankey also said that the bundle will reduce churn among AT&T's wireless subscribers by one basis point, equivalent to $100 million in revenue per month or well over a billion dollars a year.
That detail underscores the fact that each participant in the streaming market has a distinct overall business with a different set of incentives and resources, said Rayburn. 
"Every single one of these companies has a completely different business model," Rayburn said. "Those who can promote these OTT (over-the-top) platforms via many different channels, and do it at a very low cost, have a big advantage from a marketing standpoint."
In Disney's case -- in addition to ensuring Disney+ is available on as many connected TVs and devices as possible -- it has its own global marketing arsenal at its disposal, and potentially to offer to partners in negotiations as well.
"Disney has a unique advantage that others don't; they have a diversified revenue stream," Rayburn added. "Disney can promote [Disney+] through its cruises, parks, movies...it's very similar to Amazon."
Amazon, Apple, Disney, Microsoft and Google are holdings in Jim Cramer's Action Alerts PLUS Charitable Trust Portfolio. Want to be alerted before Cramer buys or sells these stocks? Learn more now.