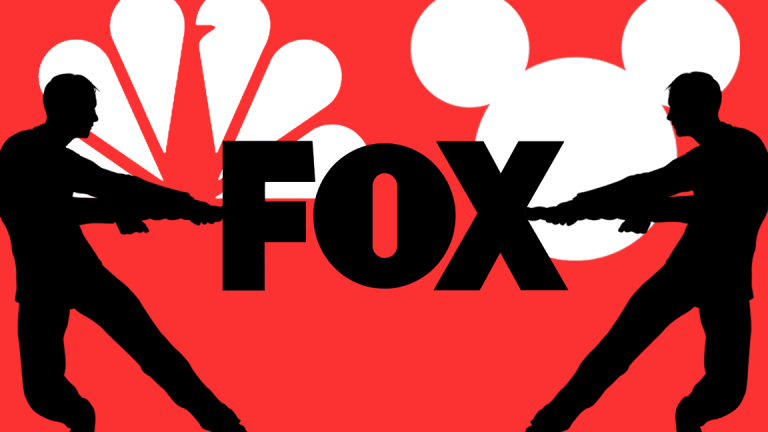 Publish date:
Could Disney and Comcast Decide to Split Fox's Assets?
A bidding war benefits Fox shareholders, but could have unhappy consequences for Comcast and Disney.
A bidding war benefits Fox shareholders, but could have unhappy consequences for Comcast and Disney.
A bidding war between Comcast Corp. (CMCSA) - Get Report and Walt Disney Co. (DIS) - Get Report for Twenty-First Century Fox (FOXA) - Get Report could produce unintended consequences.
"You could have mutually assured unhappiness with the outcome," Moody's Investors Service analyst Neil Begley said.
"One spends too much and the other walks away with nothing," he said. While Disney could pocket a breakup fee, it would be poor consolation considering the film, TV and digital assets it would gain with Fox.
Comcast's $65 billion cash offer on Wednesday topped the $52.4 billion purchase agreement that Disney struck with Fox in December.
The question is how much higher the bidding might go. The U.S. District Court's clearance of AT&T Inc.'s (T) - Get Report purchase of Time Warner Inc. (TWX) on Tuesday has lessened Comcast's concerns that the government would block a vertical television merger, and could fuel the bidding.
While Fox shareholders would win out, Begley suggested that Comcast and Disney might consider alternatives. 
"They might actually talk to each other and figure out if there is a compromise," he said. "They could essentially split the baby."
Management egos could get in the way, as Comcast's Brian Roberts and Disney's Bob Iger face off for one of the top prizes remaining in media. So could the terms of Disney's deal. If Fox determines that Comcast's bid is superior, Disney would have five days to match. Comcast could raise its bid again, but Disney would get a three-day review period.
Comcast and Disney are bidding for Fox's film and TV studios and related operations; cable networks including FX Networks, Fox Sports Regional Networks; international networks; Indian satellite TV group Star India; and stakes in National Geographic Partners, Hulu LLC, UK satellite TV group Sky and others.
The possibility of dividing the assets came up during Comcast's call announcing the deal on Wednesday. Comcast CFO Michael Cavanagh discounted the likelihood.
"In terms of talking to other parties, we're in this from our own perspective," he said. "We like everything about this transaction, and that is our focus, to do everything that the three of us (Cavanagh, Chairman and CEO Roberts and NBC CEO Stephen Burke) just discussed."
Sky and other international pay-TV distribution networks may appeal more to Comcast, which is the largest cable TV operator in the U.S., than to Disney.
"Disney has not been a big distributor," Begley said. "They are a better fit with Comcast in terms of sharing technology and broadening the reach of NBCUniversal, which doesn't really have the same brand internationally that Disney does."
Film and television operations likely appeal to both suitors, but would work for Disney on multiple fronts.
Iger has touted the company's direct-to-consumer streaming products, including the recently released ESPN+ and the upcoming Disney over-the-top video service. "You need a massive amount of television production capability," Begley said of streaming video on-demand services, pointing to Netflix Inc. (NFLX) - Get Report .
"Disney has a smaller operation in TV production than Fox does. It's probably one of the few gaping holes they have," he added, noting that Comcast's NBCUniversal would also likely find the TV assets attractive.
Moreover, buying the Fox assets would help Disney to bring the X-Men and Avatar in house. 
Disney purchased X-Men and Fantastic Four parent Marvel Entertainment Inc. in 2009 for $4.3 billion. However, Fox had pre-existing rights to make films for the franchises. Fox and producer/director James Cameron license Disney rights to the Avatar franchise for its Florida theme park.
Many of Fox's assets would likely appeal to both suitors. 
Dividing the bounty of media assets could be a long-shot given the companies' history.
Brian Roberts and Comcast launched a hostile bid for Disney in 2004, hours before the company's first-quarter earnings call and meeting with analysts. Granted, Disney's CEO at the time was Michael Eisner, not Iger. Still, Begley suggested the institutional memory may not have faded.
"I have to imagine there is a little animosity going back to that," he said.
A diplomatic solution to divvying up Fox's assets be a tough sell to Comcast and to Disney. It's probably worth considering, however.
"I do think that the best for both sides and for bondholders would be some kind of negotiation and split of the assets," Begley said.
Editor's note: This article was first published by The Deal, a sister publication of TheStreet that offers sophisticated insight and analysis on all types of deals, from inception to integration. Click here for a free trial.
Jim Cramer and the AAP team hold a position in Comcast for their Action Alerts PLUS Charitable Trust Portfolio. Want to be alerted before Cramer buys or sells CMCSA? Learn more now.