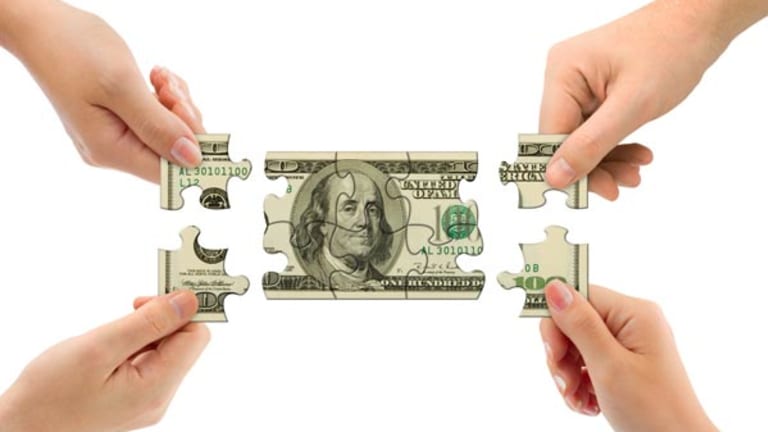 Discover: PayPal Winner
Discover Financial Services saw its stock rise 4% on Wednesday, after the card lender announced an innovative deal with eBay unit PayPal.
NEW YORK (
) --
Discover Financial Services
(DFS)
was the winner on Wednesday among large financial services companies, with shares rising 4% to close at $38.43.
The Riverwoods, Ill., credit card lender announced a deal with
eBay
(EBAY)
unit PayPal, for PayPal's customers to be able to use the service to make purchases at the 7 million retail locations that currently accept Discover, beginning in the second quarter of 2013.
Discover went on to say that PayPal would also be brought "potentially to millions of international merchant locations in the future." Discover Payment Services president Diane Offereins said that "the establishment of this relationship is a major industry milestone, which will help shape the emerging payments landscape by bringing together an established direct banking and payments company with a leading commerce enabler to create an alternative payments option for consumers at the point of sale."
KBW analyst Sanjay Sakhrani rates Discover "Outperform," with a $40 price target, and said on Wednesday that the PayPal deal was "clearly a big win for the network side of the business as it exemplifies the value-added services it can provide and the optionality of the company's business model." The analyst added that "while there are likely to be some costs associated with the roll-out, we think it should be manageable for the company," and estimated that "Discover could earn 10-20 bps of the transaction, which would be consistent with
Visa
(V)
and
Mastercard
(MA)
economics."
The analyst also sees the deal as a big win for eBay, since "it extends PayPal's reach to almost parity with Visa and MasterCard at the physical point of sale across the US and potentially international in the future."
Sakhrani also said that Discover's PayPal deal would be "mildly negative" for
American Express
(AXP)
, Mastercard and Visa, "as PayPal has been notorious in trying to steer customers towards ACH," through which payments are made directly from customers' checking accounts.
Earlier on Wednesday, Sterne Agee analyst Todd Hagerman -- who doesn't cover Discover - published a showing credit card master trust data for six of the largest U.S. card lenders, and said that only Discover and American Express reported month-over-month declines in net charge-offs among managed card balances during July, while "the rest of the group saw higher loss on a sequential basis, but lower delinquencies," and that "card balances declined across the board with every company, except DFS."
Discover's net charge-off rate during July for managed card balances was 2.22%, improving from 2.40% in June. American Express's net loss rate for cards declined to 1.95% in July, from 2.18% the previous month.
Capital One Financial
(COF)
reported that the net loss rate for its managed card balances rose to 2.91% in July, from 2.72% in June.
Citigroup
(C)
unit Citibank's credit card master trust reported a July charge-off rate of 4.28%, increasing from 3.74%, while
JPMorgan Chase
(JPM)
unit Chase Issuance Trust saw net charge-offs increase to 4.58% in July, from 3.71% in June.
Bringing up the rear was
Bank of America
(BAC)
, with its credit card trust reporting a July loss rate of 5.05%, increasing only slightly from 5.04% in June.
Since July card trust data wasn't yet available for all of the large card lenders, Hagerman compared the July 31 master trust card portfolios to balances at the end of June 2011. Over that 13-month period, all six of the card lenders in the report saw total managed credit card receivables in master trusts decline. Bank of America showed the largest decline of 15%, to $61.1 billion, while Discover showed the 13-month smallest decline, of 1.5%, to $32.8 billion.
Discover's shares have now returned a stellar 61% year-to-date, following a 31% return during 2011. That is a remarkable run by any standard, especially when you consider that the
S&P 500 Index
undefined
was flat for 2011, while the
KBW Bank Index
undefined
declined 25%.
The shares trade for 2.4 times tangible book value, according to Thomson Reuters Bank Insight, and for 9.6 times the consensus fiscal 2013 earnings estimate of $3.99, among analysts polled by Thomson Reuters. The consensus EPS estimate for fiscal 2012 is $4.20. Discover's fiscal year ends on Nov. 30.
While Discover's price-to-tangible-book ratio may seem high in the current environment, with Citigroup and Bank of America trading for roughly 0.6 times tangible book value, while JPMorgan trades for 1.1 times tangible book, the company's very strong earnings track record justifies its valuation, and then some.
Discover's operating returns on average equity (ROE) have ranged between 24.21% and 33.42% over the past four quarters, according to Thomson Reuters Bank Insight. Bank of America -- saddled by its legacy mortgage mess springing from the disastrous purchase of Countrywide in 2008 - has seen its ROE over the past four quarters range from 1.12% to 11.21%. Citigroup's ROE has ranged from 2.18% to 8.41%.
Even JPMorgan, reporting $5 billion in second-quarter earnings, achieved an operating return on average equity of only 10.51%, and the company's ROE over the past four quarters has ranged between 8.25% and 11.61%.
Among the six large card lenders covered in Sterne Agee's report on Wednesday, only American Express has achieved returns to Discover's with the company reporting returns on average equity ranging between 26.7% and 27.8% over the past five quarters. American Express's shares trade at higher multiples than Discover's shares, at 3.3 times their reported June 30 book value of $16.92, and 12 times the consensus 2013 EPS estimate of $4.73, based on Wednesday's closing price of $56.82.
With such a strong return on equity, it is no wonder that Discover is focusing on share buybacks. The company repurchased 13.5 million or 2.4% of its outstanding shares during the fiscal second quarter ended May 31, as part of its $2 billion share buyback authorization.
William Blair analyst Robert Napoli on August 15 said that his EPS estimates of $4.19 for 2012 and $3.99 for 2013 included "include the repurchase of 111 million shares, or 22% of the share count over this time frame."
On Wednesday, Napoli maintained his "Market Perform" rating on Discover, saying that his firm continues "to prefer companies that are more leveraged to the secular growth of global electronic spending." In regard to the eBay/PayPal deal, the analyst said that "while this agreement has the potential to be a game changer in the payments landscape, there are many questions that have yet to be answered."
Napoli also said that "Discover shares represent a solid long-term value."
Interested in more on Discover Financial Services? See TheStreet Ratings' report card for this stock.
RELATED STORIES:
Reading the Tea Leaves on Bank Lending: Street Whispers
http://www.thestreet.com/story/11671176/1/banks-looking-for-some-perpetual-growth-street-whispers.html
Capital One's Shares Are Still Cheap
What To Do if Washington Takes Your Retirement Dividends Away
TARP Stretch Could Work for Synovus: Street Whispers
--
Written by Philip van Doorn in Jupiter, Fla.
>Contact by
.
Philip W. van Doorn is a member of TheStreet's banking and finance team, commenting on industry and regulatory trends. He previously served as the senior analyst for TheStreet.com Ratings, responsible for assigning financial strength ratings to banks and savings and loan institutions. Mr. van Doorn previously served as a loan operations officer at Riverside National Bank in Fort Pierce, Fla., and as a credit analyst at the Federal Home Loan Bank of New York, where he monitored banks in New York, New Jersey and Puerto Rico. Mr. van Doorn has additional experience in the mutual fund and computer software industries. He holds a bachelor of science in business administration from Long Island University.