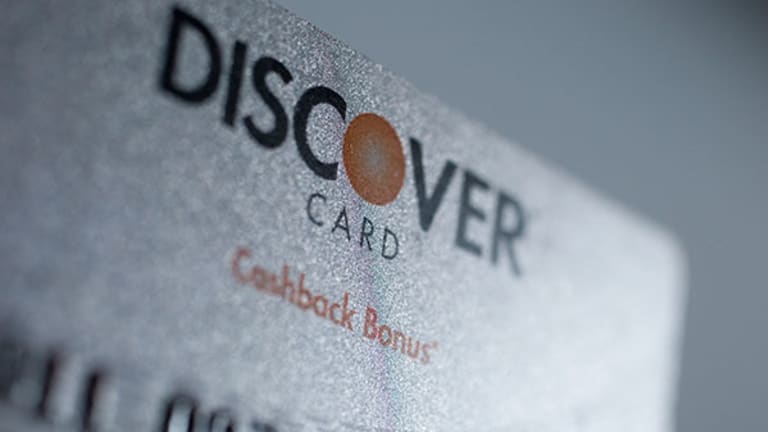 Discover CEO Ready to Build on Strongest Loan Growth in 15 Years
Discover's new student loans grew 9% to $1.4 billion in the fourth quarter, while personal loan originations increased 31% to $4 billion. Both were records.
This article, originally published at 5:32 p.m. on Tuesday, Jan. 24, 2017, has been updated with company and analysts' commentary. 
Discover (DFS) - Get Free Report  CEO David Nelms wants to drive total loans as much as 7.5% higher in 2017 after delivering a quarterly increase of almost $5 billion, its largest in 15 years, not counting acquisitions.
Total loans climbed 7% to $77.3 billion in the three months through December, the Riverwoods, Ill.-based direct banking and payment-services provider said. Balances on credit cards -- its biggest business -- rose 6% to $61.5 billion.
"Ourcreditcards continuetoresonatewellwithprimerevolvers," Nelms said on the company's fourth-quarter earnings call. "Wehaveapost-recessionhighnumberof new accountsfortheyear,whichwasthebiggestdriveroftheloangrowth."
For the full year, Discover reported record personal and student loan originations: New student loans grew 9% to $1.4 billion, while personal loans jumped 31% to $4 billion. The company said the growth was fueled by "productenhancementsandstrongexecution."
Those improvements included "a highermaximumloanamount,animprovedmobile-responsivewebsiteandapplication,andcheck-your-ratefunctionality,whichallowscustomerstoviewtheirinterestrateandestimatemonthly paymentswithoutimpactingtheircreditscore," Nelms said.
Earlier this month, Discovered and PayPal (PYPL) - Get Free Report  announced an agreement that would give PayPal customers with Discover cards access to contactless payment services in stores that offer it, a move the lender said takes advantage of the growing shift to digital transactions. 
Discover has also ramped up marketing of its student loans and redesigned its application system, "resultinginahigherconversionrateandmoresatisfiedcustomers," the CEO said.
The lender increased its provision for defaults by 23% to $347 million.
"The company is well positioned for growth, taking market share in both the lending and network components of its business," Jason Arnold, an analyst with RBC Capital Markets, wrote in a note to clients. Discover should continue to deliver return on equity, a measure of how well executives manage an investor's cash, in the high teens or low 20s as well as boost earnings, he said.
Earnings of $1.40 a share in the fourth quarter compared with the $1.38 average estimate from analysts surveyed by FactSet. Net income increased 13% from a year earlier to $563 million, and revenue of $2.36 billion also topped projections.
Net interest margin, the difference between interest earned and paid out, grew 32 basis points to 10.07%, while the company's net-charge off rate for credit cards whose holders are 30 days or more behind on payments rose 29 basis points to 2.47%.
Discover is poised for even more gains as interest rates climb and a Republican-controlled government works to loosen regulations on the finance industry, said Ben Chittenden, an analyst with Oppenheimer who has an outperform rating on the stock and an $85 price target.
"The improved loan growth outlook will trump continued rewards competition and normalizing credit costs," Chittenden wrote in a note to clients. "We view Discover stock as too cheap.  While there are clearly concerns about competition in the credit card space and uncertainty around the student loan market, we believe that at current levels, these are baked into the share price."
The company's shares have fallen 1.9% this week to $68.88. A year-to-date decline of 4.5% compares with a gain on the broader S&P 500.