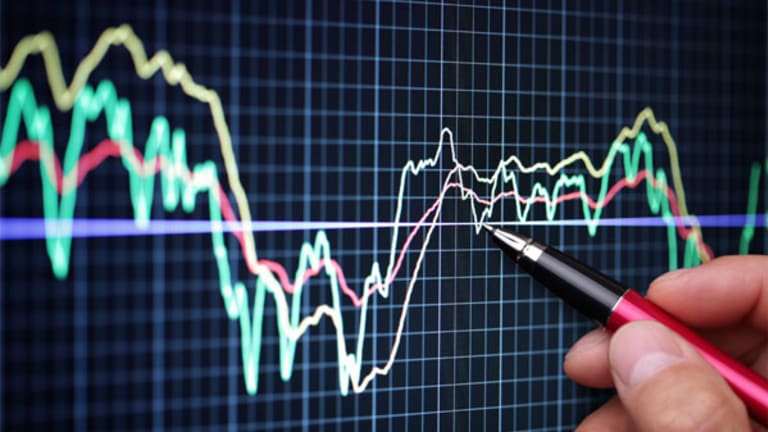 Dirty Dozen Revisited
Let's review these possible disruptive influences.
This column originally appeared on Real Money Pro at 8:47 a.m. EDT on May 24.
NEW YORK (
) --
"It's judgment day, sinners! Come out, come out wherever you are!" -- Maggot (Telly Savalas), The Dirty Dozen
In mid-April, I
12 events that could crater the U.S. stock market. This morning we revisit these possible disruptive influences.
Of course, in gauging the near-term market direction, the question we have to ask is where will these variables trend. (My updates and outlooks for each of the factors are in parentheses.)
I encourage you to plug in your own input to develop a market view.
I would note that five of the dirty dozen are moving in a positive direction, one is neutral, and six are moving negatively.
Much has been thrown at the stock market over the past three weeks, but I remain of the view that there is outstanding long-term value in equities today. Stocks are remarkably inexpensive relative to interest rates, private market values, returns on invested capital and corporate profits.
And the case for U.S. stocks, in particular, grows with each passing day.
As discussed in this morning's opening missive, I view many of the dirty dozen to likely move more positively in the months ahead:
Politics over here. President Obama's Intrade odds of winning the presidential election in November exceeds 65% -- it now stands at 60.5% -- and growing evidence that the Democrats will lose control of the Senate. On Intrade, the probability of a Republican-controlled Senate now stands at 62% and at about 70% that the Republicans regain control of the House.(Positive -- Intrade's odds of an Obama win are down to 58%. The other polls are shifting toward Romney, who is viewed by most as business- and market-friendly, as well. My baseline expectation is that Obama will win the Presidency and the Republicans will regain control of the Senate and will keep control of the House.)
Politics over there. Eurozone tail risk reemerges. François Hollande wins French presidency and disrupts EU bailout efforts. Note: Current Ladbrokes odds have Hollande at 1/8, Sarkozy is 9/2.(Negative -- Hollande won, but he appears to be cooperating with eurozone authorities. The winner of the Greek election, however, is disrupting the region's policy attempts to contain the debt contagion. I believe that Greece will ultimately leave (in an orderly fashion) the eurozone but not until next year. Nevertheless, I expect a number of stabilizing influences in Europe, including (but not limited to) a cut in rates by the ECB, a liquidity intervention (and reintroduction of the LTRO) and the introduction of an FDIC-deposit-like insurance mechanism.)
Interest rates. The 10-year U.S. note yield drops below 1.90%. Note: It now is at 1.99%.(Negative -- The yield on the 10-year U.S. note continues to drop dramatically, now at 1.75%. My largest investment position remains short bonds, as I believe that the flight to safety will dissipate, U.S. growth will muddle through at 2% or more, China will engineer a short landing and Europe's recession will be contained to a garden-variety recession. Last night's May flash PMI is consistent with a drop in second-quarter 2012 real GDP of less than 0.5% compared to first-quarter 2012's 0.1% drop.)
Economic. High-frequency economic data deteriorate, and odds of a recession grow in the U.S. Signs emerge that China and India will land hard.(Negative -- While housing remains a high note in the U.S., growth around the world continues to show signs of slowing. Last night both China's PMI and Europe's PMI missed slightly. My response? See No. 4.)
Fiscal cliff. Actually experienced, a fiscal cliff dents the economy, threatens self-sustaining recovery and adversely impacts corporate profits and business/consumer confidence.(Neutral -- Too early to predict, but I remain convinced that the headwind of the fiscal cliff will be whittled down and/or postponed and that current and often hyperbolic market concerns regarding rising taxes and lower spending are unjustified.)
Deflation. Commodities abruptly turn lower, more deflationary signals.(Negative -- The CRB, the price of oil and many other commodities have plummeted. While this underscores decelerating economic growth there is a bright side - namely, a tax cut -- to the drop in commodities, as long as the drop is contained.)
Strategists grow more bullish. Perma-bulls Abby Joseph Cohen at Goldman Sachs and Binky Chadha at Deutsche Bank raise their year-end S&P 500 targets. Note: Remember their ridiculously optimistic prognostications of 2008 year-end S&P 500 targets of 1650/1675? They were off in their forecasts by a mere 700 S&P points!(Positive -- While not downgrading their S&P 500 price targets even the most bullish strategists are cautious near term. As an example, I overheard UBS's Jonathan Golub, who top-ticked the market, being particularly worried about the summer market outlook on CNBC this week. I would emphasize that overall sentiment and investor expectations remain low. Hedge fund net exposure is light, retail investors continue to redeem, and skepticism is high.)
Housing. Home prices and sales activity move lower over the balance of the year, negatively impacting consumer confidence and spending.(Positive -- On all measures, housing remains a bright spot. As an example, Toll Brothers reported 50% order growth in the most recent quarter. My variant view remains that the residential real estate market is now embarking on a durable and multiyear expansion that could continue throughout the decade and that will likely lift U.S. GDP.)
Black swans. Any number of exogenous events -- a Fed policy mistake, crude ramps in price, Middle East tensions escalate, China lands hard and pulls back from U.S. Treasury note and bond purchases (fueling a sharp rise in our interest rates), a large ETF blow up, another flash crash, Sears Holdings is forced to sell more stores (it employees 350,000 company-wide) and so on.(Positive -- No black swans yet.)
Fund flows. Domestic equity mutual fund outflows accelerate.(Negative -- Equity fund outflows continue apace; over $10 billion was redeemed in latest period. The perfect storm of the misguided Facebook IPO, JPMorgan Chase's trading gaffe, and the market drop has clearly postponed the reallocation rally. Nevertheless, I believe most of the pressure from equity fund outflows, which has been in place since 2007, is nearly over. Flows can only get better.)
The NBA -- nothing but Apple -- market. Apple experiences a fundamental blip or misstep of execution.(Positive -- Apple continues to gain market share from all of its competitors. I expect Apple to continue to execute well and for the company to beat the pants off its competition.)
Technical deterioration in the markets. The S&P 500 takes out its 200-day moving average.(Negative -- The S&P 500's 200-day moving average stands at 1285. We came mighty close but didn't penetrate that level recently. My fair market value calculation remains at 1485 and is much higher than the current cash level of the S&P.)
At the time of publication, Kass and/or his funds were long TBF, TBT, GS and JPM common/short JPM calls. although holdings can change at any time.
Doug Kass is the president of Seabreeze Partners Management Inc. Under no circumstances does this information represent a recommendation to buy, sell or hold any security.