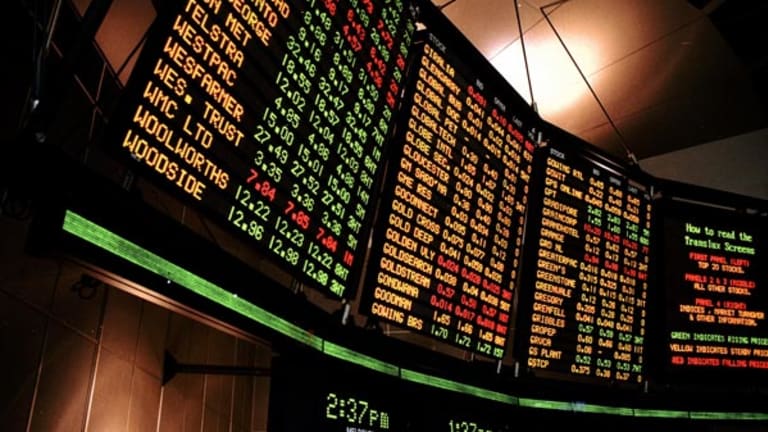 Here's a look at my ETF winners and losers for the week.
Winners
Claymore China Real Estate
(TAO) - Get Invesco China Real Estate ETF Report
+7.67%
SPDR S&P China
(GXC) - Get SPDR S&P China ETF Report
+2.98%
Claymore China Small Cap
(HAO) - Get Invesco China Small Cap ETF Report
+2.62%
iShares FTSE China 25
(FXI) - Get iShares China Large-Cap ETF Report
+1.88%
This week was a good one for Asia, especially China. While U.S. real estate prices are still looking for a bottom, China's real estate sector helped push the nation's Shanghai index to levels not seen since last July. Real estate saw its increases due to growing expectation that inflation will pick up from its otherwise low levels in the near future.
Such an event would lead to housing becoming more valuable. The strengthening of the Chinese yuan to the U.S. dollar also helped to increase China's gains this week. Last week I commented on a number of these funds in one
.
iPath DJ-UBS Nickel Total Return
(JJN) - Get iPath Series B Bloomberg Nickel Subindex Total Return ETN Report
+4.42%
DB Base Materials
(DBB) - Get Invesco DB Base Metals Fund Report
+3.41%
iPath Copper Total Return
(JCC)
+3.20%
Metal commodities also saw a number of winners. As I mentioned earlier this week
, nickel has been on a run recently. However, copper managed to rally as well as mining companies such as Xstrata Plc, whose failed merger plans with Anglo American saw some coverage this week, saw prices for copper hit a two-week high in Asia.
iShares Dow Jones US Home Const
(ITB) - Get iShares U.S. Home Construction ETF Report
+2.31%
SPDR S&P Homebuilders
(XHB) - Get SPDR S&P Homebuilders ETF Report
+2.85%
Even after negative news concerning the growth of new vs. old homes, Homebuilder ETFs saw a positive boost this week. Much of this gain was due to positive news coming from homebuilding firm, Lennar, which posted better-than-expected second-quarter results causing the stock to surge. This gain brought with it ETFs such as ITB and XHB, both of which are heavily weighted in the firm.
Losers
iShares MSCI United Kingdom Index
(EWU) - Get iShares MSCI United Kingdom ETF Report
-3.37%
SPDR S&P Emerging Europe
-3.35%
While Asia was a definite winner this week, Europe saw just the opposite. The lingering financial crisis has hit advanced- and emerging-European markets. On growing concerns that European banks are still suffering from financial problems, the U.K.-focused ETF, EWU, slumped this week. The economic shocks also hit the emerging European ETFs such as GUR.
US Natural Gas
(UNG) - Get United States Natural Gas Fund LP Report
-3.96%
First Trust Natural Gas
(FCG) - Get First Trust Natural Gas ETF Report
(FCG) -4.19%
iPath Natural Gas Total Return
(GAZ) - Get iPath Series B Bloomberg Natural Gas Subindex Total Return ETN Report
-3.64%
Natural gas took a beating this week after last week's gains. The drawbacks of the massive natural gas ETF, UNG, may be showing some truth with this week's losses. Smaller funds such as FCG also saw considerable losses, showing that the commodity can pull these stocks along with it.
iShares Dow Jones U.S. Aerospace & Defense Fund
(ITA) - Get iShares U.S. Aerospace & Defense ETF Report
(ITA) -4.34%
PowerShares Aerospace and Defense
(PPA) - Get Invesco Aerospace & Defense ETF Report
-2.99%
Negative news from Boeing, as reported on an article this week http://www.thestreet.com/p/_search/rmoney/etf/10526162.html pulled down both ITA and PPA. On top of that, this week, President Obama's Government Accountability Office found that 95 major defense contracts ran $295 billion over budget last year. Add those issues to the budget cuts on the part of the Pentagon, and it makes for a pretty dismal week for this sector.
At the time of publication, Dion was not long any ETFs mentioned.
Don Dion is the publisher of the Fidelity Independent Adviser family of newsletters, which provides to a broad range of investors his commentary on the financial markets, with a specific emphasis on mutual funds and exchange-traded funds. With more than 100,000 subscribers in the U.S. and 29 other countries, Fidelity Independent Adviser publishes six monthly newsletters and three weekly newsletters. Its flagship publication, Fidelity Independent Adviser, has been published monthly for 11 years and reaches 40,000 subscribers.
Dion is also president and founder of Dion Money Management, a fee-based investment advisory firm to affluent individuals, families and nonprofit organizations, where he is responsible for setting investment policy, creating custom portfolios and overseeing the performance of client accounts. Founded in 1996 and based in Williamstown, Mass., Dion Money Management manages assets for clients in 49 states and 11 countries. Dion is a licensed attorney in Massachusetts and Maine and has more than 25 years' experience working in the financial markets, having founded and run two publicly traded companies before establishing Dion Money Management.