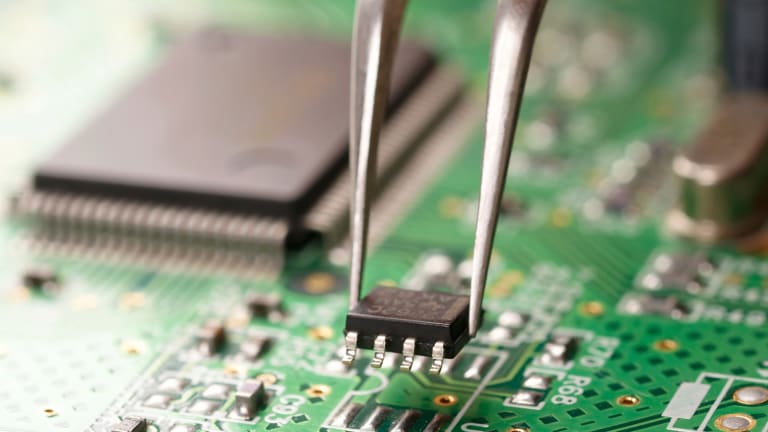 Diodes CEO Expects Demand in Asia to Increase Within Six Months
Diodes continues to experience weakness in its key markets in Asia, but its CEO expects demand to pick up in the second half of the year.
NEW YORK (TheStreet) -- Semiconductor product manufacturer and supplier Diodes (DIOD) - Get Free Report continues to experience weakness in its key Asian markets, but expects demand will pick up in the second half of the year. Diodes CEO Keh-Shew Lu spoke with TheStreet's Rhonda Schaffler about the company's outlook for the current quarter.
Lu said demand from Asia is still 'quite weak,' but he projects improvement in the third and fourth quarters. Diodes, a maker and supplier of products in the logic and analog semiconductor markets, receives 81% of its revenue from the Asia Pacific region. In the first quarter, the company reported a 1.8% decline in overall revenue, and the stock moved lower following that report. The stock continues to underperform the Nasdaq. 
When it comes to Diodes' European business, it experienced 14% growth in the first quarter. However, the weak Euro has weighed on its results. With the Euro stabilizing in the the current quarter, Diodes should be 'okay,' Lu said.
Diodes' products ultimately end up in a diverse range of markets, including consumer, communications, computing, industrial and automotive. Some of Diodes' customers include Intel (INTC) - Get Free Report, Dell, General Electric (GE) - Get Free Report, Cisco Systems (CSCO) - Get Free Report and Motorola. Lu says in his company is benefiting from growth in the high-end cellphone market in Asia. In the European and North American markets, the company is experiencing high growth from the industrial and automotive markets.
Improving Diodes' gross profit margins has been a focus for Lu. In the first quarter, gross profit margin was 31%, compared to 29.3% in the year-ago period. That was achieved by enhancing its product mix. About 32% of Diodes' products are used in consumer electronics, including set-top boxes, flat screen televisions, game consoles and portable GPS Systems. About 22% of its products are used in communications devices including smartphones and fiber optics.