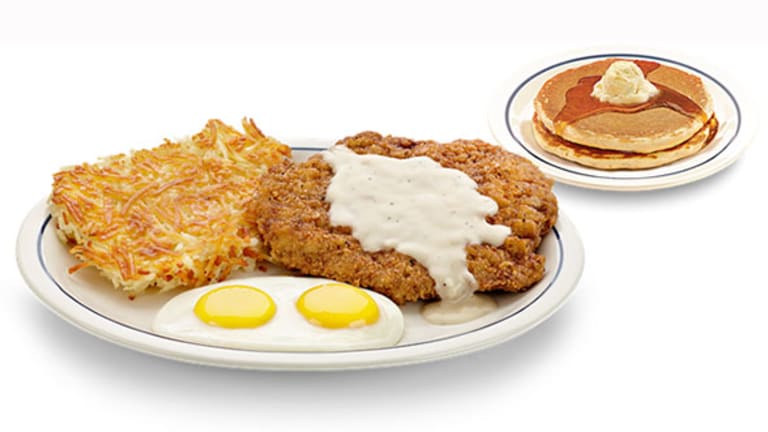 Publish date:
DIN, RH, AAPL, VZ: Jim Cramer's Views
Jim Cramer shares his views on 'value consumers' and the assault on Apple. DineEquity, Restoration Hardware, Apple and Verizon are among the stocks discussed here.
Jim Cramer shares his views on 'value consumers' and the assault on Apple. DineEquity, Restoration Hardware, Apple and Verizon are among the stocks discussed here.
NEW YORK (Real Money) -- Jim Cramer shares his views every day on RealMoney.Click here for a real-time look at his insights and musings.
Meet the 'Value Consumers'
Posted at 1:21 p.m. EST on Thursday, Feb. 25, 2016
We want value. We want value wherever we can find it. That's a unifying principal among all of the quarters we've seen in retail and restaurants. It's resonating so loudly that it's like a DIN --- and I mean DIN, the symbol for DineEquity (DIN) - Get Report  -- because that company (which owns IHOP) fits the value paradigm.
Now, eight years out of the worse downturn since the Great Depression, you would think people would want to spend more money again. Splurge even. But like the Great Depression, this Great Recession has left scars on us -- scars that haven't gone away.
It always bugged me that my father was so chary with money, not that we had much. But we went out to dinner as a family maybe once or twice a year, typically on Mother's Day where we would go to some allegedly nice place and Pop would make it so Mom didn't have to make dinner. Of course, when we went out we had to drink water, because we weren't going to let them fool us in ordering a soda before the meal. Wasted money.
A lot of that was a total hangover from the Great Depression, where my father saw first hand what could happen with the economy and how you always wanted to be a saver, not a spender.
I think we're in as similar situation now, and that it's defining what's working and what's not. Let's take spending on furnishings. Restoration Hardware (RH) - Get Report  is getting killed today, down 27%. And that's on top of the stock already having been cut in half going into last night's news about how the quarter will be much weaker than expected.
Restoration Hardware makes expensive stuff. CEO Gary Friedman -- who was, in fairness, pretty subdued when he was last on Mad Money -- said that the tough January for the stock market, plus the decline in oil and the strong dollar all hurt.
Makes sense, his store in Miami catered to wealthy South Americans. Suddenly with their currencies and economies, they aren't that wealthy. His store in Houston catered to wealthy oil people. Energy and currency also hurt the Canadian operations.
Last night on Mad Money, we talked about the downfall of the stock of Williams-Sonoma  (WSM) - Get Report . Same deal -- too expensive, no bargain.
But then listen to the call last night from TJX Cos. (TJX) - Get Report  and you hear about outstanding sales for HomeGoods, its value-conscious retail operation for housewares. I love my HomeGoods in Neptune, N.J. I often go in trying to buy one seasonal item and come out with three times what I thought I would get.
Let's stick with TJX. The bargains they give you in clothes are directly related to the inability of the broadline retailers to sell branded goods from VF (VFC) - Get Report  or Ralph Lauren (RL) - Get Report  or HanesBrands (HBI) - Get Report . T.J. Max, another store I adore (it's in TheStreet's building), gets all of that closeout merchandise, marks it up to still what's a fraction of what you would pay at the department stores and it's a terrific value.
How about food? Do you know that not one but two companies in the restaurant business -- Jack in the Box  (JACK) - Get Report  and Popeye's Louisiana Kitchen (PLKI)  (as we heard last night from CEO Cheryl Bachelder) -- cited the value offerings from the burger joints, presumably of course from McDonald's (MCD) - Get Report , but also Wendy's  (WEN) - Get Report , as reasons for their shortfalls? Wendy's and McDonald's are coming in well under these guys for price. So is the aforementioned Dine Equity with its pancakes.
These are all of a piece: Whoever offers the most value wins. I know it seems counterintuitive, but it's ingrained right down to the stores we shop at and where we eat.
There's a new generation of Cramers out there, and they aren't spending as often as they used to. And when they do, they eschew the frills. They want the value or they aren't buying at all.
At the time of publication, Action Alerts PLUS, which Cramer co-manages as a charitable trust, was long JACK.
Apple Stays Afloat in Sea of Assaults
Posted at 7:00 p.m. EST on Wednesday, Feb. 24, 2016
The following commentary was originally sent to Action Alerts PLUSsubscribers on Feb. 24, 2016, at 4:50 p.m. ET.
Have you noticed that they've tried to throw everything at Apple (AAPL) - Get Report  but the kitchen sink and the darned thing won't come down?
First, we know the obvious: The company's refusal to give up the code to the FBI, something that has earned it the enmity of Republican Party front-runner Donald Trump, who is calling for a boycott of the company. Hate him or like him, he's got more airtime than anyone on Earth, and if he chooses to hammer Apple it won't be positive for sales. (Apple is part of TheStreet's Action Alerts PLUS portfolio.)
Second, if Apple does give up the codes, what happens to sales in China? Won't the Chinese want the codes? China's the big growth market for the company. It would be a natural for the party to join Trump in a boycott of Apple products, except this one would be pretty effective given that the Communist Party is a totalitarian organization.
Third, we have been getting more of these channel-check studies of late where brokers trip over each other to say Apple's sales are going to be horrendous and that cellphones have peaked. We get one a day. They all try to outdo each other in being negative. This most recent one I read, from some outfit I don't even know, said iPhone demand will drop 18% year over year and there's a lot of excess inventory.
I know there could be excess inventory because Apple's about to launch an iPhone 7 in the fall. If you are at this stage of the year and you don't have a 6 or if you don't want to change carriers and upgrade, it may make sense to hold off to see how exciting the next one might be.
Plus, we are hearing reports that Apple's going to have a March event where a new iteration of the Apple Watch might come out.
What could it have? CEO Tim Cook has said he doesn't want to subject the watch to the FDA process, but that doesn't mean there could be apps made by others that could help turn the watch into more than just a cool device that tells you to stand up and walk around.
Maybe at that meeting the company will take the time to talk about the expanding service revenue that's coming from a billion devices sold, something that's bringing in about $30 billion in sales. Let's put it this way: I wouldn't be betting on a negative surprise.
Perhaps more important than all of this is that Apple's got a buyback of immense proportions and it is entirely possible that it is standing there buying stock knowing that when the company reports next it will be the last quarter before the new iteration, the 7, might be coming out. Apple knows that more than anyone, right? Considering that CEO Lowell McAdam of Verizon (VZ) - Get Report  and CEO John Legere of T-Mobile (TMUS) - Get Report , two of the big four, have told me personally the 7 will be a big deal for them, I think selling it now with everyone aware that Apple's going to have a weak quarter may be a little counterintuitive. Funny that when everyone knows something's negative, it tends to be baked into the stock already.
And at 10x earnings? Maybe, just maybe, the bad news is in, but the good news?
Let's just say I don't know of a soul who's looking for any.
At the time of publication, Action Alerts PLUS, which Cramer co-manages as a charitable trust, was long AAPL.