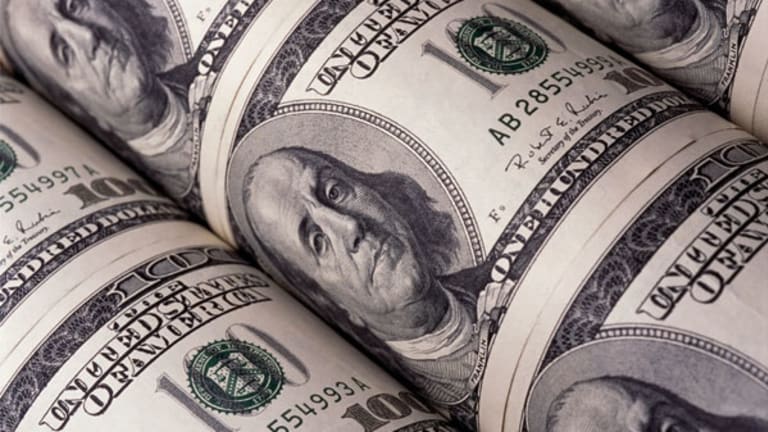 Digging Into the Dow; Buyable Oil Stocks: Jim Cramer's Best Blogs
Catch up on Jim Cramer's thinking over the past week, including companies that are way behind in the market and independent oils.
NEW YORK (
) --
fills his blog on
RealMoney
every day with his up-to-the-minute reactions to what's happening in the market and his legendary ahead-of-the-crowd ideas. This week he blogged on:
companies that are way behind in the market and
independent oils
for information on
RealMoney
, where you can see all the blogs, including Jim Cramer's -- and reader comments -- in real time.
Digging into the 5 Dow Laggards
Posted at 1:19 p.m. EDT on Friday, Nov. 29
And then there were five.
Just five companies in the
Dow
that are well behind the market, unable to struggle above double digits for the year. It's a tough benchmark. Many of the stocks in the averages are up huge. It has been a standout year.But
IBM
(IBM) - Get International Business Machines (IBM) Report
,
Caterpillar
(CAT) - Get Caterpillar Inc. Report
,
AT&T
,
ExxonMoibil
(XOM) - Get Exxon Mobil Corporation Report
and
Cisco
(CSCO) - Get Cisco Systems, Inc. Report
are all up less than double digits, with IBM down 6%; Caterpillar down 5%; AT&T up 5% and Exxon and Cisco up 8%.
So, I think it is time to drill down at these underperformers and see what needs to be done.
First, IBM is being challenged by the cloud. It's book of business isn't in tune with the simple, inexpensive nature of the cloud and the whole Watson thing, the race for most powerful, analytic computer, means nothing in this day and age where there are many companies that provide excellent data analytics.
IBM offers the fabled one-stop shop and information technology outfits are increasingly going a la carte, which I saw at DreamForce, the
Salesforce.com
(CRM) - Get salesforce.com, inc. Report
celebration of everything that is not IBM. Increasingly, IBM is perceived as being irrelevant and not offering a bargain to companies. Heavy hardware is unnecessary. IBM spends much of its free cash flow buying back stock to make the earnings with subpar or no revenue growth. It is a giant cyclical company without any growth.
Read: These 4 Tech Companies Got a Hewlett-Packard Boost
I have to tell you that if Warren Buffett weren't in this stock it might be lower -- dramatically lower. Its revenues have been, basically, flat for four years while all that has happened in that time is it has shrunken its share count to about 1.098 billion from about 1.278 billion in that same period. No real growth. I just see little reason to own the stock without a game-changing acquisition. It is a tech company with no mobile, social or cloud business to speak of and the more it goes into the cloud the worse it will be for the company's margins.
Caterpillar is all management. The mistakes here are legion. The acquisition of
Bucyrus
at the high for coal mining equipment for $7.6 billion, top of the market prices, and then buying another company,
ERA
, for about $650 million that it later had to write off almost the entire purchase amount because of fraud.
These acquisitions are squarely at the feet of CEO Doug Olberhelman who belongs, candidly, on the Wall of Shame. Why? Because I think this stock would jump huge if he would retire because, despite being accurate about the forecast for the world, he has continually pumped out too much inventory in the very places his people tell him can't sustain the extra equipment.
Plus, his competitors are doing quite well.
Read: The Deal: Comcast Faces New Burdens in Time Warner Bid
Terex
(TEX) - Get Terex Corporation Report
, a second-rate Caterpillar, is up 30%.
United Rentals
(URI) - Get United Rentals, Inc. Report
, a huge buyer of CAT equipment, has rallied 50% this year.
Cummins
(CMI) - Get Cummins Inc. Report
, a challenged engine maker, has still been able to increase 22%. This is all on Olberhelman and I don't think the situation can be fixed until he departs. The board seems totally brain dead, so don't expect a change any time soon.
AT&T's a tough one. It's super-slow growing with a huge cash flow, but this year has been a real disappointment. I think that the endless buying back of stock and slow dividend increases are not producing the kinds of returns that are expected from this great American company. It needs to do an acquisition. It needs to go to Europe and take advantage of low prices and truly become international again. Or it needs to get into the race to buy one of these cable companies that are for sale. Barring that, it could go national in the home security business. No matter what, it can't keep doing what it's doing because it is just not growing enough to justify inclusion into anyone's portfolio.
Read: Go Mobile This Holiday Season
Now a 5% yield's going to keep anyone from selling this stock. But if I want yield there are plenty of places to put it. There's nothing wrong with a timely acquisition, though, to really get this one going and I think that CEO Randall Stephenson gets that.
ExxonMobil? What can I say? It's a buy. The stock ran because of the aggressive purchasing by Warren Buffett, which is pretty amazing when you consider that this company has so many shares that it is hard to believe that anyone can move it. Then again, it's been shrinking share count pretty aggressively, going to 4.39 billion from 4.89 billion since the end of 2010. That's a real takeout.
For years, Exxon seems to have lagged in its exploration and production, but this last quarter was uniquely good. My hope it is the first of many from a company that is still the most respected in the industry. One way that it could certainly help itself is install natural gas pumps at its stations, because it is the biggest producer of natural gas in this country. Another way would be to try to export the stuff by tying in with one of the companies trying to export American natural gas. But I believe this stock could be a huge one for 2014 and I would buy it aggressively into what I think is a momentary West Texas dip.
Which leaves us with Cisco. Here's a company that reported the worst quarter in the Dow Jones average, despite doing a massive restructuring in the previous quarter that should have heralded a better turnaround. I still, for the life of me, can't figure out why it didn't preannounce its horrendous situation, especially when considering the drop off it forecast for next year.
I think Cisco's getting its butt kicked by pretty much everyone lately. I spoke to
Palo Alto Networks
(PANW) - Get Palo Alto Networks, Inc. Report
the other day and the company's simply carving up Cisco on its security offerings. I believe that
Ciena's
(CIEN) - Get Ciena Corporation Report
winning the war here as is
Juniper
(JNPR) - Get Juniper Networks, Inc. (JNPR) Report
Juniper.
The solution? John Chambers. He has to go.
He's been unable to turn around this operation despite offering what many think is superior technology. The a la carte companies are crushing the end-to-end solution companies like Cisco. There's only one way out: break the company up and that's something that Chambers, who built the company, can't do. He's too stubborn. I think new blood here would invigorate the company and bring it back into the fold of real growth technology plays. Here, again, the endless buybacks at high prices are doing nothing for the cause.
It's a motley crew of which only Exxon's worth a buy. But with changes and acquisitions that can change. Unfortunately, I just don't see any of these changes happening any time soon.
Action Alerts PLUS, which Cramer co-manages as a charitable trust, has no positions in the stocks mentioned.
Independent Oils Look Buyable
Posted at 12:33 p.m. EDT on Wednesday, Nov. 27
Let's say Carly's right.
I'm talking about Carly Garner, one of our best and most thoughtful technicians, who is predicting that oil can still fall. I agree with her about the vulnerability of the commodity and I also think that the stocks all "look" terrible. I know there will be plenty of bailers from these independent oils as we approach $90 and there will be out-and-out panic if we drop to that $86 level she says is possible.
But I want to buy, not sell, these stocks.
While I am distinctly getting the feeling that everyone in America -- perhaps save the president and Congress -- recognizes we have found a lot more oil than we thought, so the surprise factor is gone, I still think there's a huge scarcity factor. Put simply, there are a handful of companies that really have the right real estate and the right cost structure to make fortunes with oil at $86. But there are others who don't.
As these stocks break down in this thin trading, we added to
Occidental
(OXY) - Get Occidental Petroleum Corporation Report
because it has a refining operation that is worth more now than ever because of the expanding spreads and considering adding to
Noble
(NBL) - Get Noble Energy, Inc. (NBL) Report
because Noble has properties in Europe that are phenomenal and has the best land in the Niobrara.
I am not saying that if you buy these stocks right now you will do well. This kind of action today presages a vicious move down, not up.
I am saying that, like Carly said, we are readying for that move to BUY not sell stocks and that's the best approach to take. A really nimble person could sell here and buy back 3% from now.
I can't be that nimble or that good, for that matter.
Action Alerts PLUS, which Cramer co-manages as a charitable trust, has no positions in the stocks mentioned.