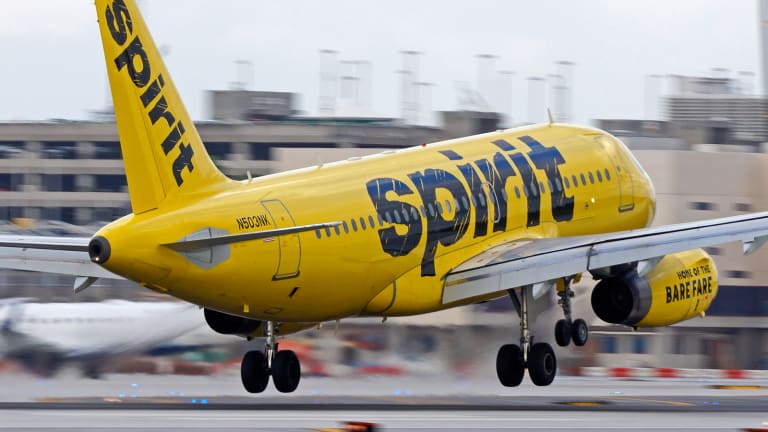 Did Warren Buffett Miss the Best Airline Value Investment?
The Oracle of Omaha has bought big stakes in four airline companies. But is this turnaround play packed with more potential?
Airline stocks took off in November when billionaire investor Warren Buffett revealed that Berkshire Hathaway (BRK.A) - Get BRK.A Report had made a sizable investment in the U.S. airline industry. But now the Oracle of Omaha has announced he won't be adding to his high-flying positions in the near future, sending airline stocks into a bit of turbulence.
Is this still a good time to get into airline investing?
For years, Buffett warned investors away from the industry. At a shareholders meeting in May 2013, he even referred to airline stocks as "a death trap for investors."
That's why investors were so excited last fall when he announced that Berkshire Hathaway had taken a more than $9 billion position in the four largest airline companies in the U.S.: American Airlines (AAL) - Get American Airlines Group, Inc. Report , United Continental (UAL) - Get United Airlines Holdings, Inc. Report , Delta Air Lines (DAL) - Get Delta Air Lines, Inc. Report  and Southwest Airlines (LUV) - Get Southwest Airlines Co. Report .
READ MORE: What Buffett, Icahn and Other Billionaire Investors Are Buying in the Trump Era
All four stocks soared, with Southwest Airlines still showing more than 30% upside since the announcement in mid-November.
But on Saturday, Buffett's revelation that he won't be adding to his airline positions saw his four holdings take a slight dip. Delta was the big loser, falling 1%, while American, United, and Southwest lost 0.9%, 0.7%, and 0.4%, respectively.
WATCH MORE: Jim Cramer Talks Warren Buffett, Apple, Tesla, Nvidia and Valeant Pharmaceuticals
Any dip in price for these airline companies makes a good opportunity for investors to get in at relative bargains. However, don't expect quick profits from American, United, Delta, or Southwest.
That's because the continuing increase in the price of fuel could put the skids on these companies' profits, although they could receive some relief if Donald Trump holds to his promise to cut corporate tax rates. However, a number of analysts are predicting that these companies won't see a significant increase in earnings until 2018.
If you don't have the patience to wait a year for airplane profits, there is another stock that's just about cleared for departure.
Spirit Airlines (SAVE) - Get Spirit Airlines, Inc. Report , a low-cost airliner, used to be the brunt of travelers' jokes. Although its fares were dirt cheap, Spirit was seldom on time, and its customer service was notoriously bad.
However, at the start of 2016, Bob Fornaro became the company's new CEO and embarked on a journey of setting things right. Fornaro has improved efficiency at the company and improved its customer satisfaction levels. Last year, the number of complaints made about the company to the Department of Transportation fell by more than 60%.
Revenue per available seat mile slowed its decline. During the last quarter, this metric decreased 3.6% year over year, vs. 14% for the first half of fiscal 2016.The company has also added new routes to more mid-size U.S. airports, which helps keep the competition down.
But these measures have taken a bit of a financial toll on the company. In the fourth quarter, adjusted earnings per share fell by 25%.
However, analysts are expecting Spirit to return to earnings growth in the second half of 2016, and the company is expecting its revenue per available seat mile to increase, despite year-over-year capacity growth of 18.5% in 2017. Although the company faces the same fuel-price challenge as other airliners, its turnaround story should be enough to excite investors.
In 2016, as the company made improvements to its business, Spirit's stock saw a 33.5% rise in price. Investors should continue to see high-flying profits from this value airline stock.
---
As we've just explained, Spirit Airlines is an excellent growth opportunity. If you're looking for other growth opportunities, we've found a genius trader who turned $50,000 into $5 million by using his proprietary trading method. For a limited time, he's guaranteeing you $67,548 per year in profitable trades if you follow his simple step-by-step process.Click here now for details.
The author is an independent contributor who at the time of publication owned none of the stocks mentioned.