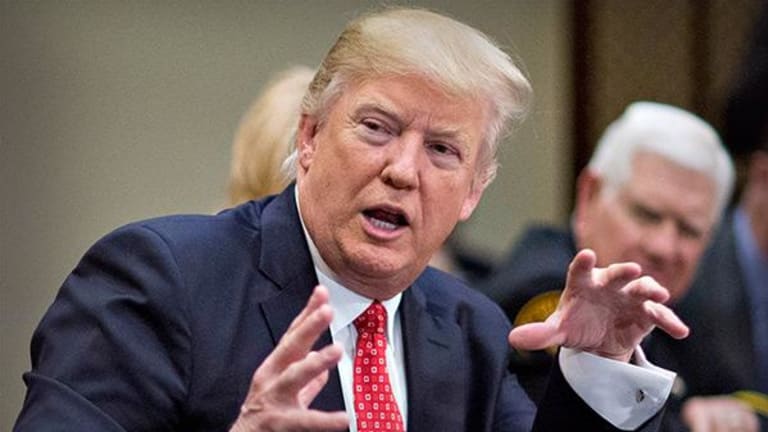 Publish date:
Did Trump Just End the Market Rally?
Trump's Friday comments on the nation's fiscal situation sent markets down.
Trump's Friday comments on the nation's fiscal situation sent markets down.
This column originally appeared at 1 ET on Real Money, our premium site for active traders. Click here to get great columns like this from Jim Cramer and other writers even earlier in the trading day.
President Trump may have just burst his own euphoric market bubble. As you know, stocks have been on an uninterrupted high ever since the election, barely pausing for breath but once or twice along the way, only to catapult to even higher heights on promises of "big league" tax cuts and other fiscal measures. 
Meanwhile, we have seen nothing, just a hiring freeze and a White House staff and GOP-controlled Congress loaded with fiscal hawks and debt/doomsday ideologues. The president's own budget director, Mick Mulvaney, is about as fiscally hawkish as anyone can get, perhaps because he is woefully ignorant when it comes to understanding sovereign money. 
I've been telling you about this. The markets don't seem to want to pay attention. 
A day ago, Trump let his true feelings about the nation's fiscal situation be known: "We're in a mess fiscally," he said. "The spending is out of control." He talked about the national debt doubling in the past eight years and said "we have enormous work to do." It now looks like the White House budget will have a primary focus on spending cuts. That's right, spending cuts. 
I am not surprised, then, to see the markets down today following these comments. With the tax plan still months away and the budget and debt ceiling situations now coming to the forefront as issues that have to be dealt with next month, investors may be getting hit with a cold dose of reality. 
I've covered the sketchy details of the White House's economic plan thus far. We will see a tax cut, a corporate tax cut for sure and that will basically legitimize the rate that corporations are already paying. Actually, they're paying far lower than the 35% that is claimed and even lower than the 20% being proposed. The numbers on this are clear. Out of the $2.8 trillion in total tax revenue that was taken in by the federal government last year, $338 billion were corporate taxes. That's 12%. The vast majority -- $2.4 trillion -- came from employment and withholding (FICA) taxes. 
Admittedly, Trump's team did say there would be some tax relief for the middle class, though there were no specifics and I would point out that there was no mention of a payroll tax cut. This would provide the biggest boost to middle-class workers and, by corollary, the biggest boost to the economy, but again, no mention whatsoever. 
As for the border tax adjustment, that is a net tax on the economy, as I have explained. As a nation, we import more than we export, so taxing imports, even if you are going to exempt exports, is still a net tax. It's inflationary, too, as it effectively raises the cost of imports. 
Furthermore, very little will be "repatriated" under the one-time low tax incentive scheme that's being proposed. That's because the repatriation of profits basically amounts to a scaling back of foreign operations. Businesses use their foreign profits, or at least a portion of them, to invest and expand in their overseas activities. Firms will want to see concrete evidence of stronger demand in the U.S. before shipping their profits back home. Most will take a "wait and see" attitude, I predict. 
The most important thing here, however, is the change in Trump's tune. During the campaign he talked about big tax cuts and big spending (trillion-dollar infrastructure, etc.) and understood that there could never be a problem with regard to the U.S. meeting its obligations because it is the sovereign issuer of the dollar. Now, though, he sounds like all the other debt/doomsday, "we're out of money and we borrow from China" tools. 
To me, the Trump boom looks like it's going to end up to be the Trump wilt. Even worse, his rhetoric may embolden the fiscal hawks in Congress who would like nothing more than to take aim at the biggest and most important federal government spending programs, namely Social Security and Medicare. Trump said he'd never touch those things, but he said a lot of things that he seems to be going back on, so we'll see. Cuts to those programs would not just weaken a crucial safety net, but two of the most important income and growth engines of our economy. "Sad!"
At the time of publication, Norman had no positions in the stocks mentioned.