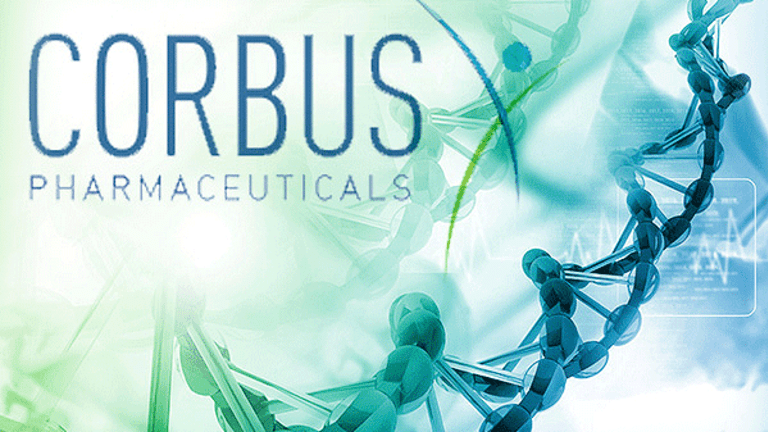 Publish date:
Did Corbus Investors Get Thrown Off by a Red Herring?
Investors ran for the exits after analysts pointed out that glowing Phase 2 study results for Corbus actually weren't that great. But a better story lies behind this biotech play.
Investors ran for the exits after analysts pointed out that glowing Phase 2 study results for Corbus actually weren't that great. But a better story lies behind this biotech play.
Biotech stocks are infamous for taking their investors on roller-coaster rides. Stocks can rise and fall on the slightest of triggers. And since the products in a biotech company's pipeline are the biggest drivers of growth, analysts pay intense attention to any shred of news when it comes to clinical results.
Last week, Corbus Pharmaceuticals (CRBP) - Get Report , a biopharmaceutical company focusing on clinical stage therapies, released seemingly positive data from a Phase 2 study that received mixed reviews from analysts and investors.
On Thursday, Corbus reported that its potential anti-inflammatory drug for cystic fibrosis (CF) patients, dubbed anabasum, demonstrated that it was safe and well tolerated in a Phase 2 clinical trial.
Anabasum is intended to reduce excessive inflammation in CF sufferers, thus reducing damage to patients' lungs and slowing the progression of the incurable disease.
Corbus' management was quick to praise anabasum for its safety in the trials.
However, according to some analysts, some of the results weren't dramatic enough. Corbus reported that "forced expiratory volume" in "one second (FEV1) percent" (a measurement of lung function) "remained stable" for study participants. And apparently, studies of rival treatments, including VertexPharmaceuticals' (VRTX) - Get Report Kalydeco significantly improved FEV1. Other analysts remarked that Corbus had appeared to "cherry pick" trial data. A cystic fibrosis drug shouldn't just be safe; it should work.
So, despite the apparently "good" news, Corbus' stock took a header last week, and this downward trend is continuing on Monday. At the time of writing, the stock has lost more than 2% since the morning's open.
While that news might have backfired on Corbus, even if the anabasum treatment ends up not becoming the ideal drug for CF patients, it's not the treatment's only indication.
Corbus has already released unquestionably positive data from the Phase 2 study of anabasum for patients with systemic sclerosis, which affects 90,000 people in the U.S. and Europe. And on Wednesday, Corbus announced that it will proceed with a single Phase 3 trial for anabasum to treat this autoimmune system-related disease.
"With the conclusion of a successful end-f-Phase 2 meeting with the FDA, we believe we have a clear path forward to advance the clinical development of anabasum to support New Drug Application for the treatment of systemic sclerosis," said Corbus' chief medical officer, Barbara White. "We look forward to potentially providing systemic sclerosis patients with an effective therapeutic option for a disease for which there remains significant unmet medical need."
Investors who are looking for solid, steady gains from the healthcare industry would do better to play a very diversified company with multiple decades of history, such as Johnson & Johnson (JNJ) - Get Report , which makes consumer staples such as Band-Aids along with drugs.
However, analysts who aren't afraid of risk might find Corbus an intriguing play--and the stock's current swing lower might provide a good opportunity to get in at a low price point. If anabasum inches toward receiving the FDA's blessing for a different indication, investors who bailed on a cystic fibrosis red herring might be disappointed.
Pocket $67,548 EXTRA With This One Simple Investment Change
Warren Buffett reaped $4.9 billion by making this one small change to his investment strategy. It's the closest you'll ever get to NEVER losing money while investing. I made $185 every day over 1,586 days doing this. Is it time for a change that will lead to more money in your pocket? Get the full details here.
The author is an independent contributor who at the time of publication owned none of the stocks mentioned.