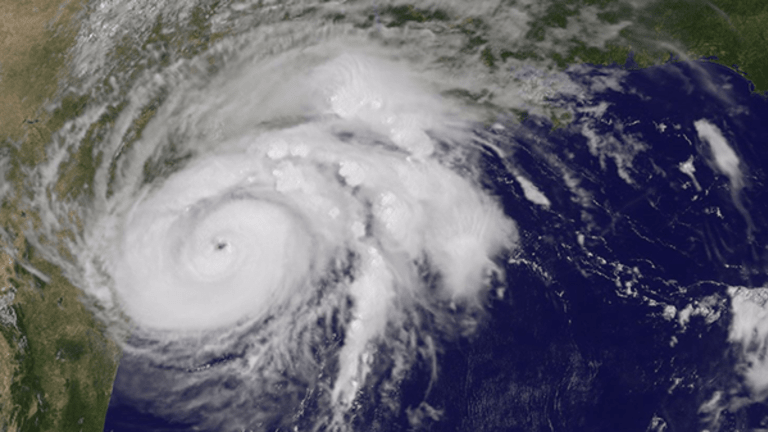 Publish date:
What Devastating Flooding From Hurricane Harvey Means for Oil Prices
Harvey takes its toll on refining
Harvey takes its toll on refining
Tropical storm Harvey's devastating flooding has taken almost 17% of U.S. refining capacity offline and about 10% of crude production, creating an imbalance that is likely to lead to larger U.S. crude inventories and weigh on crude prices.
West Texas Intermediate futures for delivery in October traded Tuesday at $46.66, up $0.09 on their Monday price, but down on Friday's close of $47.87. International benchmark Brent Crude futures, also for October, traded at $51.85, marginally lower.
The storm will continue to lash the Gulf of Mexico's coast over Tuesday with the National Hurricane Center predicting as much as 50 inches of rain in some regions, contributing to "ongoing catastrophic and life-threatening flooding from Texas to Louisiana".
Much of the U.S.'s refining capacity is located in the coastal region where the storm made landfall on Sunday night and where flooding has been worst.
"Data available so far point to Harvey significantly disrupting refining in Texas with nearly 3 mb/d of capacity offline. This represents 16.5% of the 18.2 mb/d of U.S. capacity," Goldman Sachs analysts including Damien Courvalin wrote in a note. "Should these levels of outages remain in place, and using past hurricanes as proxies for the impact on oil demand, we roughly estimate that the impact of Harvey on the U.S. oil market would be to add 1.4 mb/d of crude while removing 615-785 kb/d of gasoline and 700 kb/d of distillate."
ExxonMobil (XOM) - Get Report late Sunday reported that its Baytown refinery, the U.S.'s second largest, had been forced offline and suffered significant damage when the facilities roof sank because of heavy rain. Eight Texan refineries have closed due to the storm, though no other refineries have reported specific storm-related damage.
More refineries could be taken off line on Tuesday as Houston continues to feel the impact of the rains. The region around Houston accounts for a further 850,0000 barrels per day of refining capacity.
By comparison, crude oil production has escaped the storm relatively unscathed. The path of the storm took it below the Gulf's major offshore production regions. The risk of significant flooding in the onshore Eagle Ford shale region led to precautionary closures, which combined with limited offshore shutdowns has probably taken out about one million barrels per day of crude production.
That will result in increased inventories, particularly in the Cushing storage area of Oklahoma, that will weigh on the price of the benchmark West Texas Intermediate price, said Goldman Sachs. 
More of What's Trending on TheStreet:
Editors' pick: Originally published Aug. 29.