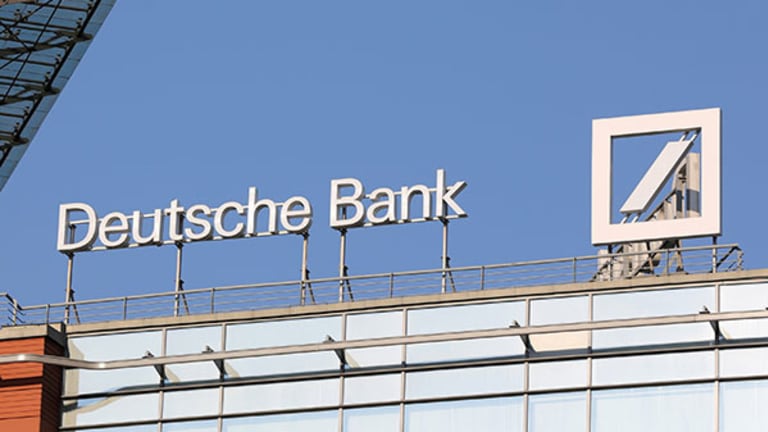 Deutsche Bank's $2.5 Billion Fine Shows Why Regulators Love Instant Messaging
Deutsche Bank is paying $600 million to New York's Department of Financial Services, $800 million to the CFTC and $775 million to the U.S. Department of Justice.
NEW YORK (TheStreet) -- If you're rigging rates -- or engaging in other questionable financial activity, talking about it in instant messages or e-mails makes it that much easier for regulators to make a case against you.
That's one of the lessons from $2.5 billion in fines levied against Deutsche Bank (DB) - Get Deutsche Bank AG Report to settle claims the bank helped manipulate benchmark interest rates including the Libor, a global standard for products including mortgages and student loans.
The bank has terminated the employees involved and agreed to install an independent monitor to ensure compliance with New York laws, according to a consent order from the department.
Deutsche Bank also entered into a deferred prosecution agreement with the U.S. Justice Department, and one of the company's subsidiaries has agreed to plead guilty to fraud.
The case is yet another example of the boon a paper trail provides to regulators and law enforcement investigators. Or rather, an electronic trail. 
As part of its investigation, the New York Department of Financial Services obtained the e-mail and Bloomberg chat history of Deutsche Bank personnel targeted in the probe and enclosed excerpts from them in its consent order.
Among them was an exchange between a trader and a substitute interest-rate submitter, who was much more amenable to the trader's demands than his regular counterpart:
Trader 1: "can we have a high 6mth libor today pls gezzer?"
Back-up submitter: "sure dude, where wld you like it mate ?"
Trader 1: "think it shud be 095?"
Back-up submitter: "cool, was going 9, so 9.5 it is." 
Trader 1: "super - don't get that level of flexibility when [the usual submitter] is in the chair fyg!"
And then there were the more direct comments.
On September 4, 2009, a vice president concluded his note to a trader about corruption in interest rates such as the Libor (London Interbank Offered Rate) and Tibor (Tokyo Interbank Offered Rate) with the following:
"It is not because the japanese banks are manipulating the tibor fixing that DB has to do it as well... Tibor is a corrupt fixing and DB is part of it!"
This, of course, is not the first time electronic messages proved embarrassing for Wall Street rainmakers. In 2010, Goldman Sachs agreed to pay $550 million to settle civil fraud charges by the U.S. Securities and Exchange Commission without admitting guilt. Records of electronic exchanges in that case showed Goldman traders blasting their own products, calling one of them "crap."
Deutsche Bank representatives were not available for comment Thursday afternoon. In a statement earlier in the day, the company announced a number of procedural changes in the wake of the case, including creating a separate group to oversee interest-rate submissions, which will report to its Risk Management division, and completely separating -- physically -- its interest-rate submitters and traders.
Deutsche Bank said it would also update its systems to more quickly identify electronic and voice communications of interest to regulators.
"While a number of employees involved in misconduct have already left the bank, those that remain are being terminated or banned from the New York banking system," New York State Financial Services Superintendent Benjamin Lawsky said in a statement Thursday. "Markets do not just manipulate themselves. It takes deliberate wrongdoing by individuals."