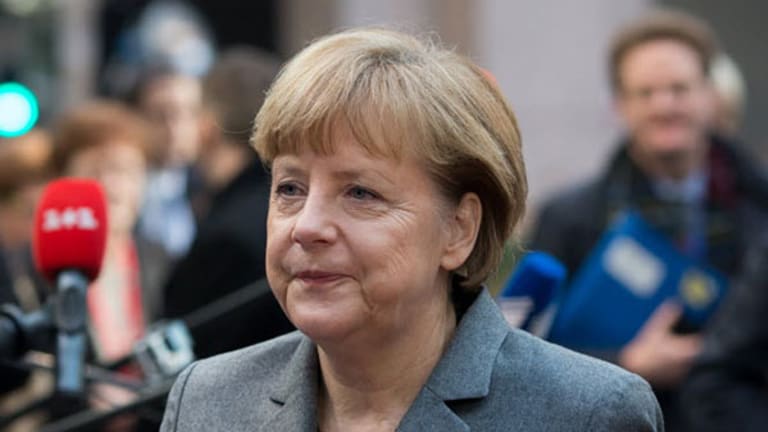 Deutsche Bank Tanks as Merkel Reportedly Nixes Aid
Shaky German banking giant gives up another 7%.
Shaky German banking giant gives up another 7%.
A version of this article originally appeared on on Real Money, TheStreet's subscription-based sister site for active traders.
Deutsche Bank (DB) - Get Report tumbled by another 7% today on word that German Chancellor Angela Merkel has ruled out any government bailout of the shaky banking giant.
Deutsche Bank gave up 90 cents a share to close at $11.85 on the New York Stock Exchange after falling to record lows earlier in Europe. The German bank's shares have lost nearly 80% of their value since January 2014.
Merkel appears to have thrown a wrench in the works of Deutsche Bank's plans to reduce a $14 billion penalty recently levied by the U.S. Justice Department.
According to a report in Focus magazine, the German chancellor has no plans of aiding the German lender with its DoJ fine, which is tied to Deutsche Bank's role in issuing, distributing and securitizing residential mortgage-backed securities between 2005 and 2007.
Merkel has also reportedly ruled out any German government assistance to Deutsche Bank ahead of next year's national elections. Shares of Deutsche Bank ended the day down about 7% in European trading and its New-York listed shares were down by almost 7% in mid-morning trading.
"At no point has [Deutsche Bank CEO] John Cryan asked Chancellor Merkel to intervene in the RMBS issue with the U.S. Department of Justice," a Deutsche Bank spokesperson said in a phone interview with Real Money.
Investors are afraid the bank might have to raise fresh capital to cope with the financial demands that are made on it. Deutsche Bank representatives did not immediately respond to requests for comment.
The bank's hopes of substantially winding down the the $14 billion civil charges already seemed to be slight, given the German bank's out sized role in the never-ending "Big Short" saga relative to some of its banking peers.
The DoJ did not comment when asked by Real Money for details about the amount and has not yet put out a statement, so investors have to rely only on what information is publicly available on the issue.
In repudiating the DoJ's hefty penalty, the struggling German bank said last week that it has "no intent" to pay "anywhere near" the proposed figure for its role in kindling the pre-crisis residential-mortgage market. But a history of similar settlements suggests forming a convincing counteroffer will be difficult.
Deutsche Bank insiders quoted by The Financial Times have said the bank hopes it will be treated like Goldman Sachs (GS) - Get Report , which ended up paying only about $5 billion, a slap on the wrist vs. the $16.6 billion and $13 billion that Bank of America (BAC) - Get Report and JPMorgan (JPM) - Get Report were forced to shell out, respectively. (Citigroup (C) - Get Report and Morgan Stanley (MS) - Get Report also arrived at comparatively small settlements, of $7 billion and $3.2 billion, respectively.)
The $14 billion punch could sure be crippling for Deutsche Bank shareholders, who've already seen almost half of the struggling bank's market cap vanish so far in 2016. After all, Deutsche Bank has put aside for litigation reserves only about 5.5 billion euros, or $6.1 billion, analysts with Toronto-based rating agency DBRS recently estimated. And the bank's total market cap is currently around just about $18 billion.
And any attempt to get Goldman-like treatment could be tricky. In the pre-crisis housing market, Deutsche Bank appears to have been printing far more collateralized debt obligations. Deutsche created about $42.5 billion worth of the debt packages vs. about $25 billion by Goldman in 2007 alone, according to a 2010 Wall Street Journal report, which cited data compiled by Thomson Reuters. (Meanwhile, according to the report, Bank of America and JPMorgan issued about $65.5 billion and $44.3 billion in CDOs, respectively, over the period.)
CDOs are bundles of asset-backed securities, in this case by residential mortgages. Originally designed to spread and reduce risk, instead they contributed to the financial crisis because investors were unable to assess the underlying assets when the housing market turned downward. The fact that Deutsche Bank issued more of them than Goldman in the year when the credit crunch started seems to suggest a deeper role for the German bank. Deutsche Bank representatives contacted by Real Money did not comment.
One of the striking similarities between the two banks is that they appear to have both allowed hedge fund billionaire John Paulson to bet against the housing market while promoting the market to clients. However, the Journal noted "a key difference" in their report: "Goldman told investors that the assets were picked by an independent third party; Deutsche didn't use a third party or give its investors any assurances."
Both Goldman and Deutsche Bank were also market-makers for traders interested in shorting the housing market more broadly, as they acted in that capacity through the ABX credit-default index that was dramatized in both Michael Lewis's book The Big Short as well as the eponymous 2015 film, in which Ryan Gosling starred as a character based on the Deutsche Bank banker Greg Lippman, who helped establish the index. Other major investment banks that helped create the ABX index included Bank of America, Barclays (BCS) - Get Reportand Credit Suisse (CS) - Get Report , among others.
Another hurdle could be that Deutsche Bank is already under U.S. scrutiny, after having failed Federal Reserve stress tests, along with Santander (SAN) - Get Report , in June, in which the central bank objected to "capital plans" because of "broad and substantial weaknesses across their capital planning processes, and insufficient progress these firms have made toward correcting those weaknesses."
Technical analyst Bruce Kamich wrote on Real Money today that "we can see a clear downtrend in progress in [Deutsche Bank's] chart, with prices comfortably below the stock's declining 40-week-moving-average line:

Source: BigCharts.com
Kamich also noted that the stock's weekly On-Balance-Volume line (OBV) "has also been sliding since early 2014, which tells us that liquidation and not accumulation is an important feature here. It's true that Deutsche Bank is showing a January/July bullish divergence between price action (lower lows) and momentum (higher lows). But so far, that hasn't slowed the stock's downtrend." Click here to read Kamich's full analysis.
Employees of TheStreet are restricted from trading individual securities.