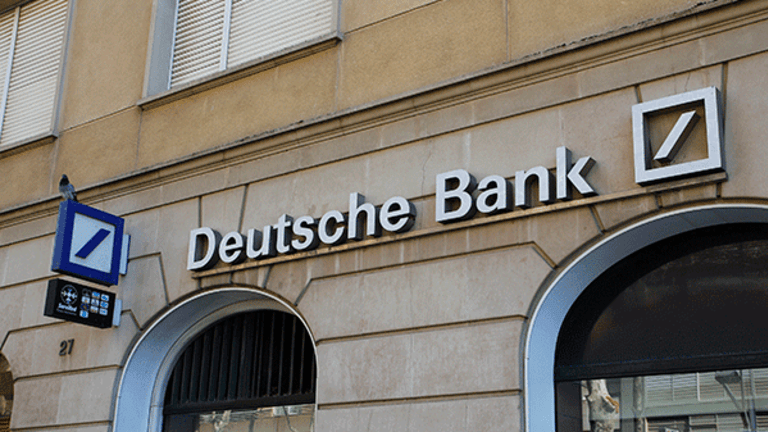 Deutsche Bank (DB) - Get Deutsche Bank AG Report CEO John Cryan said Thursday a deal with U.S. regulators to settle litigation was his No. 1 task as he presented third-quarter numbers that beat forecasts.
Investors have been on tenterhooks for news on whether the lender can negotiate lower a Department of Justice fine for mis-selling mortgage-backed securities before the financial crisis ever since the bank said on Sept. 15 the DoJ's starting position was $14 billion. Deutsche Bank said it had increased its litigation provisions to €5.9 billion ($6.4 billion) in the third quarter from €5.5 billion in the second quarter, while Cryan told analysts on a conference call that settling the matter and other overhanging legal issues was something he must do "first and foremost," without providing information on the likely timing.
"This remains our and my top priority," he said
Deutsche Bank shares were recently down marginally at €13.32 after rising more than 3% on the opening.
In the third quarter Deutsche Bank made a pretax profit of €619 million ($675 million) and a net profit of €278 million, whereas many analysts had been expecting a loss. Revenue rose to €7.5 billion from €7.3 billion, above the €7.23 billion consensus forecast compiled by FactSet.
"The outcome for the quarter showed the strength and the resilience of our business in a tough environment and it showed the progress we are making in restructuring the bank, " said Cryan.
Cryan claimed core business "successes," including a 10% increase in quarterly global markets revenue to €2.59 billion on stronger debt sales and trading. Pretax profit at the business was €330 million compared with a loss of €2 billion a year earlier
Quarterly Ebit at its asset management business rose to €216 million from €142 million.
But the bank blamed the low interest rate environment for a 7% decline in revenue at retail lender Postbank, which Deutsche Bank is looking to sell. Postbank revenue came in at €779 million, while the division made a profit of €68 million compared with a loss of €2.5 billion a year earlier.
Deutsche Bank's fully loaded common equity Tier One capital ratio rose to 11.1%, as forecast, as of Sept. 30 from 10.8% on June 30. That is before an expected 40- to 50-basis point gain when the bank's sale of its stake in China's Hua Xia Bank eventually closes.
"We are highly confident that this will happen in the fourth quarter," CFO Marcus Schenck told analysts.
Deutsche Bank announced the results just after saying it would sell to Mexican business InvestaBank SA Institución de Banca, a disposal Cryan said reflected its aim to simplify the group.