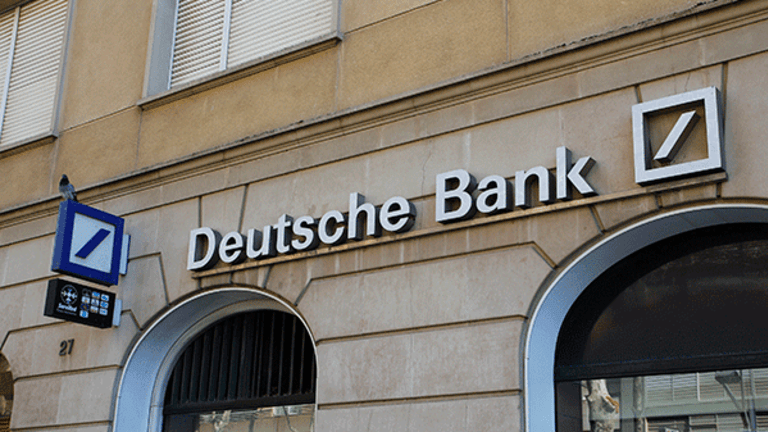 Publish date:
Deutsche Bank's U.S. Future in Balance Ahead of DoJ Settlement
With a threatened $14 billion fine for sub-prime related abuses still hanging over it, Deutsche Bank's third-quarter earnings report may include plans to cut its U.S. presence.
With a threatened $14 billion fine for sub-prime related abuses still hanging over it, Deutsche Bank's third-quarter earnings report may include plans to cut its U.S. presence.
Deutsche Bank (DB) - Get Report releases its third-quarter earnings on Thursday, as investors remain on tenterhooks for any hint of progress in its talks to negotiate lower a $14 billion Department of Justice fine related to pre-credit crisis sales of mortgage-backed securities.
Deutsche Bank shares on Tuesday were down 1.8% at €13.07 ($14.23) after Sky News reported that the DoJ may delay a settlement with the bank until after the Presidential elections. 
But despite the share-price decline, the stock remains  well above its Sep. 30 low of €9.90, when investors feared it might be faced with the full weight of the threatened fine as well as regulatory issues in Russia and elsewhere.
Deutsche Bank has said all along it has no intention of paying as much as $14 billion and investors will be looking for answers from CEO John Cryan about his progress in talks with U.S. officials They will also want an update about its  future presence in the U.S. after Reuters said the bank is contemplating a full or partial withdrawal from the country, possibly tied to a DoJ settlement.
There are also ongoing concerns that it might yet have to go for a capital raising, despite regular denials, and questions about who would be prepared to invest in a rights issue for such an apparently troubled institution.
Analysts at Macquarie Bank took the story a stage further, saying it was "very plausible" the U.S. authorities might welcome a Deutsche Bank departure and could be pushing in that direction. For the U.S., they said it could be "good riddance," as the bank is weakly capitalized, but systemically important, having the biggest U.S. balance sheet of its European peers at around $370 million. They added that it also has a very large branch branch-based business that falls outside of the scope of the new US holding company rules and is not primarily locally funded.
Last, but not least the bank has a history of control failings in the U.S., having failed the Federal Reserve's stress tests two years running.
"It is not hard to see why U.S. regulators might conclude [Deutsche Bank] is a risk they can do without," the Macquarie analysts said, adding that while a pullback from the U.S would help the bank's capital position in the short term, it would weaken future profitability and growth.
German public prosecutors recently also launched an appeal over the acquittal of former executives at the country's largest bank who were charged with misleading a court in connection with the 2002 collapse of the Kirch media empire. Although founder Leo Kirch died in 2011 and the bank itself settled a civil suit in 2014 for over €900 million, the reopening of the case against former CEOs Rolf Breuer, Josef Ackermann and Jürgen Fitschen has once again served to keep the institution's reputation in the spotlight.
According to a survey of analysts conducted by FactSet, the consensus estimate of third-quarter earnings for Deutsche Bank is for  €0.17 earnings per share. Last year Deutsche Bank made a third-quarter loss per share of €4.35.
In its Tuesday report, Sky News said DoJ officials wanted to fold the agreement with Deutsche Bank into a wider pact with rivals Credit Suisse (CS) - Get Report and Barclays (BCS) - Get Report .  The news outlet reported that the "omnibus" agreement may be delayed until the new administration is in place in January.