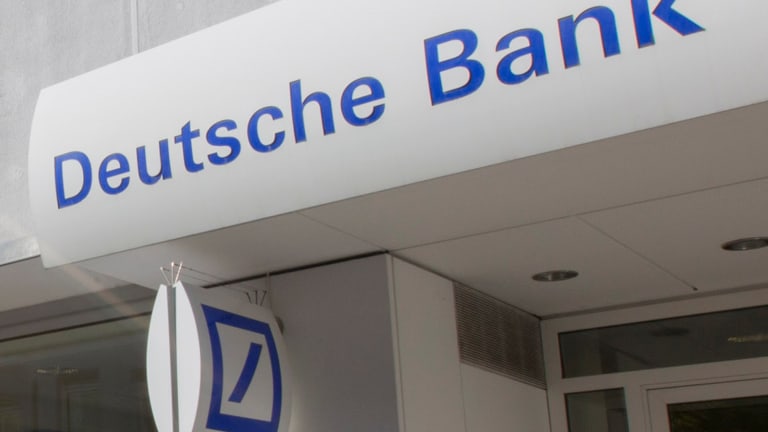 Deutsche Bank Plummets as Merkel Reported to Rule Out Diplomatic or Financial Help
Pressure mounts on Germany's largest bank as Focus magazine reports Chancellor Merkel refused to mediate in negotiations over a $14 billion DoJ fine and rules out financial aid.
Deutsche Bank (DB) - Get Deutsche Bank AG Report on Monday said it would not turn to the government for a bailout, as it tried to quash speculation that sent its share price down to record lows.
In a statement, bank spokesman Jörg Eigendorf said: "This question is not on our agenda: Deutsche Bank is determined to meet the challenges on its own."
Eigendorf also denied that CEO John Cryan had asked the government to intervene to mitigate the $14 billion fine the Department of Justice wants the bank to pay for alleged abuses of residential mortgage backed securities.
"At no point has John Cryan asked Chancellor Angela Merkel to intervene in the RMBS issue with the U.S. Department of Justice," he said.
And to make doubly clear that the bank had no need for emergency capital, he added: "The question of a capital increase is currently not on the agenda; we comply with all capital requirements."
Shares in Deutsche Bank plummeted nearly 6% in early trading after German news magazine Focus reported Merkel was not prepared to get involved in a dispute that could devastate the bank's balance sheet. The share at one point sank to €10.63, a depth not plumbed since the bank started trading on Frankfurt's Xetra electronic exchange in 1992.
This morning's price drop left Deutsche Bank with a market capitalization by mid-morning of just €14.73 billion ($16.6 billion), uncomfortably close to the $14 billion fine the DoJ has demanded.
Perhaps more significantly, but given less prominence in Focus Magazine's story, Merkel reportedly also ruled out any financial help for the bank in "election year 2017." That part of the story was based on what the magazine called "sources within the government," while the DoJ dispute report is based on "information."
According to the magazine, Merkel made her reluctance clear in a confidential meeting with DB CEO John Cryan during the summer. The bank boss had indicated that Germany's largest financial institution could benefit from some diplomatic intervention from the federal government, but was rebuffed.
Eigendorf also appeared on CNBC on Monday and said speculation the bank had looked for help from the German government was "just wrong."
The Chancellor's office also denied the report. "There are no grounds for such speculation,'' German government spokesman Steffen Seibert told reporters in Berlin on Monday. "The government won't participate in any such speculation."
Deutsche Bank would find it hard to survive such a big fine, analysts believe, prompting considerable speculation that the German government would not simply stand by and let it go bust.
However, the DoJ's initial demand is also subject to negotiation, and German reports regularly point to what they say was a comparable case in which the DoJ initially demanded $15 billion from Goldman Sachs (GS) - Get Goldman Sachs Group, Inc. Report , but eventually agreed to pay more than $5 billion.
Deutsche Bank said when the $14 billion figure first emerged earlier this month that this was the "opening position by the DoJ" and said it had been invited by the DoJ to submit a counter-proposal.
"Deutsche Bank has no intent to settle these potential civil claims anywhere near the number cited," it said in a statement. "The negotiations are only just beginning. The bank expects that they will lead to an outcome similar to those of peer banks, which have settled at materially lower amounts," the statement said.
The share was recently trading at €10.75, up slightly from the morning's low of €10.63, but still 5.31% down on Friday's close.
Technical analyst Bruce Kamich of Real Money, TheStreet's premium site for active traders, wrote today that "we can see a clear downtrend in progress in [Deutsche Bank's] chart, with prices comfortably below the stock's declining 40-week-moving-average line:

Source: BigCharts.com
Kamich added that DB's weekly On-Balance-Volume line (OBV) "has also been sliding since early 2014, which tells us that liquidation and not accumulation is an important feature here. It's true that Deutsche Bank is showing a January/July bullish divergence between price action (lower lows) and momentum (higher lows). But so far, that hasn't slowed the stock's downtrend." Click here to read Kamich's full analysis.