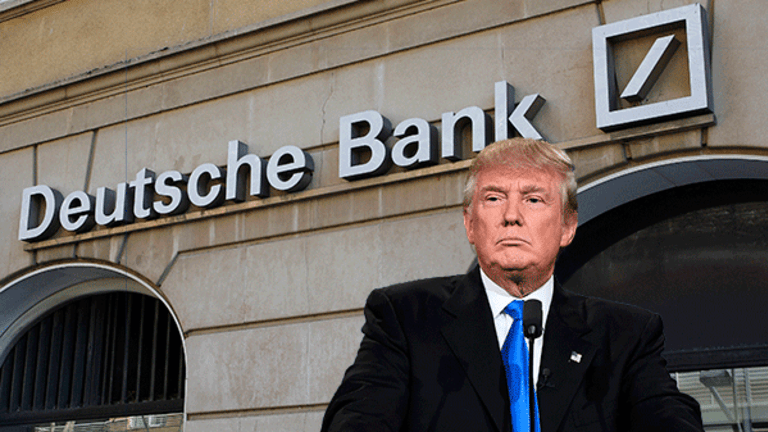 Deutsche Bank Is Losing Ground in Trading While JPMorgan Thrives
Deutsche Bank's negotiations with U.S. prosecutors last year over alleged mortgage misdeeds rattled investors, leading many of the German lender's trading partners to defect -- apparently to American rivals.
The following article, originally published at 7:37 a.m. on Thursday, Feb. 24, 2017, has been updated with first-quarter projections.
Deutsche Bank (DB) - Get Deutsche Bank AG Report , the German lender hit last year by a $7.2 billion settlement with U.S. authorities over alleged mortgage misdeeds, is losing ground to American rivals in the highly profitable arena of bond and currency trading, a new report shows.
The German lender's share of global fixed-income trading revenue slipped to 12% last year from 14% in 2015, analysts at brokerage firm Keefe, Bruyette & Woods estimated this week. At JPMorgan Chase (JPM) - Get JPMorgan Chase & Co. (JPM) Report , the biggest U.S. bank, the share climbed to 22% from 19%, while Citigroup (C) - Get Citigroup Inc. Report and Morgan Stanley (MS) - Get Morgan Stanley (MS) Report also gained.
And the trend is set to continue, according to the analysts. JPMorgan's bond trading revenue this quarter is likely to increase by 28%, while Deutsche is poised for a 4.3% gain, KBW estimates.
Deutsche Bank's much-publicized negotiations with the U.S. Justice Department created a scare among some trading partners that the Frankfurt-based lender might face credit troubles; initially, the prosecutors had sought as much as $14 billion. At the same time, U.S. firms were buoyed by a surge in trades following the surprise election of Donald Trump as president, which triggered a rally in stocks and a steep increase in Treasury-bond yields.
The German lender's slide contributed to an overall decline in European banks' bond-trading revenue, as the Swiss banks Credit Suisse (CS) - Get Credit Suisse Group AG Sponsored ADR Report and UBS (UBS) - Get UBS Group AG Report also ceded market share. Overall, American banks' revenue share climbed to 72% from 68% in 2015, while European firms dropped to 29% from 33%, according to KBW.
Part of the slide was due to strength in the dollar versus the euro, giving a smaller weighting to the currency in which European firms' operations are more concentrated, analyst Brian Kleinhanzl wrote in the report.
"We expect the U.S. banks to continue to outperform the European banks," Kleinhanzl wrote. Indeed, fixed-income trading revenue at major U.S. banks may climb 40% in the three months through March from a "very weak" level in early 2016, he said. European banks will likely see a gain of only 26% in the same period.
The relative success of U.S. banks was highlighted last week by Fed Chair Janet Yellen, who told lawmakers in Washington that the American firms were more profitable and safer than foreign counterparts -- key qualities among traders who want to make sure they'll get paid.
U.S. banks "are capturing market share, for example, from European banks," Yellen said at a Senate hearing in Washington. "I see well-capitalized banks that are regarded as safe, sound and strong as conferring a competitive advantage on those banks in competing for business."
Deutsche Bank has acknowledged that some clients took their business elsewhere amid the intense speculation in the months before the settlement was announced, and Citigroup's CFO even noted in October that his firm might be benefiting from the shift.
On a conference call earlier this month, Deutsche CFO Marcus Schenck attributed about one-third of the firm's full-year decline in trading revenue to the mortgage speculation.
"We saw reductions in client activity levels along with elevated funding costs," Schenck said on the Feb. 2 call.
Deutsche Bank also has been scaling back in certain higher-risk trading businesses and locations as part of a strategy announced in October 2015 to dispose of 4 billion euros ($4.2 billion) of assets and cut 15,000 full-time staff and contractors within the next few years.
So far this year, the bond-trading business appears to be recovering some of its lost activity, Schenck said.
"We have seen a marked turnaround in client sentiment post the DOJ settlement, with activity levels returning," he said. "It will take time to fully recover, but we are pleased with the progress."
A Deutsche Bank spokesman declined to comment further.
Deutsche Bank also slipped in the business of trading stocks, according to KBW, with its market share falling to 6.7% in 2016 from 7.4% the prior year. JPMorgan, meanwhile, saw its share grow to 14% from 12%.
Morgan Stanley, the biggest stock trader among the U.S. firms, captured 19% of the market, up from 18% in 2015, KBW estimated.
EXCLUSIVE LOOK INSIDE: Citigroup is a holding in Jim Cramer's Action Alerts PLUS charitable trust portfolio. Want to be alerted before Cramer and the AAP team buy or sell the stock? Learn more now.