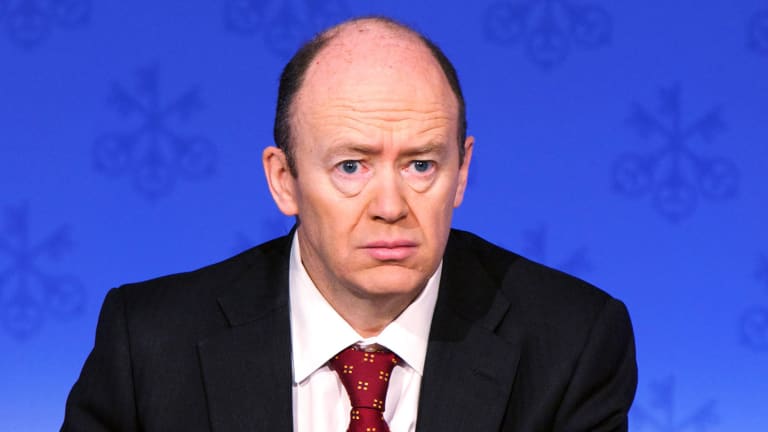 Deutsche Bank Job Cuts Could Mean Fatter Paychecks for Survivors
Deutsche Bank plans to fire 250 to 500 employees in its investment-banking and trading business, a person familiar with the matter said. It could be a way to free up money to hire and retain top producers.
Is Deutsche Bank AG (DB) - Get Free Report trying to reinvent itself in the mold of Wall Street's Goldman Sachs Group Inc. (GS) - Get Free Report ?
The German lender's plan to fire 250 to 500 employees in its trading and investment-banking division just weeks before annual bonuses get paid out resembles the strategy honed for years at Goldman: Fire underperforming employees, or those who aren't generating enough profits to justify keeping them, to save money that can be used to pay top performers bigger bonuses.
And immediately set about hiring different employees - "upgrading talent," as they say in the headhunter business.
The move comes less than a year after CEO John Cryan appointed Marcus Schenck, a former Goldman Sachs executive, to co-head Deutsche Bank's trading, investment-banking and corporate-lending operations. Earlier this month, Cryan said cost-cutting was a "critical component of improved and sustained profitability," after saying last year that the bank was "investing in people."
"They're trying to get bankers who can make more rain," said David Hendler, an analyst at Viola Risk Advisors who follows Deutsche Bank. "So they're culling out the bankers that are just taking up space and not bringing in revenue growth."
The planned job cuts, earlier reported by Bloomberg News, were confirmed by a person familiar with the matter.
Affected employees will be notified by early March, the person said, just before bonuses are paid out for work done in 2017. On Wall Street, that's a big deal because a substantial portion of compensation for traders and investment bankers comes in the form of annual bonuses.
Deutsche Bank, based in Frankfurt but with big operations in the U.S., has posted three straight annual losses totaling more than $10 billion, stung by big fines for misdeeds by U.S. authorities and a business slowdown that led to a 12% decline in revenue last year by 12%.
In the beleaguered trading and investment-banking division, revenue plunged by 49%, beset by higher funding costs, low client volumes and unusually low volatility in markets.
The dismal environment was the backdrop for Schenck's appointment in March as co-head of the trading and investment banking division alongside Garth Richie.
Early in his career, Schenck was a consultant at McKinsey & Co. before joining Goldman Sachs in 1997. In 2006, he left to become CFO of the German energy supplier E.ON and later rejoined Goldman Sachs. Deutsche Bank hired him in 2015, and he served for a while as Cryan's CFO. 
The bank has acknowledged slow progress in reducing costs in the trading and investment-banking division due to needed increases in compensation for retaining top employees and recruiting new ones.
It's a classic Wall Street conundrum: The problem with simply chopping employees is that it's hard to generate revenue without them. To get growth, the reasoning goes, a firm must have top producers who can bring in clients and transactions. And it so happens that the best people on Wall Street want to be rewarded richly.
"This is like the negative downward spiral, where you cut costs, and you don't pay bonuses, so people leave," Viola's Hendler said. "So you're left with your C players and your B players and you wonder why your revenues aren't going up."
On a Feb. 2 conference call with analysts, Cryan cited the stock-trading business as one that's changed dramatically over the past 10 years, from being dominated by banks to being "commoditized" and more broadly shared among players. And the business of helping companies and investors hedge interest-rate risk through long-dated derivatives - a type of financial instrument that pays out depending on the direction of markets - has faded as a source of fat profits, he said.
"We need to be much more forward-looking and much more judicious about resource allocation in terms of capital investment in future systems and investment in people," Cryan said.
It's an eat-what-you-kill-system, and on Wall Street they kill you if you're not killing more than you're eating. It's been the Goldman Sachs way for a long time. Now it may be the Deutsche Bank way.