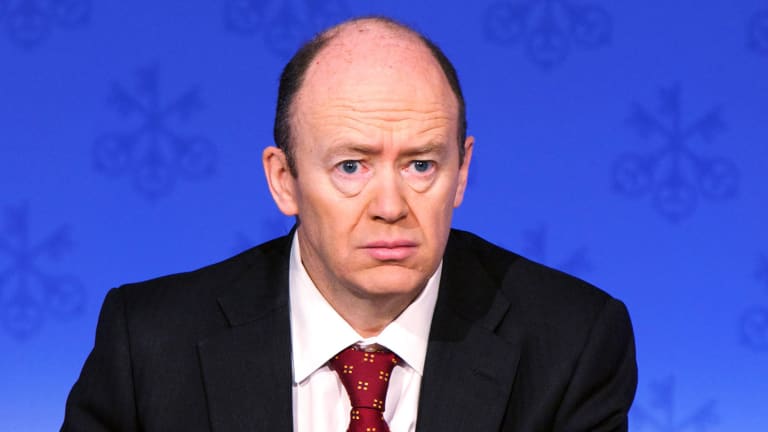 Deutsche Bank CEO Cryan Wants European Banking Mergers, Between Others
Monte dei Paschi, of Italy, Spain's Ibercaja and U.K. "challengers" could find themselves targets.
Deutsche Bank (DB) - Get Free Report  CEO John Cryan surprised the market on Wednesday when he called for renewed consolidation in the German and European banking sector to stave off profitability pressures and to remain competitive on the global stage.
His comments came just a few hours after Germany's Manager Magazin reported that Deutsche Bank had recently worked on a plan to merge with Commerzbank (CRZBY) .
Cryan later shot down speculation that a Commerzbank merger is in the works for Deutsche while speaking at the Handelsblatt annual banking conference, and he told the Financial Times he was focused on downsizing not expanding. But he said at the conference that both the domestic and European banking sector needed to change.
"We need further consolidation in banking to remain competitive internationally," he said.
Analysts have floated a long list of potential banking targets during recent months, while consultants at PricewaterhouseCoopers described Europe as an overbanked market in a July report, in which they also predicted sweeping change for industry during the coming years.
So who is up for grabs?
Banca Monte dei Paschi di Siena (BMDPF) :
The perennially restructuring Italian lender has been mooted as a potential takeout target by analysts at Berenberg for some time now.
"One of the key risks to our thesis [bearish] is that MPS is acquired" they said in an August note that suggested that there could still be as much as 50% downside left in the shares.
Berenberg reiterated its call immediately after Monte dei Paschi announced its most recent bailout, which is supposed to enable the bank to offload its non performing loan portfolio and to repair its balance sheet once and for all.
Credit Suisse analysts echoed these sentiments in a July European M&A report, where they labelled Monte dei Paschi as a target.
Interested parties could include Banca Popolare dell'Emilia Romagna, Intesa Sanpaolo and Unione di Banche Italiane, according to the analysts.
Ibercaja Banco and Liberbank:
With the second highest branch density in Europe, the Spanish banking industry probably epitomizes the notion of the overbanked market described by PwC.
As a result, smaller and weaker Spanish banks could be ripe for the picking. Both Ibercaja and Liberbank top the list of prospective targets, with potential acquirers including CaixaBank, BBVA and Banco Santander (SAN) - Get Free Report , according to the financials team at Credit Suisse.(The analysts also named Bankia, though that bank recently pointed out that EC restrictions rule it out from making acquisitions).
U.K. challenger banks:
Challenger banks in the U.K have looked like soft targets for consolidators for some time now. But, battered and bruised by the Brexit vote, overseas banks are now more likely than ever to feature as acquirers in the U.K, according to Credit Suisse.
"UK challenger banks prices have de-rated very significantly post-Brexit and thus, the valuations could look more attractive to a large domestic but particularly international acquirer," the analysts noted.
They single out Virgin Money Holdings (VRGDF) , Aldermore, and OneSavings Bank, as the most likely targets and Spanish institutions Santander, BBVA, Banco de Sabadell and CaixaBank as possible buyers.
Who else might be looking for European banks?
Mediobanca (MDIBY) :
The Italian bank was one of the top performers in the most recent quarterly earnings season. It has just acquired the Italian retail banking business of Barclays (BCS) - Get Free Report , with the transaction closing in August. The decision to acquire the assets came as part of a wider move to build the firm's CheBanca retail financial services arm in Italy.
With the third highest branch density in European retail banking Italy is fertile ground for any prospective consolidator in retail banking.
ING Bank  Slaski:
The separately listed Polish unit of the Netherlands' ING has expressed an interest in doing deals in Europe.
 CEO Brunon Bartkiewicz said at the beginning of August that the bank is interested in acquisitions, although its priority is still organic growth. Reuters reported earlier this year that it could be seeking to takeover the Polish division of Raiffeisen Bank International, of Austria.