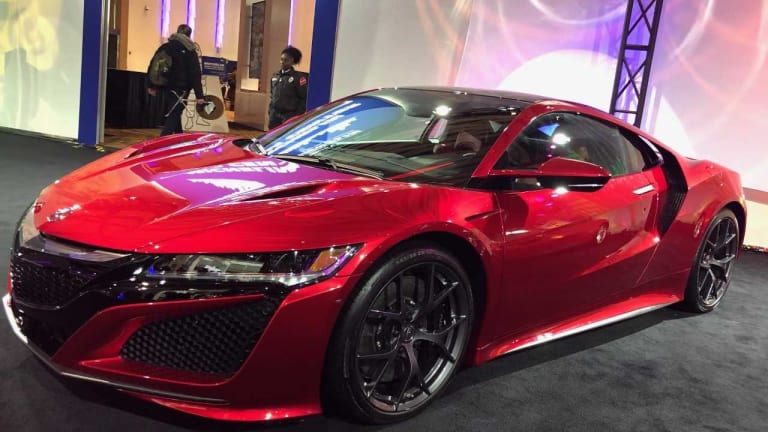 Detroit Auto Show Drives Car Stocks Higher Amid Electric Car Hype
Global auotmaker stocks are on the rise again Tuesday after upbeat sales forecasts from some of Europe's biggest manufacturers and pledges of new electric car investments from Ford.
Global automakers are extending gains Tuesday amid upbeat sales reports from some of Europe's biggest manufacturers and pledges on new electric car investments from Ford Motor Co. as part of the industry's flagship Detroit Motor Show.
Europe's Stoxx Europe 600 Automobiles & Parts index, the region's sector benchmark, added 1.12% and was quoted at an all-time high of 671.92 points by mid-day in Frankfurt after a stronger-than-expected reading for full year 2017 sales from France's Groupe PSA (PUGOY) . The owner of the Peugeot and Citroen bands said global sales grew 15.4% last year to just over 3.632 million vehicles, just behind the 3.76 million tally reported Monday by domestic rival Renault SA (RNLSY) , which sees a further 2.5% advance in global sales this year.
"We are continuing to increase sales volumes and market share across all regions," Renault's Trhierry Koskas said Monday. "Uur strategy of range renewal and geographic expansion is continuing to bring results. In 2018, we will pursue our growth and internationalization of our sales in line with the Drive The Future plan."
In Europe, Volkswagen AG (VLKAY) shares popped 2.36% in Frankfurt to touch €184.14 each, the highest levels since August 2015, while Japan's Toyota Motor Co. (TM) - Get Report rose 1.05% to close at 7,733 after hitting a 52-week high of 7,737 each earlier in the session.
The forecasts followed news Monday from Ford Motor Co. (F) - Get Report  that it will double its planned investment in clean energy cars as it scrambles to keep pace with rivals, stay one step ahead of regulators and keep upstart Tesla (TSLA) - Get Report from dominating the U.S. market for performance electric vehicles.
The iconic American carmaker will pump more than $11 billion into hybrid and electric investments over the next five years, chairman Bill Ford revealed to reporters at the industry's benchmark event Sunday, more than double its previous target, with the aim of having 40 models on the road by 2022. Ford also said this will include at least one high-performance SUV -- which it will call the Mach 1 -- alongside at least sixteen cars that will fully battery powered.
"This $11 billion you're seeing, that means we're all in now," Ford told reporters in Detroit. "We're taking our mainstream vehicles, our most iconic vehicles, and we're electrifying them. The only question is will the customers be there with us and we think they will."
The investment is part of a major shift in global automaking as manufacturers from Beijing to Detroit accelerate pledges to increase electric car investments by more than $90 billion in anticipation of China's decision to to phase-out the sale of fossil fuel-powered cars from 2019 with the introduction of production quotas for "new energy vehicles" in the world's biggest car market.
Producers and importers will need to get a clean energy score, the Ministry of Industry and Information Technology said, and prove that at least 10% of the cars they sell are "new energy vehicles", or NEVs, in order to avoid buying credits from the government or paying steep fines. Companies can also compile credits that can be sold to competitors if they sales and production rates top the minimum threshold.
More of What's Trending on TheStreet:
Ford shares closed at $13.23 each Friday, after rising 0.53% on the session, extending their three-month gain to 9.8%. That's firmly ahead of the 3.9% decline for rival GM and a 5.44% retreat for Tesla over the same period and also outpaces the 6.46% gain for the Nasdaq OMX Global Automobile index, the sector benchmark.
GM shares rose 0.29% in pre-market trading Tuesday, indicating an opening bell price of $44.20 each, a move that would trim their three-month decline to around 3.9%.