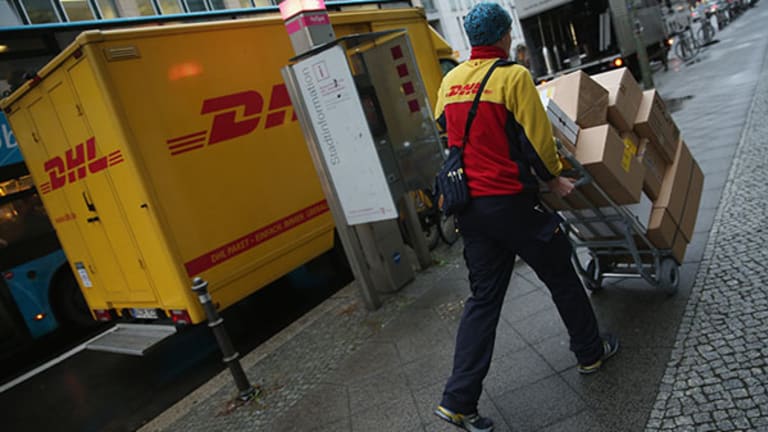 Despite Crash, U.S.-China Trade Is Booming, Says DHL Express Americas CEO
Talk of a collapse in Chinese exports is a "bit overblown," said Stephen Fenwick, CEO Americas for DHL Express, whose company is seeing fuller flights both ways on U.S.-China routes.
NEW YORK (TheStreet) -- Talk of a collapse in Chinese exports due to the country's recent stock market troubles is a "bit overblown," said Stephen Fenwick, CEO Americas for DHL Express.
"The Chinese economy is still growing at 5% to 6%, and a lot of the West would kill for that," said Fenwick. "I know that our growth is coming out of Asia and it's not only China, but the greater Asian countries like Vietnam. They are still growing in terms of manufacturing, so we are still seeing that growth inbound because consumers in the U.S. still want to buy from Asia, and that's a positive for us."
Fenwick added that the Chinese consumer economy also remains fairly robust, as DHL Express has been seeing fuller flights heading from the U.S. to Asia.
"We've seen a pickup in exports from the U.S. over the last 12 months," said Fenwick. "And while that may be slowing a little bit now, it's very encouraging to see that we are in international and the American economy is starting to export more than it did before."
DHL Express recently invested $108 million in its Americas hub at Cincinnati/Northern Kentucky International Airport to improve its U.S. operations. This move comes nearly seven years after the German delivery giant essentially pulled out of the U.S. shipping arena, leaving UPS (UPS) - Get United Parcel Service, Inc. Class B Report, Fedex (FDX) - Get FedEx Corporation Report and the U.S. Postal Service to battle for market share.
Still, despite the company's upgrades in America, Fenwick said DHL Express intends to keep its focus on international deliveries.
"That's the real difference between us and our major competitors," said Fenwick. "That's all we know and that's what we do."
Beyond improving the runways in Cincinnati, Fenwick said the company is making technological strides, especially with its use of data. Regarding Amazon's AMZN experimentation with drones and other delivery methods, Fenwick said it is way too soon to even think about drones delivering packages.
"It's a long way to go," said Fenwick. "I'm sure there are cats and dogs on the front lawn waiting to attack these drones as they land with your package. Something will come of it, but it's very much in its infancy."