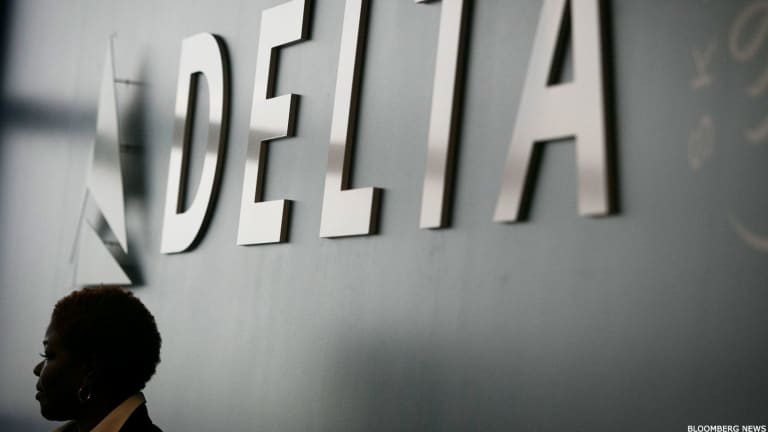 Delta Takes Stage as It Battles Boeing and Leads Airline Stock Price Recovery
Delta Air Lines will report earnings Wednesday and host reporters next week. The carrier led an airline share price revival last week and is battling Boeing after daring to order Bombardier jets.
The coming two weeks will belong to Delta Air Lines Inc.  (DAL) - Get Delta Air Lines, Inc. Report , a successful and self-assured airline that sparked an industry share price revival last week and is now battling uber-company Boeing Co.  (BA) - Get Boeing Company Report in a trade dispute.
Delta will be the first airline to report third-quarter earnings on Wednesday, Oct. 11. Next week, on Oct. 17, it will host airline reporters for media day at its Atlanta headquarters.
The two events will keep Delta in the airline industry spotlight. The other airlines will not report third-quarter results until after Delta's media day.
Delta's investor update on Oct. 3 included a moderately positive view of third-quarter revenue trends that was enough to turn the tide in what has generally been a beaten-down sector ever since Spirit Airlines Inc. (SAVE) - Get Spirit Airlines, Inc. Report executives said on a July earnings call that industry fare cutting was widespread.
"Recent Delta update suggests that Sep Q share price swoon was overdone," wrote Deutsche Bank analyst Mike Linenberg in a note issued Friday, Oct. 6.
"The Delta update implies that underlying demand for air travel remains strong," Linenberg said.
In its update, Delta said third-quarter passenger revenue per available seat mile will increase 2%, which includes a 1% decline due to "a one point headwind related to Hurricane Irma." Delta had previously guided toward a PRASM gain between 2% and 3%.
In a report issued Thursday, Oct. 5, Macquarie analyst Susan Donofrio said, "Delta's 3Q guidance update on 10/3 was the most meaningful data point of the week, with the group as a whole rallying significantly on the day.
"While we are incrementally more optimistic on the broader fare environment, we maintain our view that DAL's resilient 3Q revenue performance is more of a confirmation of the airline's superior top line levers versus a harbinger of better industry-wide pricing," Donofrio wrote.
Nevertheless, American Airlines Group Inc. (AAL) - Get American Airlines Group, Inc. Report and United Continental Holdings Inc. (UAL) - Get United Airlines Holdings, Inc. Report each gained about 6% on Oct. 3, while Delta, JetBlue Airways Corp. (JBLU) - Get JetBlue Airways Corporation Report and Spirit each gained about 7%.
Year to date, Southwest Airlines Co. (LUV) - Get Southwest Airlines Co. Report , up 17%, leads the industry. American is up 10% and Delta is up 6%. Shares in the remaining five major carriers are down for the year, ranging between a 2% decline at Hawaiian Holdings Inc. (HA) - Get Hawaiian Holdings, Inc. Report and a 39% decline for Spirit.
Besides providing a boost to share prices for the entire industry, Delta has also been distinguished by its unique willingness to challenge Boeing, a powerful, politically connected company that dwarfs its airline customers, in size as well as political influence.
In April 2016, Delta signed a groundbreaking deal with Bombardier for 75 CS 100 jets seating 110 passengers. Boeing does not make a similarly sized aircraft, but nevertheless complained to the International Trade Commission, part of the Commerce Department, that Bombardier sold below cost. The Commerce Department is now calling for a 300% tariff.
"We think it's an absurd ruling," Delta CEO Ed Bastian told CNBC last month. "We don't believe that will be the end of the story." Delta's first CS 100 delivery is scheduled for 2018; Bastian is likely to comment further in the weeks ahead.
Seven years ago, Delta challenged Boeing over the Export-Import Bank, which often provides financing when foreign carriers buy Boeing jets. Delta argued that U.S. carriers didn't get similar deals.
Over time Delta's effort was superseded by extremist Republicans who argued that the Ex-Im Bank was part of a government conspiracy to provide subsidies to favored businesses. The bank was shut down for six months in 2015, but continues to operate.
As for Delta's third-quarter earnings, Cowen & Co. analyst Helane Becker reiterated an outperform on the stock in a report issued Thursday. She has a $58 price target. Delta shares closed Friday at $52.01.
"We expect key topics on the company's earnings release conference call will be US domestic vs. international performance and management's long-term [unit cost] guidance," Becker wrote. "We anticipate management will discuss the company's recent decision to place all employees on the same rich profit-sharing plan."
Delta said last month it will bring all employee profit-sharing to the same level as its pilots, who receive 10% of annual pretax profit up to $2.5 billion and 20% of profits above $2.5 billion. The move took effect Oct. 1. Buckingham Research analyst Dan McKenzie estimated the cost to Delta at about $150 million. He has a $70 target price for Delta shares.
More of What's Trending on TheStreet:
This article is commentary by an independent contributor. At the time of publication, the author held no positions in the stocks mentioned.