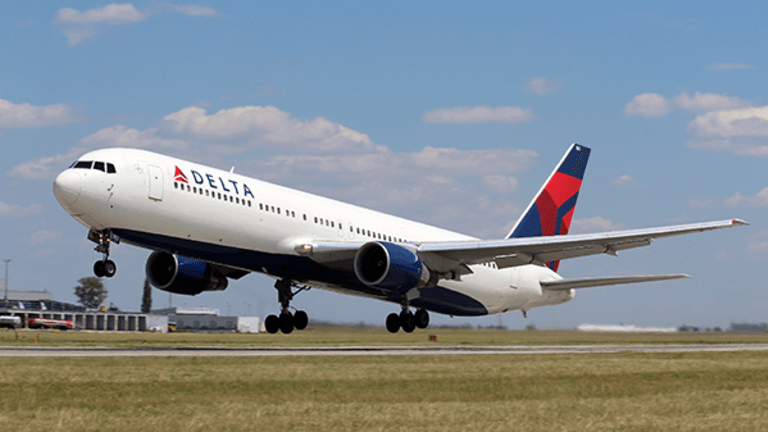 Delta, Experiencing International Stability, Looks for Gains in All 4 Global Regions
Delta says it has stabilized its positions in Europe, Latin America and the Pacific due primarily to cooperation with its partners at their hubs.
Delta Air Lines Inc. (DAL) executives said they are seeing improvements and stability in all three international regions, largely because of a strategy of alliances and joint ventures with international partners.
International stability "is a relatively new phenomenon," said Delta President Glen Hauenstein, speaking Thursday on the carrier's second-quarter earnings call. He said that Latin America, where Delta reported 10.8% second-quarter unit revenue growth, is the most stable region, and that given international stability Delta sees more immediate growth opportunities in the domestic market.
Additionally, CEO Ed Bastian condemned recent remarks by Qatar Airways CEO Akbar Al-Baker, who recently described U.S. flight attendants as "grandmothers" and U.S. airlines as "crap." Al-Baker apologized on Wednesday.
"I was appalled," said Bastian, who called the apology "woefully inadequate."
Al-Baker "continues to skirt the rules," Bastian said, as subsidized Qatar Airways expands in the U.S. in violation of Open Skies agreements. "I'm glad the employees of all the U.S. carriers spoke with one voice" to condemn him.
Executives at American Airlines Group Inc. and United Continental Holdings Inc. have condemned the remarks, as have the leaders of four airline unions.
Meanwhile, Hauenstein laid out the improvements in each international region.
In the second quarter, Delta reported overall 2.7% unit revenue growth, led by Latin America. Domestic unit revenue rose 2.8%, but trans-Atlantic unit revenue fell 1.9% and Pacific unit revenue fell 2.2%.
In the trans-Atlantic, Hauenstein said, "Strength in business demand has offset more of the leisure yield weakness" due to rapid expansion by low cost carriers, led by Norwegian.
While July and August are dominated by leisure demand, business travel to Europe picks up in September, he said.
The region's second-quarter unit decline resulted largely from currency pressure, offset because 70% of sales originated in the U.S. Delta saw strength in the United Kingdom, where unit revenue grew 7%. About 60% of Delta's European capacity now serves partners' hubs.
In Latin American, Delta saw its fourth consecutive quarter of unit revenue improvement, led by 15% unit revenue improvement in Brazil. Delta is moving to implement a joint venture with AeroMexico, which has hubs in Mexico City and Monterey.
In the Pacific, Hauenstein said that after Delta merged with Northwest in 2008, its Asia service relied entirely on Northwest's hub at Tokyo Narita. "Now we have a very diversified portfolio with multiple hubs" where Delta has partners -- Korean Air's Seoul hub and China Eastern's Shanghai hub. "We've got what we need in place now," he said. "This is the last year of a multi-year transition."
Moreover, Delta, in partnership with China Eastern, will have a hub in Beijing when Beijing's new airport opens in 2019.
In early afternoon trading, Delta shares were down 2.1%.
This article is commentary by an independent contributor. At the time of publication, the author held no positions in the stocks mentioned.