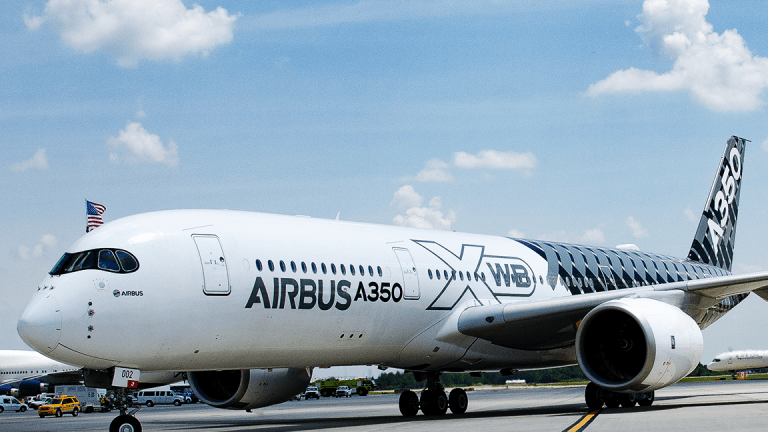 Delta, Battling Boeing Over Trade, Will Roll Out Its New Airbus A350
Boeing took on Delta in a trade dispute. This week - coincidentally? - Delta will show off its new Airbus A350 to international and U.S. reporters.
Note to Boeing Co. (BA) : This might not be a great week for you.
In its trade dispute with Delta Air Lines Inc. (DAL) over the airline's purchase of Canadian-made Bombardier CS 100 jets, Boeing isn't winning the battle for public opinion.
Last week, Delta CEO President Ed Bastian blasted Boeing during the carrier's third-quarter earnings call.
This week, Bastian and other Delta executives will hold forth at Delta's media day, an event built around the carrier's rollout of the Airbus A350 for international and domestic reporters.
Delta took delivery of its first A350 in July in Toulouse, France. It expects to have five in its fleet by the end of the year. It has ordered 20.
It will use the aircraft in the Pacific, where it will phase out the last of its Boeing 747s by the end of the year. Delta inherited Pacific routes and Boeing 747-400s from Northwest, a merger partner in 2008. It has been restructuring both the routes, which had been focused on Tokyo Narita Airport, and the fleet.
Delta agreed to purchase the CS 100 in April 2016. Days later it showed off that new aircraft to reporters at its 2016 media day.
Boeing doesn't make a similarly sized aircraft, but nevertheless complained to the International Trade Commission, part of the Commerce Department, that Bombardier sold below cost. The Commerce Department is now calling for a 300% tariff.
"We do not expect to pay the tariffs and we do expect to take the planes," Bastian said during the earnings call last week.
"It is very difficult for Boeing or any U.S. manufacturer to claim harm with a product that we purchased that they did not offer and they don't produce," Bastian said.
"In fact, [Boeing] ended the production of the 717, which would be the closest akin, 10 years ago," he said. "When we went through the RFP to select and selected the C Series, Boeing competed very hard for the order, except they were competing with not their own product. It was a Brazilian product, an Embraer product that wasn't even new."
Because it does not make a 100-to-110 seat aircraft, Boeing was trying to convince Delta to take used E190s, obtained in a deal with Air Canada, which bought new Boeing jets.
"To us it's unrealistic, a bit nonsensical," Bastian said. "But we're working closely with our partners at Bombardier."
Like most trade wars, this one is escalating. Canada is now threatening to kill a deal to buy Boeing Super Hornet fighter jets, and Britain is also questioning future defense jet purchases from Boeing. Bombardier employs more than 4,000 workers in Northern Ireland, where the jet's wings are manufactured.
Aerospace consultant Scott Hamilton wrote Thursday, Oct. 12,in a newsletter that, "Boeing's brash and controversial move to file the trade complaint with the U.S. Department of Commerce is a bold gamble designed to kill the Bombardier C-Series entirely, not just block it from the US market."
Quoting sources, Hamilton said, "Boeing hopes blocking the C-Series out of the U.S. market will have a ricochet effect on Bombardier's pricing strategy elsewhere."
That could impact pricing for Boeing's prize products, the 737-800 and the 737-800 MAX.
"Delta is the second-largest airline in the world behind American, and observers in the industry are shocked that Boeing has chosen to block the airline from buying the aircraft it wants," The Seattle Times wrote last week.
A senior executive in the airplane leasing world, who asked not to be named, told the newspaper, "To take on Delta, long term, seems asinine to me ... It's crazy to go after a customer, an airline as successful as Delta."
Wondering how to get the most out of your flight? Travel TV star Samantha Brown has a few tips: 
More of What's Trending on TheStreet:
This article is commentary by an independent contributor. At the time of publication, the author held no positions in the stocks mentioned.