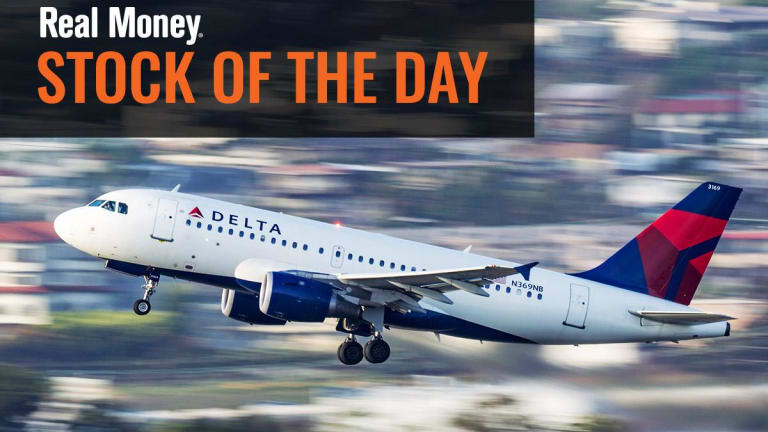 Delta Air Lines Is Down but Not Out
The question marks largely begin with the guidance.
We all know it. Our marketplace amounts to what looks to be... in the darkest recesses of the mind, nothing more than a blank canvas. There are a few of us, who see not just economics as art, but the entire effort of interpreting human response as a trend into an opportunity as simply thrilling. For right or wrong, the game itself, the addition of color to that canvas in the way that the individual sees most optimal. That is why we labor. For in the application of thine own interpretation is individual response to challenge. In response to challenge, one might find glory in either victory or defeat. Both sharpen the appetite for more.
The economy runs on tech. The economy runs on the banks. The economy runs on the industrials. The pulse, though of the economy... the means to apply the grandest mural upon that no longer blank canvas. That, my friends is how we see the Transports. For quite some time, the transports have under-performed the broader markets. I like the rails from time to time. Made a few bucks long CSX (CSX) - Get Free Report last year. Tried to put on a railroad themed pairs trade a couple of weeks ago, but the market would not give me the ratio I needed to execute the trade the way I wanted to. So, this morning? Another chance? Let's take a look at Delta Air Lines (DAL) - Get Free Report .
The Delta Experience
The firm's website refers to something they call the Delta Experience. I would like to experience some capital gains, please. You may have noticed that I am babysitting a short position in a stock - Netflix (NFLX) - Get Free Report -- that ran amok this morning. DAL reported that firm's fourth-quarter results before the open on Tuesday. The firm turned in a nice profit ... adjusted EPS of $1.30, good enough for a three-penny beat. Revenue at $10.74 billion, though having grown 5% year over year did miss consensus view by about $30 million.
The question marks largely begin with the guidance. CEO Ed Bastian is confident in the firm's full year expected EPS range of $6 to $7. To be honest, we could drive a truck through a range like that. Industry view is for a slightly more precise $6.68 per share. The firm did guide the current quarter lower, toward a range of $0.70 to $0.90. That's versus consensus of $0.93. Bastian cites a number of headwinds, including volatility in currency valuations, the ongoing partial shutdown of the federal government, and the timing of Easter Sunday. The bottom line is that margin control is key, and the firm needs to realize benefit from lower fuel prices while they can. The entire industry faces issues regarding market pricing. That is permanent.
My Opinion
Down, but not out. This business can be brutal. Typically, when I do trade an airline, I have dabbled in Southwest (LUV) - Get Free Report , as I have always thought that firm well managed. Right here, though. Right now, I think Delta might be interesting at these valuations and the firm does pay investors 2.93% just to be there. That's a lot more than Southwest.
I see potential resistance at both $51 and $53. Possible help appears imminent as the daily MACD seems ready for a bullish crossover. What could get in the way? The 50 day and 200 day SMAs are now kissing each other on the cheek... on the verge of a death cross. Am I afraid? Not too much. Slower global economic growth is real. Then again, the Chinese do seem to be trying to address that, at least on their end. So, dabble in the Delta Experience. There are far worse things than death, Van Helsing.
Two Trade Ideas
For those who need the dividend.
-Purchase 100 shares of DAL at or close to $47.72
-Sell one DAL March 15th $52.50 call (last: $0.60)
Net basis: After trade... $47.12. After expected February dividend payment of 35 cents... $46.77.
For those averse to risk.
-Purchase one DAL February 22nd $48 call (last $1.73)
-Sell one DAL February 22nd $52 call (last: $0.53)
Net debit: $1.20 in an effort to win back $4, for a max net profit of $2.80 or 233%.
At the time of publication, Stephen Guilfoyle was short NFLX equity.