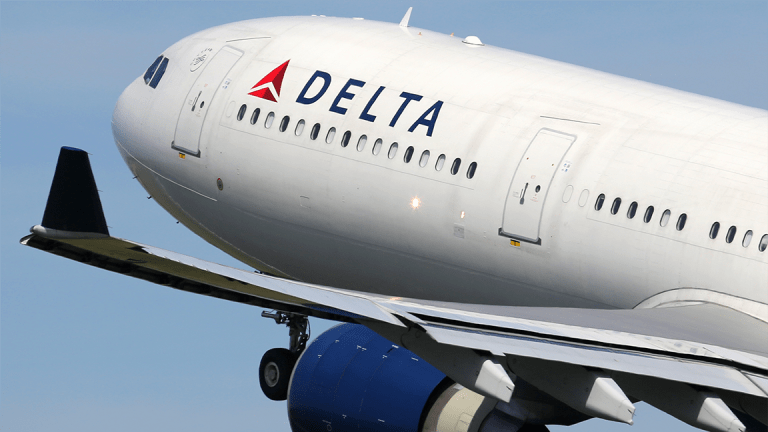 Delta Shares Slip on Bank of America Downgrade
Shares of Delta slip after Bank of America/Merrill Lynch downgrades the Atlanta-based airline to neutral from buy and lowers its price target to $51 from $62.
Shares of Delta Air Lines (DAL)  closed 1.7% lower at $47.75 on Monday after Bank of America Merrill Lynch downgraded the Atlanta-based airline to neutral from a buy rating and lowered its price target to $51 from $62.
Bank of America analyst Andrew Didora said in a note that Delta lacks the earnings catalysts that he sees in other airline stocks. However, he said that his view of Delta as an industry leader with best-in-class fundamentals has not changed.
Didora expressed concerns about a deceleration in domestic passenger revenue per available seat miles (PRASM) in the first half of the year. He also pointed to other factors such as "weak ISM survey, declining CEO confidence, airline pricing growth off highs, currency headwind, and government shutdown."
Earlier this month, Delta said that it expects fourth-quarter adjusted earnings per share of $1.25 to $1.30. Although Delta called that number "at the high end of initial guidance provided in October," the airline acknowledged that December didn't improve as quickly as planned and that it missed some potential savings on fuel by buying at the wrong time.
In addition, Delta said it expected to see a pretax margin of up to 11%, which is above last year's 9.8%. While noting that demand for business and leisure travel has been healthy and the "close-in yield momentum continues," Delta cautioned that "the pace of improvement in late December was more modest than anticipated."
Delta is scheduled to report quarterly earnings on Tuesday.