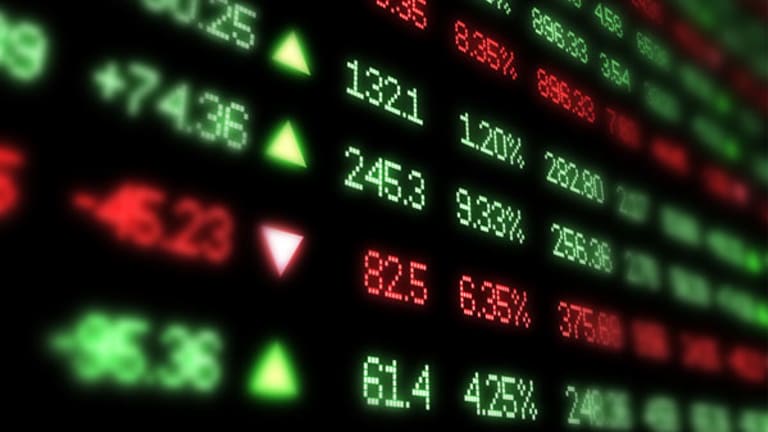 Kass: Delicious Dozen
Twelve reasons why the U.S. stock market might explode to the upside in the second half of 2012.
This column originally appeared on Real Money Pro at 8:35 a.m. EDT on June 18.
NEW YORK (
) --
Scenario No. 4 -- Muddle Through (65% probability): The U.S. muddles through, with 1.50%-2.25% real GDP growth, and the European economies suffer a modest (but contained) business downturn. China's and India's economies grow in line relative to consensus forecasts. There is no further quantitative easing. Obama regains the White House, and the Republicans control Congress. The fiscal cliff is reduced by half (to $275 billion). S&P 500 profits for 2013 trend toward a range of $107-$109 per share as some modest margin slippage occurs (coincident with escalating inflationary pressures). Stocks, valued at 14.25x under this outcome, have 15% upside over the next nine months. S&P target is 1540.-- Doug Kass, " Time to Be a Bullish Contrarian"
In April, I viewed the glass as half-empty in chronicling the "
," 12 factors that could upend or be disruptive to the U.S. stock market. (I
the list in late May.)
Today, let's view the glass as half-full and consider the upside that is contained in my scenario No. 4 above (S&P 500 target of 1540 with an associated 65% probability), which yields the potential for the major indices to advance by 15% in the next six months. (My fair market value, which melds my four possible economic/stock market outcomes, remains at 1455, for 8.5% upside from here for the S&P.)
It is always important to exempt dogma from our relationship with Mr. Market.
To many (both fundamentalists and technicians), today's opening missive will be construed as a truly ludicrous forecast -- nothing more than a Pollyanna's vision of our stock market future in an imperfect world of economic blemishes, questionable policy and broken charts. Perma bears will be resoundingly critical of this uncharacteristic and optimistic exercise (and to my list that follows) just as the perma bulls were critical when I published the "Dirty Dozen."
No doubt, some will say that I have taken leave of my senses, that I have forsaken my roots, which started (chronologically) when I wrote a skeptical cover story in
Barron's
on
Marvel Entertainment
in 1992 and after
The Wall Street Journal
anointed me "the bear of Boca" in a "Heard on the Street" column in the mid-1990s.
So be it! For as Jim "El Capitan" Cramer says, our job is not to make friends (or to be imprisoned by dogma); our job is to make money.
Investing and Trading Are Social Activities
Two underappreciated forces in financial markets are irony and paradox.... Investors are prone to be bullish at the top of the market when prices are high and bearish at the bottom when prices are low.... When a cynical investor hears that there are too many optimists in the market, he will begin to worry. By the same token, an overabundance of pessimists will give him courage. After all, he may ask, if everyone is already bearish, who is left to sell?-- James Grant, Minding Mister Market: Ten Years on Wall Street With Grant's Interest Rate Observer
From my perch, the "Delicious Dozen" is no more ridiculous of an outlier event than was my "Dirty Dozen" column written back in April -- particularly since many classes of investors have already de-risked in the face of widely known economic/investment issues.
We should never be contrarian solely for the sake of being contrarian, as farsightedness is usually a quick trip to the poor house. But, my experience over several decades of investing is that often when the majority is so confident in their view (read: bearish and de-risked), it is likely that their concerns are materially reflected in stock prices and that the market is vulnerable to a surprise.
History shows that markets are moved by the unexpected.
The market's outlook may be imagined or projected, but it cannot be known. We might have perfect knowledge of the past and an almost perfect knowledge of the present, but projecting the familiar out into the unknown, especially at turning points, often produces unsatisfying and value-destructive results.
"There are many ways the market tries to fool us. It is the market's job." -- Bob Farrell
Most importantly, we should never forget that, at times, Mr. Market exists to inflict the most possible pain on to the greatest number of investors and traders.
Indeed, the pain trade of a rising stock market has been on center stage since my expectations of the
commenced, on cue, four days following the column's publication and two trading days after the June 1 market schmeissing.
An encore performance of the pain trade occurred last Thursday and Friday, even in the face of disappointing domestic economic releases (retail sales, initial jobless claims, confidence, industrial production and New York manufacturing activity) and the slow-motion train wreck of the eurozone (which featured a sharp rise in Spanish bond yields).
Given this historical investment perspective, here are the delicious dozen -- 12 factors that could unleash a powerful and unexpected upside move in the U.S. stock market over the balance of the year:
Muddle-through U.S. economic growth. By my calculation, market participants are now discounting sub-1% real growth in the U.S. economy, which will likely prove too pessimistic. Indeed, we are entering a relatively pleasant period in which interest rates, actual inflation and inflationary expectations remain low even as the domestic economy grows at about 2% (in real terms) in both 2012 and 2013. The Fed twists again (like it did last summer) and other influences (e.g., the perception of a more favorable Political path and some other factors listed below) contribute to buoying consumer and business spirits and serve as a catalyst to acceleration in growth in late fall/early winter. Pent-up demand for business fixed investment and durable spending (autos and housing) is unleashed, surprises to the upside and contributes to the increased probability that the U.S. economic recovery is self-sustaining.
U.S. corporate profit growth steadily improves. Large, liquid, lean and well-positioned (from the standpoint of protective franchise moats and balance sheets), U.S. corporations continue to exhibit the ability to weather slow growth profitably over the past two years. Domestic real GDP growth approximates 2% in 2012-2013 and coupled with a similar level of inflation contributes to 4.0%-4.5% nominal GDP growth. This produces 5.5%-6.0% sales growth. Profit margins, buoyed by lower energy costs and stable wages, translate to 7% corporate profit growth over each of the next two years. (The market begins to appreciate our S&P companies, and investors all over the world buy American.)
The fiscal cliff is kicked down the road. Over the last few years our local political leaders have quietly begun to address their fiscal problems (and the recent votes in the California and Wisconsin elections suggest that statehouses might soon follow suit). A more direct confrontation in addressing our fiscal problems could soon filter up to the national level, as our political leaders in Washington, D.C., too, might finally get it. After taking the economy and the markets to the brink in August 2011, they have likely learned their lesson and could agree to a compromise that whittles down and/or delays the fiscal cliff at year end. A modified Simpson and Bowles legislation is introduced and accepted by both parties, perhaps even before year-end.
A presidential and congressional Republican win in November becomes more probable. Republican presidential candidate Mitt Romney continues to gain momentum, and, as we approach the election, it becomes increasingly clear that the Republican Party will win the Presidency, Senate and House of Representatives. Though a Romney win is not in my scenario at the start of today's opening missive, anticipation of a pro-business and pro-market Washington, D.C., hastens a market celebration. Romney's business initiatives gain popular support, and corporate and consumer confidence revives.
The slowdown in Europe is contained. It is said that nothing breeds change like the presence or fear of the gallows. European leaders and central bankers, currently on the brink but increasingly concerned about the interconnectivity of the region, enact a series of stabilizing policies that temporarily arrest the sovereign debt crisis. (Signals of change, and Germany bending, begin to be seen at this week's G20 meeting and at the June 29 eurozone summit.) A heretofore reluctant and fragmented 17-country eurozone begins to show signs of metastasizing into a more cohesive and focused entity. A FDIC-like deposit guarantee insurance program and another LTRO are introduced, euro bonds are issued, the ECB soaks up weak sovereign bonds (causing yields to drop) and cuts deposit and benchmark interest rates (on July 5). A disaster is averted as policy moves contribute to a eurozone real GDP drop of under 1% in 2012 and rebounds by +0.5% to +1.0% in 2013.
China's growth continues and its economic landing is soft. Easing policy converts into 7% real GDP growth despite property and other current issues.
Undemanding valuations. Stocks begin to be seen as inexpensive, and a slowly developing upside momentum starts to accelerate in intensity. A valuation lift from 13x to 15.5x (consistent with 1540 on the S&P 500) would only return to the average P/E multiple that has existed over the past five decades. This would still be a steep multiple discount against periods in history that had such low interest rates and inflation. (Note: Bull markets end amid good news; they begin with bad news.)
Negative investor sentiment. We might not read it clearly in the various sentiment surveys, but, measured by continued (and an uninterrupted trend over the last five years) retail outflows from domestic equity funds and by a de-risked hedge fund community, sentiment is as extreme on the negative side as seen in decades. As stock prices begin a sustained rise, these classes of investors step off the sidelines. Bearish strategists, like Gluskin Sheff's David Rosenberg, slowly turn more optimistic on the U.S. stock market. Even Nouriel Roubini turns neutral, and Meredith Whitney admits that she was wrong on her negative assessment of the U.S. municipal bond market.
Reallocation out of bonds and into stocks. As a follow up to No. 7, investors begin to abandon the low- or no-yielding safe haven of the bond market in favor of stocks. At the start, there is a trickle back into stocks, which turns into a stampede near year-end (as large capital losses emerge in U.S. fixed income).
Increased takeover activity. As U.S. consumer and business confidence rise in the face of an apparent Republican landslide and as the probability of a self-sustaining domestic recovery increases, cash-rich corporations are emboldened and begin an unprecedented amount of merger and acquisition activity. The U.S. is increasingly viewed as a haven for security and investment as European and Chinese corporations launch a series of takeover acquisitions here.
Market leaders thrive. Apple TV is a monumental success, Johnson & Johnson , PepsiCo and Procter & Gamble all split up in order to increase shareholder value. Berkshire Hathaway / makes a $35 billion acquisition of a well-known publicly listed company. The U.S. government unloads its General Motors holdings, and GM's shares shortly rise by 15% in aftermarket trading. U.S. financials thrive and produce surprisingly high returns on invested capital (as interest rates rise, loan demand resumes and credit quality improves).
Possible white swans. A U.S. manufacturing renaissance commences, housing prices and sales unexpectedly take off to the upside, the banking industry (faced with improving loan demand, rising interest rates and a more vibrant residential real estate market) records better-than-expected profit growth and returns on equity, retail sales reaccelerate (as gasoline prices subside and home prices advance), the unemployment rate takes a surprising drop, there are no trade wars (or other disruptive policy mistakes/events), Middle East tensions cool off, and there is (relatively speaking) political stability around the world (i.e., there are no coups or meaningful regime changes). JPMorgan Chase's loss is reduced to under $2 billion, and Facebook is effective in monetizing its large user base, leading to an upsurge in Internet stocks.
At the time of publication, Kass and/or his funds were long PEP, PG, BRK.B, GM, PEP, JPM, TBT and TBF, although holdings can change at any time.
Doug Kass is the president of Seabreeze Partners Management Inc. Under no circumstances does this information represent a recommendation to buy, sell or hold any security.