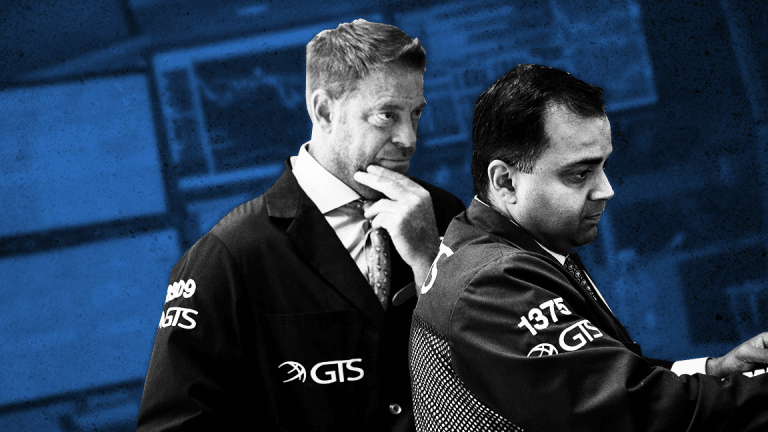 These 3 Defense Stocks Are Gaining Momentum: Market Recon
The charts of Boeing, Lockheed Martin and Raytheon look good.
Three Charts I won't go into great detail on these three stocks at this time. I'll leave that for individual stock analysis, when you have less on your plate than you do when going through your pre-opening rituals. What I want you to notice about these three stocks is this: You can easily see where the institutional money has continued to flow into Boeing (BA) - Get Boeing Company Report . Both Lockheed Martin (LMT) - Get Lockheed Martin Corporation (LMT) Report and Raytheon (RTN) - Get Raytheon Company Report took serious hits in late October, and now seem to be recovering. Boeing has a broader business than both LMT and RTN. That much seems obvious.
Now, take a look at the moving average convergence divergence (MACD)s. In all three cases, the 12-day exponential moving average (EMA) has curled upward toward the 26-day EMA. The Boeing chart would be the only one of the three sporting a nine-day EMA well above the zero-bound.
Relative strength has gained momentum on all three charts, as well. What does all of the technical mumbo-jumbo mean to me? It simply looks like all three go higher in the short term, particularly if you were to get that MACD bullish crossover that now appears almost imminent across all three charts.
Am I staying long RTN? Yes. Did I miss my chance to buy back my LMT at lower prices because I got a little greedy? Likely. Do I wish I got myself long BA many months ago? Of course.
(This is an excerpt from Stephen "Sarge" Guilfoyle's Morning Recon, which now appears exclusively on Real Money, our premium site for active traders. Click here for a free 14-day trial and receive Morning Recon every day, along with exclusive columns from Jim Cramer, James "RevShark" DePorre, technical analyst Bruce Kamich and more.)
More of What's Trending on TheStreet:
At the time of publication, Stephen Guilfoyle was long RTN, although positions may change at any time.