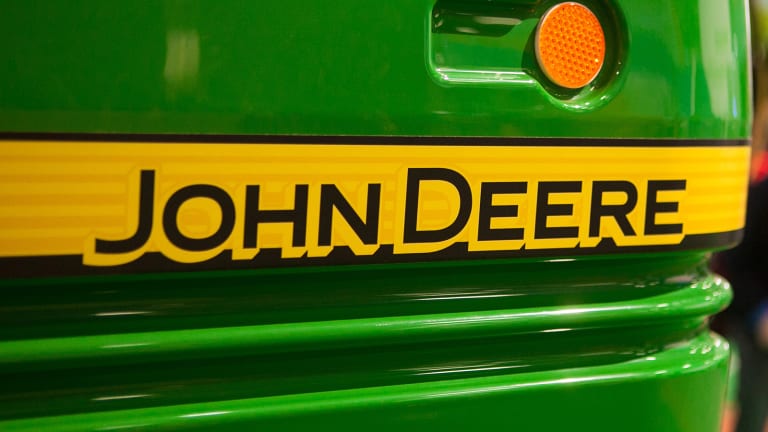 Deere Stock Chart Shows It Could Retest 2014 Peak Near $95
What Deere's stock chart means for your portfolio.
NEW YORK (RealMoneyPro) -- Deere (DE)  was one of the top gainers in the S&P 500 Friday. The stock rose more than 4% on very heavy trade following Friday morning's second-quarter earnings report.
This powerful breakout move began with a huge upside gap, completely reversing the previous Friday's nasty 3.35% flush in the process. Deere trended steadily higher since the bell to reach new 2015 highs.
In late March, Deere ended a steep pullback after testing its 200-day moving average. During the prior month, the stock peaked just below $93 as the rally off January multiweek lows ran out of steam. Since the 200-day test on March 27, Deere has drifted higher on very light trade.
This listless action changed dramatically a little over a week ago when shares broke through a key overhead trendline that had linked the February, March, and initial May highs. Although volume was just average, the price action was very bullish.
Unfortunately for the bulls, a JPMorgan (JPM) downgrade the next day smoked the stock. Deere fell more than 3% on its heaviest downside trade of the year on May 15.
Despite this high-volume reversal, the stock stabilized quickly, and as this week began, shares were leaving behind a second straight higher monthly low.
Deere (DE) -- Moving Averages
FreeStockCharts.com
View Chart »View in New Window »
Now that last week's spike high has been cleared, the choppy consolidation that began in late February is giving way to a healthy rally.
Adding fuel to the breakout is a very high short interest ratio of 13.4 that the bears will be scrambling to cover well into next week.
In the near term, I expect the stock to retest the 2014 peak near $95. A pullback may be needed before this area is eclipsed. Key support is now in place between $92 and $91.
This article is commentary by an independent contributor. At the time of publication, the author held no positions in the stocks mentioned.