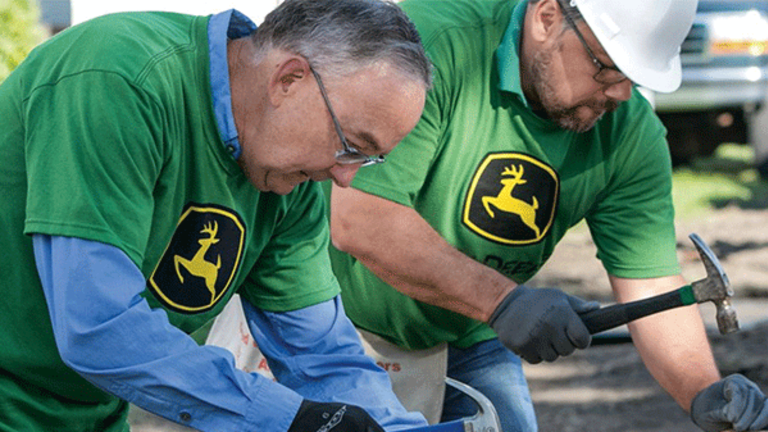 Deere Buys German Construction Equipment Maker in $5.2 Billion Deal
Deere & Co. rose sharply in pre-market trading on Thursday on an agreement to acquire privately owned German road construction equipment maker Wirtgen Group
Deere & Co. (DE) - Get Deere & Company Report rose sharply in pre-market trading on Thursday on an agreement to acquire privately owned German road construction equipment maker Wirtgen Group in a deal valuing the company at €4.6 billion ($5.2 billion) including about €240 million of debt.
Deere's share was up 3.3% at $126.5 at 7.42 A.M
Deere said the German company is the world leader in road construction equipment, with five premium brands covering a wide range of different processes involved in mixing materials and paving and generated sales of €2.6 billion in 2016.
"The acquisition of the Wirtgen Group aligns with our long-term strategy to expand in both of John Deere's global growth businesses of agriculture and construction," said Samuel R. Allen, Deere & Company Chairman and Chief Executive Officer, in a statement.
Deere said it plans to maintain the Wirtgen Group's existing brands, management, manufacturing footprint, employees, and distribution network. The combined business is expected to benefit from sharing best practices in distribution, customer support, manufacturing, and technology as well as in scale and efficiency of operations.
According to research from Banco Santander, Germany is considered to be "an attractive country for foreign direct investment (FDI), but the global recession and subsequent Eurozone crisis in 2012 have hampered the influx of FDI in recent years."
The bank said that 2015 FDI reached $31.7 billion, an improvement off financial crisis lows but not back to pre-crisis levels.
According to the bank, Germany is the eleventh most popular country for FDI.
Last Monday Warren Buffett's General Reinsurance AG unit bought a 3 percent stake in Germany's chemical firm Laxness to become one of the company's top six investors.
Read more of TheStreet's latest stories:
Market Recon: Banks Like JPMorgan Are Looking Sloppy, China Seems Ugly -- What Else Could Go Wrong?
This Chart Shows How Amazon Is Absolutely Embarrassing Every Single Retailer Alive