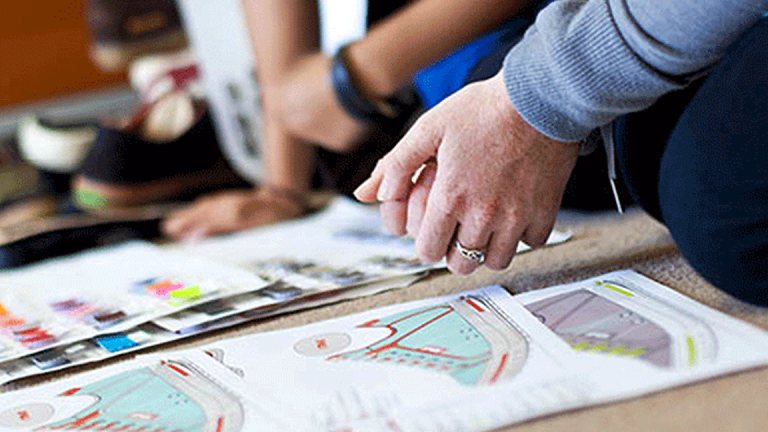 Deckers Outdoor Steps Up in Fourth-Quarter Earnings Beat
Deckers Outdoor climbs as the parent company of UGG brand footwear beats earnings and sales expectations.
Deckers Outdoor (DECK) was stepping up 4% to $153.37 Friday as the parent company of UGG brand footwear beat Wall Street's fourth-quarter earnings and sales expectations.
The Goleta, California-based company reported earnings of $23.9 million, or 82 cents a share, up from $20.6 million, or 66 cents a share, a year ago. Adjusted earnings were 85 cents a share, well ahead of analysts' forecasts of 8 cents.
Sales totaled $394.1 million, down 1.6% from a year ago, but beat Wall Street's expectations of  $377.4 million.
Gross margin for the quarter was 51.6% compared with 48% for the same period last year.
Separately, Wedbush raised its target price for Deckers to $138 a share from $130.
Deckers said it earned $264.3 million, or $8.84 a share for the year, while revenue totaled $2.02 billion.
For the current quarter ending in July, Deckers said it expects losses to range from $1.25 a share to $1.15 a share. Revenue is expected to range from $250 million to $260 million. Analysts had expected revenue of $388.8 million.
For the full year, Deckers expects earnings in the range of $8.20 to $8.40 a share, with revenue ranging from $2.1 billion to $2.12 billion.
"Fiscal 2019 represented another successful year for the Deckers organization, surpassing the milestone of $2 billion in revenue and doing so with exceptional levels of profitability, while achieving our long-range targets a year ahead of schedule," Dave Powers, president and CEO, said in a statement. "As we move forward in our strategic plan, we will maintain focus on positioning our brands for the future by enhancing our relationship with consumers, continuing to deliver innovative product solutions, and building brand awareness and strength across global markets."