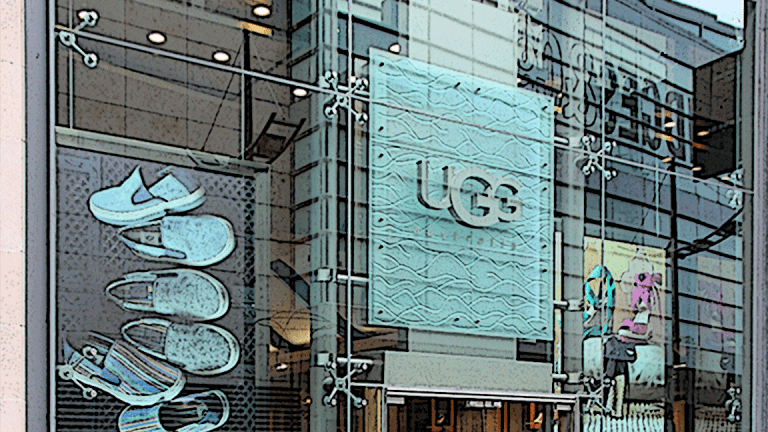 Decker Outdoor Walks Tall on BofAML Analyst's Upgrade
Decker Outdoor rises after Bank of America Merrill Lynch upgrades the company's stock.
Shares of Decker Outdoor  (DECK) were stepping up nearly 4% to $148.31 Tuesday after Bank of America Merrill Lynch upgraded the casual footwear and apparel company to buy from neutral.
Analyst Rafe Jadrosich also raised his price target on the Goleta, California-based company's shares to $180 from $150. Decker's brands include Ugg, Koolaburra, and Hoka.
"We believe Decker has significant (earnings per share) growth opportunity on buybacks and low-to-mid single digit revenue growth led by Hoka," Jadrosich wrote in a note to investors. "While Ugg gross margin is likely at a peak, we see operating margin opportunity from cost savings and improving Hoka margins."
Jadrosich said he believes Ugg's revenue will be "flattish" year-over-year in fiscal 2020 "despite tough comparisons as it laps a $50mm headwind from strategic changes around the allocation and segmentation of classics franchise for fall 2018, rationalization of wholesale accounts, and owned retail closures."
"We believe the difficult weather comparisons will be offset by broadening Spring/Summer assortment," Jadrosich wrote, "modest distribution expansion (including Foot Locker (FL) ), expansion of Koolaburra sub-brand in mid-tier, and healthier brand position from better segmentation."
Jadrosich said Hoka is forecast to grow 40% in fiscal year 2019 driven by new product launches and share gains in the running specialty channel. 
"We believe Hoka has meaningful incremental distribution opportunity," he wrote.
Last week, Susquehanna upgraded Decker Outdoor's stock to positive from neutral. The firm was also bullish on the company's Hoka brand and raised its price target on Deckers to $169.
Decker Brands is scheduled to report fourth quarter earnings on Thursday.