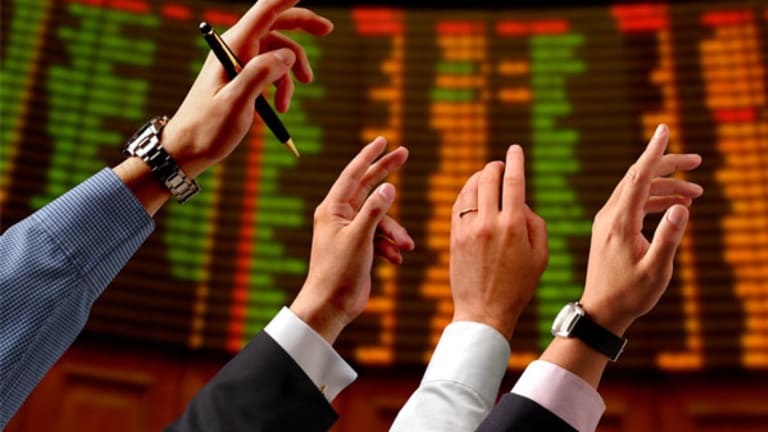 Deadhead Tips; 10-Year Yields: Best of Kass
In these highlights from his trading diary in the past week, Doug Kass takes some advice from the Grateful Dead and writes about 10-year yields.
NEW YORK (TheStreet) -- Doug Kass of Seabreeze Partners is known for his accurate stock market calls and keen insights into the economy, which he shares with RealMoney Pro readers in his daily trading diary.
Among the posts this past week were items on conservative investing and shorting bonds.
Please click here for information about subscribing to RealMoney Pro.
Brokedown Palace
Originally published on Friday, May 16, at 7:26 a.m. EDT.

It's the U.S. stock market's theme song.

>>Read: Buffetts Berkshire Builds Verizon Stake, No IBM Buying Spree

Fare you well, my honey
Fare you well, my only true one
All the birds that were singing
Are flown, except you alone
Goin' to leave this Broke-down Palace
On my hands and my knees I will roll, roll, roll
Make myself a bed by the waterside
In my time -- in my time -- I will roll, roll, roll"
-- The Grateful Dead, "Brokedown Palace"
If the U.S. stock market were a song, it would be The Grateful Dead's "Brokedown Palace."
More important, as it relates to your own investments:
Err on the side of conservatism.
Maintain above-average cash balances.
Be diversified across company and industry lines.
Rationally consider reward vs. risk in every investment you make and holding you have.
Ignore those pundits/advisers/commentators who are self-confident in view. The only certainty is the lack of certainty (these days).
Consider being a contrarian who ignores the market's emotional responses.
Avoid the business media's hyperbole.
Don't be afraid to buy panic, and use euphoria as an opportunity to sell.
Seek investment freedom by doing your own homework.
Read every word written by Warren Buffett. It is useful to go back to his old annual letters to Berkshire Hathaway (BRK.A) - Get Berkshire Hathaway Inc. Class A Report  investors.
Spend time on your investments; don't take short cuts -- particularly after a near trebling in the S&P 500 since March 2009.
There is a place for speculative investments in your portfolio -- also for conservative investments.
Invest within your means -- develop and stand by your own specific risk profile and investment/trading time frames.
And always remember that you worked hard to earn your investment capital.
"So we are pretty convinced that we don't want to play huge stadiums unless we play well."
-- Jerry Garcia.
At the time of publication, Kass had no positions in the investments mentioned.
10-Year Yield Watch
Originally published on Friday, May 16, at 9:50 a.m. EDT.
>>Read: Hungry for Yield? Feed Off These Funds
While I remain of the view that rates will climb much higher in the fullness of time, in my "15 Surprises for 2014" I suggested that the yield on the 10-year U.S. note would be in a range of 2.5% to 3.0% in 2014. (Note: I also said that bonds would outperform stocks this year.)
>>Read: 401(k) Mistakes That Can Cost You

In April 67 out of 67 economists surveyed saw higher interest rates. The surprising rate drop of 55 basis points (measured by the 10-year U.S. note yield) has turned a number of bond bears into bond bulls.
I have written recently on why rates have dropped so conspicuously.
With the 10-year yield at 2.5%, I believe it is now a perfect cyclical and secular time to short bonds.
I am acting accordingly.
At the time of publication, Kass was long TBT and TBF and short TLT.
Doug Kass is the president of Seabreeze Partners Management Inc. Under no circumstances does this information represent a recommendation to buy, sell or hold any security.