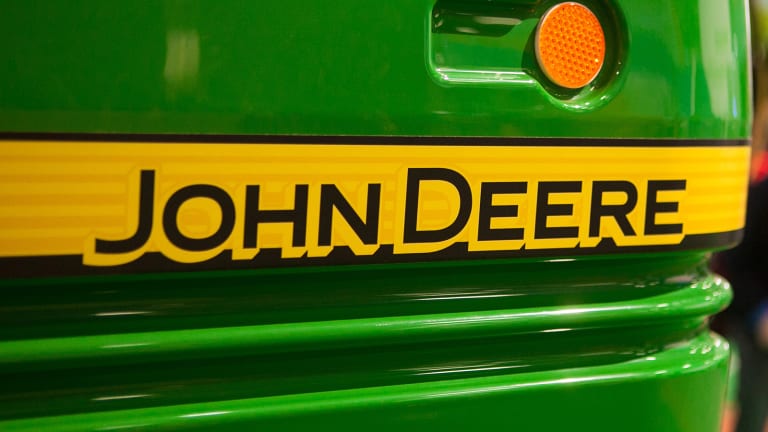 DE, HPQ, CRM, EMR: Jim Cramer's Views
Jim Cramer shares his views on surprising numbers and rumors. John Deere, Hewlett-Packard, Salesforce,com and Emerson Electric are just a few of the many stocks discussed here.
NEW YORK (Real Money) -- Jim Cramer shares his views every day on RealMoney.Click here for a real-time look at his insights and musings.
Deere's Results Build on Construction
Posted at 3:09 p.m. EDT on Friday, May 22, 2015
Saved by construction!
That's how I feel about the quarter from John Deere (DE) - Get Report, which was definitely a disappointment when it comes to sales of ag equipment, but not from the heavy Deere machines used to build things.
The ag orders here fell more than 20%, which normally would have led to a dramatic shortfall. But instead, the company blew the estimates away, in part because of tremendous execution but also because of an improvement in housing starts.
We all know the farmer in this country's been victimized by lower crop prices, and a JPMorgan (JPM) - Get Report piece warning you off Deere earlier this week cited the dire straits of the industry.
All I can say is, I think people took a look at the earnings and decided, "If this company can make that much money with these punk sales, who knows how much it can make if things get better."
That wasn't the only surprise today. I was flummoxed by the weak numbers in Hewlett-Packard (HPQ) - Get Report, but people looked right through them and lapped the company's stock up because of the coming de-merger and the opportunities that abound for the enterprise business. I am circumspect, but I know break-ups are a powerful positive.
And Campbell (CPB) - Get Report delivered another good number, in part because of Pepperidge Farm, which seems to have gotten its mojo back, and in part because of Bolthouse, its natural and organic division.
Keep in mind that today marks the second anniversary of the spinoff of WhiteWave  (WWAV) , the natural and organic division of Dean Foods (DF) - Get Report, and any acquirer would no longer face severe tax consequences if it made a bid for WWAV.
I say be ready, which we are in Action Alerts PLUS, as it is a very big position for the charitable trust. I never recommend a stock on a takeover basis if the fundamentals are in decline, but that's anything but the case in WhiteWave's situation.
At the time of publication, Action Alerts PLUS, which Cramer co-manages as a charitable trust, was long WWAV.
Salesforce.com Isn't Running on Chatter
Posted at 11:45 a.m. EDT on Thursday, May 21, 2015
Holy cow, what's not in play? It seems like only salesforce.com (CRM) - Get Report!
This morning I am hearing more thought-provoking rumors than I have in ages. I don't really know what to do with them other than report the rumors of why some stocks are running -- it's unorthodox but what else can you do?
First, don't be confused by Salesforce.com. That stock is running because of the amazing quarter it had, not because Oracle (ORCL) - Get Report or Microsoft (MSFT) - Get Report want to buy it.
But that's not the case with Emerson Electric (EMR) - Get Report and Eaton (ETN) - Get Report. Both are rumored to be the next targets of Trian Partners. Action Alerts PLUS owns Eaton and we know that CEO Sandy Cutler is no friend of Nelson Peltz, the principal of Trian, having been lead director at DuPont (DD) - Get Report and point man in the proxy battle against Peltz joining the board. To me, it seems too spite-oriented and I discount the rumor; however, the stock is cheap and there could be a cash event later in the year.
Emerson's tougher. It's been doing quite poorly and I don't know what Trian could do to turn it around. But I didn't know what Trian could do with Ingersoll-Rand (IR) - Get Report and I underestimated their thoughtfulness and their clear-headed vision. Emerson's down a great deal but there easily could be a shortfall once again. Know the risk; there could be big reward.
We know that activist JANA Partners is in Qualcomm (QCOM) - Get Report, militating that something occurs. Looks, there is something going on but there's also a large buyback.
Finally, CVS Health (CVS) - Get Report has ignited so much chatter with hits Omnicare (OCR)  bid that I think a consolidation is occurring in the health care cost containers. Remember, there are many great ones and they aren't cheap -- but I wouldn't discount a thing!
Again, take it for what it's worth: I am describing the chatter I am hearing, not what actually may be occurring. It's not what I like to do, but I am not going to censor myself when I know what rumors are driving these stocks.
At the time of publication, Action Alerts PLUS, which Cramer co-manages as a charitable trust, was long ETN.