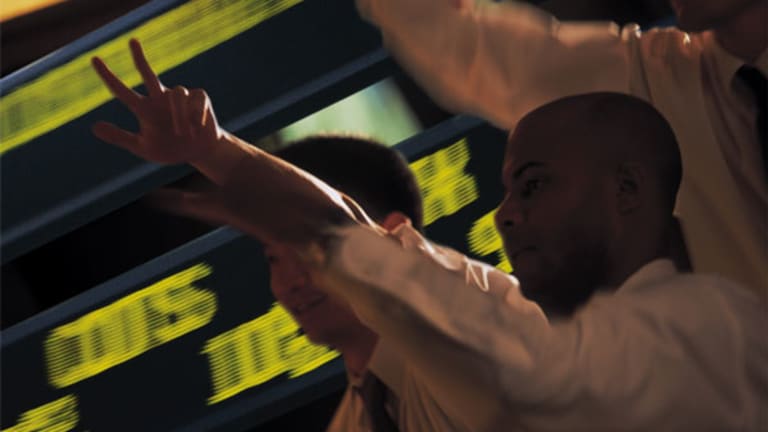 Day Ahead: 10 Things to Share with Investing Pals
None of these tools have anything to do with owning four flatscreen computer monitors.
Analyzing the stock market, and actually not losing your shirt in the process, requires a couple basic tools that you may have overlooked. Let's state this up front, none of these tools have anything to do with owning four flatscreen computer monitors. The essentials include:
Bratiness: Respect the trend-is-your-friend mantra, but if your analysis is suggesting go contrarian, be mentally prepared to chuck up the deuces to the consensus (offer a V-sign).
Intense intensity: Think along the lines of that adrenaline rush when a juicehead makes fun of your girlfriend. You do nothing, but then rifle off a swearword-laced tirade after the muscle head departs.
Respect: Pay respect to consensus opinions in the market for they could net you money, until they don't.
Discipline: The ability to ignore everything else around you for hours on end and enjoy doing so in order to crush the other guy.
Yeoman: The ability to work and analyze day in and day out, no matter the previous day's mistake.
I call this the #BIRDY approach to investing, but am open to adding new building blocks so holler at me on Twitter (@BrianSozzi). For the entire month of August, I have practiced #BIRDY to the fullest. There was me being a fake friend to the bulls earlier in the month (rode the wave but silently prepped negative signs I was seeing ... I tend to be early with macro/micro calls). Then, this week, did a 360-degree turn to short-term bearish. Now, I have this funny feeling inside that you have missed the homework that I slave over to develop. So, here is a Best of the Hit List from pieces in August. Be aware that you won't find me chatting about Elliot Wave Theory or downward facing triangles (huh?). Instead, I like to keep things practical. In doing so, what I see could be weaved into your daily routine and we could be early and win together, which is fun.
The way I think about it, the transports (a few of the names I use: CSX (CSX) , FedEx (FDX) , UPS (UPS) , CH Robinson Worldwide (CHRW) , Swift Transportation

undefined

) do not believe the incrementally improving macro data trend and suspect it will unwind in a historically dour month for stocks in September. New order trends in manufacturing reports and continued focus by retailers on lean inventory management lend credence to this view.
I sure am laying eyes on the S&P 500 approaching strategists' full-year value objectives, yet no real bold calls in either direction regarding the next move. If we begin to get modest upward hikes in yearend S&P 500 targets, the market may boil them down as unworthy of incurring the extra risk. In other words, the risk reward would be unfavorable.
One thought I am wrestling with is in September when the market's ballers return to action. Will they really want to get long a market sent higher by machines and rookies? The core fundamentals are uninspiring (meaning corporate sales and earnings) and risks of being horribly wrong into the back half are too great a threat to buying stocks today at higher valuations than June.
In this land of melt-up stocks, the market has ignored poor new orders trends in regional Fed manufacturing surveys and three months in a row of weakening consumer expectations about the economy before the onset of food inflation. Valuations becoming richer on hope, as opposed to substance.
Expectations are juiced a bit for my taste on euro-area PMI reports. Month-on-month improvement expected, which seems beyond counter to the negative demand comments on late in the earnings season conference calls. Disappointment in these readings, the power of Draghi's comments will be tested.
Your Deep Weekend Thought
When apparently defensive dividend-paying stocks don't catch bids amidst a market pullback, it's a red flag (cool kids will note correlation is increasing). To me, it says while investors in names such as
General Mills
(GIS)
,
Kellogg
(K)
,
Kimberly-Clark
(KMB)
,
Pepsi
(PEP)
and
Coca-Cola
(KO)
are happy to have grabbed for yield, increased volatility has them worried the yield on the stock will go higher should earnings underwhelm estimates (these stocks are richly valued and companies globally exposed). So, they dump and wait for a more attractive yield/valuation. In the meantime, they remain hesitant to chase cyclicals as any strategist on the Street has claimed is the best thing since sliced bread in recent weeks.
At the time of publication, Sozzi had no positions in any of the securities mentioned.
Brian Sozzi is Chief Equities Analyst for NBG Productions. In this capacity, he is responsible for developing independent financial content and actionable stock recommendations (including ratings and price targets) for an institutional and retail investor base. In addition, Sozzi is the Editor in Chief of the "Decoding Wall St." investor education online platform.