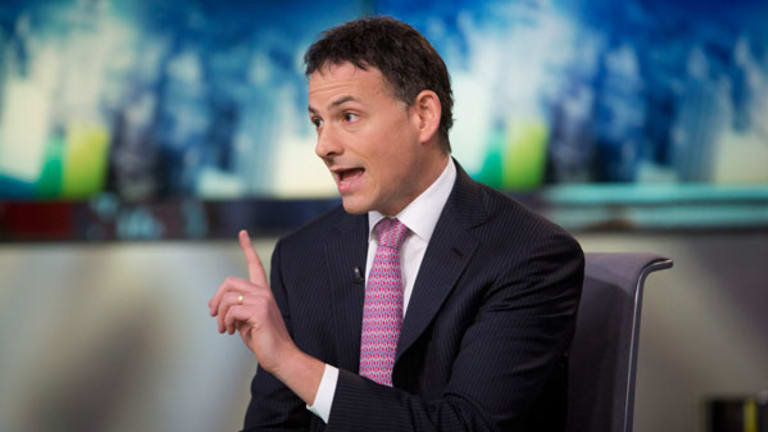 David Einhorn Clings to Apple Amid Concerns of Market Correction
Greenlight Capital hangs on to its winners and losers, as the firm braces for a rough ride in markets.
Greenlight Capital hangs on to its winners and losers, as the firm braces for a rough ride in markets.
NEW YORK (
) -- David Einhorn of hedge fund
Greenlight Capital Management
continues to hold an over $1 billion stake in
Apple
(AAPL) - Get Report
as the long and short hedge fund braces for the prospect of a global market correction.
"We continue to hold the positions that cost us the most in the quarter," Einhorn said of the hedge fund's holding of Apple shares during the second quarter. Greenlight owns roughly 2.4 million Apple shares worth just in excess of $1 billion as of Monday's close, according to first quarter data compiled by
Bloomberg
,
On an earnings call for
Greenlight Capital RE
(GLRE) - Get Report
, a reinsurance subsidiary of the hedge fund, Einhorn said he continues to believe Apple's shares are undervalued and pointed to the tech giant's $3.05 a share quarterly dividend and
as a key support for investors.
Earlier in July, Apple said it had returned
$18.8 billion in capital to shareholders
by way of share repurchases and dividends. Since the start of the third quarter, Apple shares have gained about 10%, fueled by stronger-than-expected earnings.
Greenlight also maintained a bet against the shares of
Green Mountain Coffee Roasters
(GMCR)
, even after the k-cup maker was the worst performing position in the hedge fund's short portfolio.
Einhorn isn't holding onto all of Greenlight's tech investments and the fund has reduced some of its market exposure in recent months.
Earlier in July, Greenlight said in a letter to investors it exited a seven year investment in
Microsoft
(MSFT) - Get Report
as the software giant struggles to make consumer-oriented tablet and smartphone products. In the investor letter, Einhorn called Microsoft's Windows 8 operating system a flop and criticized the company's CEO Steve Ballmer.
A "decade of mismanagement has put Microsoft at risk of becoming a shrinking company," Einhorn wrote.
Overall, Einhorn said Greenlight's investment portfolio returned 2% in second quarter, putting year-to-date gains at 7.9%. Those stock gains, however, are below the performance of the
S&P 500
year-to-date.
Holding onto positions in Apple and against Green Mountain Coffee Roasters meant the fund pared its market exposure, Einhorn said.
A rapid advance in global equity markets has created "a potentially unstable condition," Einhorn said and noted the firm has reduced its gross exposure to markets by 17% in May. Greenlight sold a number of positions, however, Einhorn didn't elaborate on specific positions.
"Our investment portfolio performed adequately during the quarter and side-stepped most of the June turbulence," Einhorn said in an earnings statement.
Greenlight's long positions out-gained losses from Apple and goldminers as
General Motors
(GM) - Get Report
,
Cigna Roasters
(CI) - Get Report
,
Aetna
(AET)
and
Marvell Technologies
(MRVL) - Get Report
all posted solid gains.
In a twist to the hedge fund's strategy, Einhorn said Greenlight sold some of its gold positions to take advantage of attractive pricing in the shares of gold miners. Greenlight holds about 6 million shares in the
Market Vectors Gold Miners
(GDX) - Get Report
exchange traded fund, according to
Bloomberg
data.
The fund's "decrease in commodities was due to a decline in theprice of gold combined with the disposal of a portion of our physical gold holdings," Greenlight Capital RE said in a Securities and Exchange Commission filing on Monday.
Gains in a holding of the Japanese Yen offset losses tied to falling gold prices, Einhorn said.
-- Written by Antoine Gara in New York