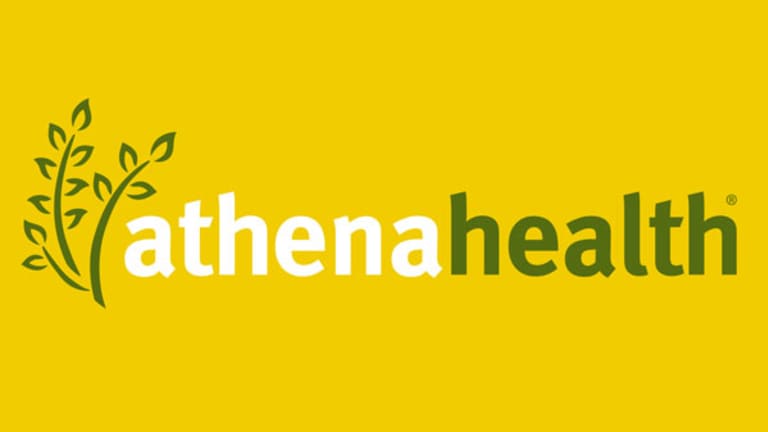 Updated from 9:57 a.m ET with analyst comments and afternoon athenaHealth share prices.
NEW YORK (TheStreet) - When David Einhorn speaks, the markets listen. On Monday, the hedge fund manager did not disappoint.
Speaking last at an conference featuring all-star hedge fund managers such as Paul Tudor Jones, Bill Ackman and Larry Robbins, Einhorn, the Greenlight Capital Management founder disclosed he had shorted shares of athenaHealth (ATHN) - Get athenahealth, Inc. Report as part of a basket of technology stocks he believes are indicative of a bubble.
Einhorn's presentation of his athenaHealth short sent shares in the high-flying health business services company tumbling over 10%. The hedge funder's scathing review of an April 23 upgrade of the company by Morgan Stanley analysts titled "All about the TAM," meanwhile, may cause many investors to speculate upon what other stocks Einhorn has in his bubble basket.
While Morgan Stanley valued athenaHealth at $192 a share, Einhorn walked attendees at the 19th annual Ira Sohn Conference presented with BloombergLINK through his analysis of why he believed that valuation to be off the mark.
If Morgan Stanley valued athenaHealth's inpatient business at $72 a share and the company's ambulatory business at $120 a share, Einhorn said he believes athenaHealth is worth about $50 a share under ordinary circumstances and $14 a share in a bear case valuation.
Einhorn questioned Morgan Stanley's forecasts of athenaHealth's profit margins, for instance, their estimate that earnings before interest and tax (EBIT) margins would reach 30% by 2030. Morgan Stanley's margin assumptions may be comparable to a cloud software business, however, Einhorn characterized athenaHealth more as a business process outsourcing company in the health care sector and said he believed EBIT margins will be closer to 15%.
"We believe that these assumptions are quite aggressive and likely to prove too optimistic," Einhorn said of Morgan Stanley's 2030 forecast. He also characterized Morgan Stanley's valuation as an attempt to justify the company's stock price.
Given Morgan Stanley's 30% margin forecast, a 5% perpetual growth rate and a 10.8% weighted average cost of capital, Einhorn's far-lower number significantly impacted his discounted cash flow valuation of athenaHealth.
Meanwhile, Einhorn said Morgan Stanley may have overvalued the company's inpatient business. If Morgan Stanley valued the business at $72 a share, Einhorn said he believes that valuation should be closer to $7 a share.
Morgan Stanley had its defenders. At least six wall street research firms re-iterated the equivalent of 'buy' ratings on athenaHealth's stock on Tuesday, with Stephens Inc., Leerink Partners, Piper Jaffray, and Sterne Agee re-iterating price targets higher than that of Morgan Stanley.
"While value is in the eye of the beholder, we respectfully disagree with the assessment that ATHN shares are overvalued," Sterne Agee wrote. Analysts at the firm said athenaHealth continues to win physician accounts and will continue to generate 25%-to-30% revenue growth year-over-year.
Leerink analysts, responding to one part of Einhorn's presentation, said athenaHealth may be able to continue winning community hospitals even if competitor Epic dominates larger accounts such as research university medical centers. "[We] do believe athenaHealth can compete in the smaller community hospital space.
None of the bullish Wall Street notes on Tuesday helped athenaHealth, however. Shares opened down down about 10% and were trading off by over 14% in late afternoon trading at $108.39
Paul Tudor Jones Feeling GILT'y on Rates
Paul Tudor Jones, the head of macro-hedge fund Tudor Investment Corporation, made a rare public appearance at the Ira Sohn Conference, which is a charitable event to support cancer research. Jones, a founder of the Robin Hood Foundation, applauded the aims of the conference and presented an often funny explanation of why it's been such a hard time for macro-traders to make money.
"It has gotten very difficult when you make a living depending on price movement," Jones said.
Macro funds like Tudor are patiently waiting a rise in interest rates around the world as Central Banks bring short-term rates from the zero bound, returning interest rate volatility, spreads, and carry trades to markets. Friday, Jones said, should have been the day macro traders have awaited.
A non-farm payroll report that included 288,000 new jobs and a fall in the U.S. unemployment rate to 6.3%, in addition to strong economic reports around the world should have caused bond yields to surge as investors prepared for looming rate hikes in the U.S., Europe and Asia, Jones said. Instead, bond prices closed the day higher.
"It just goes to show that what is obvious is obviously wrong," Jones said.
He believes macro-traders will remain in the doldrums through the second quarter, but that forecast of a rate hike by the Bank of England at the end of 2014 will cause trading activity ahead of that move by July. "Nothing is going to happen in fixed income, it is broadly imbalanced, for the first seven months of this year," Jones said. U.K GILT's will be a decent sale in July, Jones concluded.
Ackman Presses Fannie
As Bill Ackman's Herbalife (HLF) - Get Herbalife Nutrition Ltd. Report short position reaches a boiling point, the Pershing Square head took the stage at the conference to detail why he believes Fannie Mae (FNMA) and Freddie Mac (FMCC) shares are undervalued.
Ultimately, Ackman ascribed an over $40 a share value to Fannie Mae shares, and said Pershing Square would be willing help finance an exit of the company from government conservatorship.
Ackman's biggest point was that the exit of Fannie and Freddie Mac might resemble a similar move pulled off by insurer AIG  (AIG) - Get American International Group, Inc. Report in the years since the crisis. He also said he didn't believe it was in the interest of the government to wipe out the value of its Fannie Mae and Freddie holding.
A Safer Netflix Play
Philippe Laffont of tech and media-focused hedge fund Coatue Management, presented a case for why he believes Liberty Global (LBTYA) - Get Liberty Global Plc Class A Report shares are undervalued. Laffont cited Netflix's expansion in Europe as likely to benefit Liberty Global's earnings, and raised the prospect that consolidation in the European cable and wireless industry would mirror a flurry of activity in the U.S.
Fundamentally, Laffont also said Liberty Global shares were undervalued, given the company's ability to generate free cash flow and use such funds to reduce its overall share count. Laffont said Liberty's free cash flow per share could grow at a 25% rate, and that the company could be worth in excess of $100 a share.
Short Oil, Long Refiners
Zach Schreiber of PointState Capital, a hedge fund that Stanley Druckenmiller has invested significantly in, said he believes oil prices are poised to fall significantly. Schreiber, who worked for Druckenmiller at Duquesne Management, recommended a short trade in U.S. crude oil and a long-trade in U.S. refiners.
Schreiber said U.S. drillers, chasing the higher prices of crude, may create an oversupply that will impact price. Meanwhile, as drillers shift away from natural gas, prices may eventually rise as supply shrinks.
"The cure for high prices is high prices and the cure for low prices is low prices," Schreiber said. He believes the U.S. will reduce over 1 million barrels of crude a year in coming years, causing prices to drop to $80-to-$85 a barrel.
Three Value Picks From Daruma Capital
Mariko Gordon of Daruma Capital Management highlighted Electronics For Imaging (EFII) - Get Electronics For Imaging, Inc. Report, HB Fuller Co. (FUL) - Get H.B. Fuller Company Report and Pacira Pharmaceuticals (PCRX) - Get Pacira Biosciences, Inc. Report as possible value investments to the Sohn audience.
Gordon valued Electronics For Imaging at between $60-to-$75 a share, while she valued HB Fuller at between $75-to $90 a share.
Gundlach Bearish on Homebuilders
Legendary bond investor Jeffrey Gundlach of DoubeLine said he believes the U.S. will never-again see a year with over 1.5 million home starts and recommended a short trade in the S&P Homebuilders ETF (XHB) - Get SPDR S&P Homebuilders ETF Report.
"New home sales are remarkably weak," Gundlach said, while presenting his belief that younger household have been scarred from the Great Recession and won't prioritize home ownership. Meanwhile, baby boomers short on retirement funds may sell their homes as a means to catch up. Both augur poorly for home construction, Gundlach said.
Other Ideas
Chris Shumway of Shumway Capital said he believes Moody's Corporation (MCO) - Get Moody's Corporation (MCO) Report shares are undervalued and noted that the company benefits from significant barriers to entry in the bond rating business. Shumway also said he wasn't concerned about the prospect of regulatory probes after the Department of Justice charged Standard & Poor's in 2012.
Michael Novogratz of Fortress Investment Group said he believes the Brazilian economy will continue to face pressure as the 2014 FIFA World Cup looms. A deteriorating business environment in the BRIC nation could voters to oust President Dilma Roussef, Novogratz said.
Larry Robbins on Glenview Management re-iterated his large investment in healthcare stocks amid a change to the U.S. healthcare system through the Affordable Care Act.
Robbins reiterated his bullish views of Humana (HUM) - Get Humana Inc. (HUM) Report and Tenet Healthcare (THC) - Get Tenet Healthcare Corporation Report.
>> Read More: Liberty Global A Safe Way to Play Netflix Expansion
>> Read More: Einhorn Gives Up Chipotle Short
>> Read More: Ackman Unveils Fannie, Freddie Strategy
>> Read More: Glenview's Obamacare Bet Creates Winning Hand Amid Consolidation
-- Written by Antoine Gara in New York.