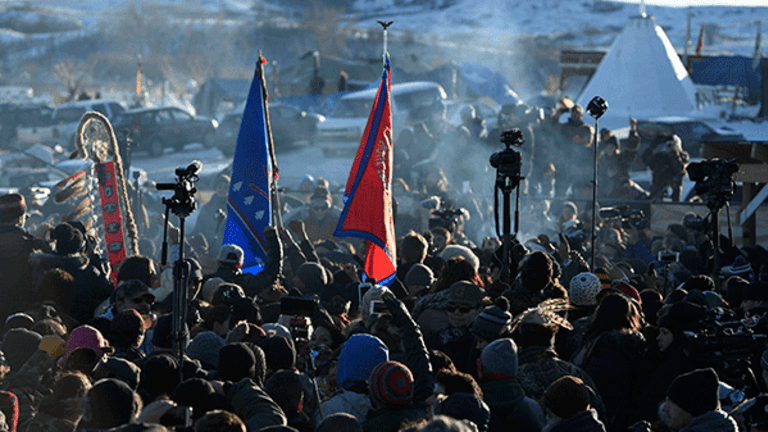 Dakota Access Pipeline May Have to Interrupt Operations to Redo Environmental Review
The pipeline, which began flowing in May, may be ordered to suspend its operations pending the new review.
Energy Transfer Equity (ETE) , the pipeline holding company already suffering from construction delays after spilling 2 million gallons of drilling fluid near an Ohio river, fell as much as 2% Thursday on more bad environmental news.
A federal judge ordered the U.S. Army Corps of Engineers to reconsider its environmental analysis of Energy Transfer's Dakota Access Pipeline, saying the Corps "did not adequately consider the impacts of an oil spill on fishing rights, hunting rights, or environmental justice, or the degree to which the pipeline's effects are likely to be highly controversial."
Energy Transfer Partners ETP is a subsidiary of Energy Transfer Equity. Stock in ETP was down 1.5% at 10 am.
The ruling is a legal victory for the Standing Rock Sioux Tribe in their battle to shut down the 1,172-mile underground oil pipeline that the tribe has claimed threatens its water supply and cultural lands.The pipeline, which began flowing in May, may be ordered to suspend its operations pending the new review.
"This is a major victory for the tribe, and we commend the courts for upholding the law and doing the right thing," Standing Rock Sioux Chairman Dave Archambault II said. "The previous administration painstakingly considered the impacts of this pipeline, and President Trump hastily dismissed these careful environmental considerations in favor of political and personal interests."
Energy Transfer did not immediately respond to requests for comment.
The lawsuit is the third filed by the Sioux tribe related to the pipeline, and the first to focus exclusively on environmental concerns. The court rejected the Sioux's first two legal challenges, but the third has proved more successful.
Whether Energy Transfer is forced to suspend operations of the pipeline while the Corps returns to its environmental assessment will be determined at a later hearing, U.S. District Judge James E. Boasberg said in the ruling. Both parties are expected to meet with Boasberg next Wednesday, June 22, Reuters reported.