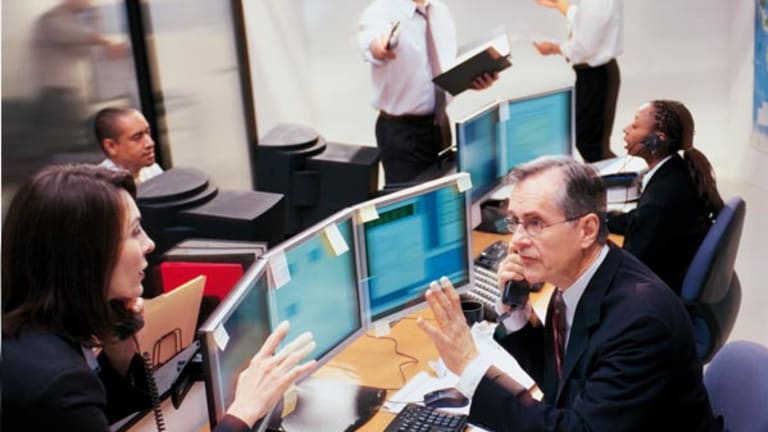 TheStreet.com's DAILY BULLETIN
August 13, 1999
http://www.thestreet.com
TC2000
TC2000 is the easiest way to rank stocks on your computer. See why TC2000 is the #1 stock software ever. You get FREE Software... FREE Databank... FREE Shipping... click below!
http://www.TC2000.com
Market Data as of 8/12/99, 3:46 PM ET:
o Dow Jones Industrial Average: 10,789.39 up 1.59, 0.01%
o Nasdaq Composite Index: 2,549.49 down 15.49, -0.60%
o S&P 500: 1,298.16 down 3.77, -0.29%
o TSC Internet: 506.52 up 4.16, 0.83%
o Russell 2000: 428.82 up 0.63, 0.15%
o 30-Year Treasury: 86 10/32 down 24/32, yield 6.261%
Companies in Today's Bulletin:
Intel (INTC:Nasdaq)
Ingersoll-Rand (IR:NYSE)
In Today's Bulletin:
o The Ax: Summer Upgrades of Intel as Predictable as the Summer Blockbuster
o Wrong! Rear Echelon Revelations: Full Circle
o Evening Update: Ingersoll-Rand Ends Joint Ventures With Dresser Industries
o Bond Focus: It Was the Best of Auctions, it Was the Worst of Auctions
TheStreet.com on the Fox News Channel
Why should you check out this week's "TheStreet.com" with Guest Robert Olstein? Because Olstein's fund, Olstein Financial Alert, has outperformed the S&P since the fund's inception with a portfolio of stocks you might never have considered. Olstein, president of the Morningstar-rated five-star fund, will talk about some of his favorite picks with writers from TheStreet.com.
The show airs Saturday 10 a.m. ET and again on Sunday 1 p.m. ET. For more info and how to find Fox News in your area, please see our TSC on Fox page, at www.thestreet.com/tv. Or watch a Web simulcast of the show at www.foxnews.com (look for the "Fox News Channel Live" box).
Also on TheStreet.com:
Mutual Funds: Vanguard's Bogle Miffed at Board's Stance
http://www.thestreet.com/funds/funds/773289.html
IPOs: Net Land Grab Gets Feverish
Gaining market share in the oversaturated online sector is hard enough. As for becoming a leader -- fuhgeddaboudit.
http://www.thestreet.com/stocks/ipos/773253.html
Internet: With Secondary Market Tough for Techs, Finding Cash Becomes Primary Concern
For many publicly traded technology companies, turmoil in the secondary market may remove an important financing option.
http://www.thestreet.com/tech/internet/773265.html
Europe: The Anglo File: Investors in U.K. Insurer Prudential Puts a New Spin on Egg
A lot of money is being spent on the Internet banking arm as its number of new customers has grown.
http://www.thestreet.com/int/euromarkets/773207.html
The Ax: Summer Upgrades of Intel as Predictable as the Summer Blockbuster
By
Marcy Burstiner
Staff Reporter
8/12/99 9:00 PM ET
SAN FRANCISCO --
Intel's
(INTC)
history tends to repeat itself. Last January, when the stock was trading at an all-time high, analysts fell over themselves raising their price
targets and upgrading their ratings. Now that it's at a new record high, they're doing it again.
PaineWebber
analyst John Lazlo Wednesday raised his share-price target to 95 from 80. (Intel closed Thursday at 75 15/16, after brushing against an all-time high of 76 3/4 midday.) On Aug. 5,
Salomon Smith Barney
analyst Jon Joseph raised his target to 95 from 85 after raising it from 73 on July 14. On July 6,
Merrill Lynch's
Joseph Osha upgraded his near-term rating from accumulate to buy.
Even
SG Cowen's
Drew Peck, one of the most respected of chip analysts, got into the act with an upgrade to buy from neutral on July 27, something he hasn't done in several years. Now, after a year of taking flack for his unfashionably bearish call on Intel, Peck is suddenly the longstanding "ax," at least according to
Wall Street Review's
Mike Green. (PaineWebber, Salomon, Merrill and Cowen have no underwriting relationship with Intel.)
This time analysts are scrambling to upgrade Intel in time for an anticipated seasonal upswing, but their bullish reports are peppered with caveats and question marks about Y2K, competition from
Advanced Micro Devices'
(AMD)
Athlon chip, and the hard-to-predict popularity of "free PCs." Meanwhile, long-term concerns -- the slow growth of the PC market, dropping chip prices and declining margins -- still linger.
There is a general expectation that Intel stock rises in the fall with back-to-school and holiday sales, and then drops off after New Year's. Still, something always seems to throw off the patterns, helping Wall Street's chip analysts justify their jobs. In 1994, a Pentium bug crashed Intel's Christmas sales. In 1995, a chip glut sent the industry into a slump. In 1996, AMD failed to produce its K5 chip and gave Intel a competition-free year. And in late 1997, the Asian economic crisis pulled down Intel stock.
Still, a summer upgrade of Intel is the safest play, says
Fahnestock & Co.
analyst Dan Scovel, who has had a hold rating on Intel for over a year and says he's not about to change that now. Fahnestock is not an underwriter of Intel.
Compared to corporate sales, consumer sales now account for a much bigger chunk of the overall microprocessor market than they did in the past, Scovel says, and that has sharpened the seasonal swing for back-to-school and Christmas. Raising estimates now, he says, is a way of protecting one's ass -- something that is likely on many analysts' minds these days. Who can forget the fall of former ax, Thomas Kurlak, a respected
Merrill Lynch
analyst until he ran for
cover to hedge fund
Tiger Management
in February after he failed to spot Intel's rise in time for his clients to score.
Beyond the expected seasonal upswing, the bullish factors cited by analysts seem uncertain. Peck based his upgrade in large part on booming sales of free PCs. "We are now betting that 'free' PCs will boost Celeron sales by an additional 6 million units in 2H99," Peck wrote. The thinking is that free PCs will boost demand for chips. But Peck hedges his comments: "Whether that actually happens depends largely on the ability of ISPs to continue to subsidize the PC business."
Niles and Scovel both believe there's a good chance chip prices can come down more, particularly if the Athlon, now supported by such top-tier companies as
IBM
(IBM)
, gives Pentium III a run for its money. Declining prices could lower margins and disappoint investors.
Even consistently bullish analyst Mark Edelstone of
Morgan Stanley Dean Witter
, deemed the Intel ax by
TheStreet.com
last
November, warns investors that the chipmaker doesn't have much more room to grow gross margins this year above the 58.9% it reported for the second quarter. "Intel's all-time gross margin high of 64.5% was reached in the first quarter of 1993, and we believe it will be difficult to reach that level again unless AMD's Athlon product cycle is a complete bust," he wrote last month. Morgan Stanley is an underwriter of Intel.
Moreover, expectations of booming school and Christmas computer sales may already be in the stock. It has risen 50% since bottoming June 1. At Intel's current price, shares are less than $5 off Edelstone's $80 price target set July 14.
Regardless of a boom or bust this season, Intel's long term remains murky. "The seasonal impact is only good for the season," Scovel says.
The bottom line: PCs are growing at a maximum 15% a year in units and severe price erosion continues to undercut profits. The bulls are counting too much on Intel's continued ability to cut manufacturing costs to boost margins, Scovel says. "Soon you can't squeeze your organization anymore and at some point the bubble breaks and things start to fall apart."
Even Peck hasn't changed his outlook past December. "All of the issues that we have raised in the past, especially the technological issues that are constraining processor sales and pricing, remain," Peck wrote. And he emphasized that the estimates will only rise for Intel in the short term.
Greg Mischou, an analyst at
Warburg Dillon Read
who has a buy rating on the stock and who recently lowered his year-end earnings estimates, acknowledges that predicting Intel's performance past the third quarter is difficult. "It's hard to figure out how the fourth quarter will be," he says. (WDR has no underwriting relationship with Intel.)
Wrong! Rear Echelon Revelations: Full Circle
By
James J. Cramer
8/12/99 4:26 PM ET
What was the point of that session? I mean if we are going to start and end at the same place, I mean, why bother? Of course the intraday shenanigans certainly had their positives and negatives. My favorite was
Hewlett-Packard
undefined
, which I bought all the way down, but when I went for Diet Doctor Pepper dropped three points when it lost a case to
Xerox
(XRX)
, which dropped two points. Talk about lose-lose!
I am not sweating this
number. I am sweating the fact that oil never seems to come down, which makes this whole bond exercise a push. Oh, and the
SOX
finally took a day off. To me, seemed like just profit-taking.
Random musings
:
Iridium
undefined
defaults. When people question me about what
TheStreet.com
has that the other guys don't, I say we have
Herb Greenberg
, who kept you from being an
Iridiot.
******
James J. Cramer is manager of a hedge fund and co-founder of TheStreet.com. At time of publication, his fund was long Hewlett-Packard. His fund often buys and sells securities that are the subject of his columns, both before and after the columns are published, and the positions that his fund takes may change at any time. Under no circumstances does the information in this column represent a recommendation to buy or sell stocks. Cramer's writings provide insights into the dynamics of money management and are not a solicitation for transactions. While he cannot provide investment advice or recommendations, he invites you to comment on his column at
jjcletters@thestreet.com.
Evening Update: Ingersoll-Rand Ends Joint Ventures With Dresser Industries
By
Eileen Kinsella and
Tara Murphy
Staff Reporters
8/12/99 10:05 PM ET
Ingersoll-Rand
(IR)
said it was breaking ties with
Dresser Industries
, ending two industrial equipment joint ventures. Ingersoll offered its stake in the ventures' operations to Dresser, and said it would sell its interest to a third party if Dresser declines the offer. The company told
Reuters
that if Dresser purchases Ingersoll's interest, the ventures would be initially worth $1.85 billion, reflecting governing agreements.
Outflows from equity funds slowed to $579 million for the week ended Aug. 12. International funds, including Latin American and all Asian markets, reported outflows. Taxable bond funds also reported outflows, with the majority coming from high-yield corporate bond funds.
In other postclose news (earnings estimates from First Call; earnings reported on a diluted basis unless otherwise specified):
Earnings/revenue reports and previews
Advanced Tissue Science
(ATIS)
reported a second-quarter loss of 11 cents a share including extraordinary items. The three-analyst estimate was for a loss of 19 cents a share. The year-ago loss was 30 cents a share.
Applied Graphics
(AGTX)
reported second-quarter earnings of 16 cents a share excluding extraordinary items. The two-analyst estimate had been for 15 cents a share. Year-ago earnings per share were 16 cents.
CompUSA
undefined
which announced in June it would take a fourth-quarter charge to cut jobs and close stores, said it expects to report fourth-quarter earnings about a week late. The company said the change will allow it to present more details on its strategic initiative.
Stewart Enterprises
(STEI)
a funeral-service provider in Metairie, La., said intense price competition and an accelerating trend towards cremation is killing its business. The company warned it expects to earn 25 cents to 27 cents a share in the third quarter, lower than the current three-analyst estimate of 29 cents a share; and 17 to 19 cents a share in the fourth quarter, below the current nine-analyst estimate of 25 cents a share.
WMS Industries
(WMS)
reported fourth-quarter earnings of 20 cents a share, including a charge of 4 cents for a common stock adjustment. The three-analyst estimate called for 12 cents a share. The company had a year-ago loss of 4 cents a share.
Mergers, acquisitions and joint ventures
Kantar Group
will take hold of
Intelliquest Information Group
(IQST)
for $42.5 million in cash and a sum equivalent to Intelliquest cash value upon completion of the acquisition. Intelliquest said in
Reuters
it expects the merger, which involves the $46.5 million sale of the company's IQ2.net to
Naviant Technology Solution
, to close in the fourth quarter.
Intuit
(INTU)
a maker of personal finance software, said it bought closely held
SecureTax.com
in an effort to boost its presence in online tax preparation.
Financial services company
Ziegler
(ZCO)
said it inked an agreement to sell its discount brokerage,
Ziegler Thrift Trading
to
Strong Capital Management
. Ziegler said the decision to sell the business was part of an effort to narrow its strategic focus and said it expects to record an after tax-gain of $3.6 million when the deal is completed.
Offerings and stock actions
Active Software
undefined
priced its 3.5 million-share IPO after the close at $11 a share.
Burlington Northern Santa Fe
(BNI)
said it would buy back 4.34 million common shares from
Allegheny
as part of a previously announced repurchase program. Burlington will pay $29.585 per share. Afterwards Allegheny will own about 18 million shares, or about 4% of Burlington's outstanding diluted shares.
Security Capital
(SCZ)
board of directors said yes to a share buyback for $100 million worth of common stock, giving the company 5.4% of its common stock back if all share are bought at current prices.
Miscellany
Pfizer
(PFE)
has decided not to make further strides to improve its drug, Alond, for late-stage diabetic treatment, after disappointing clinical trial performance. The company said it will continue to test the drug as a remedy for kidney disease and cardiomyopathy.
FOR FURTHER EARNINGS NEWS, SEE
http://www.thestreet.com/markets/eveningupdate/773424.html
Bond Focus: It Was the Best of Auctions, it Was the Worst of Auctions
By
David A. Gaffen
Staff Reporter
8/12/99 4:06 PM ET
The Treasury market was so confused today, it decided to shut down early.
Well, not really -- energy problems in Chicago forced an early close today at the
Chicago Board of Trade
at 2 p.m. EDT, just a half-hour after results of the 30-year Treasury auction were released.
But disarray might as well have been the culprit -- as one trader said of today's $10 billion Treasury sale, "A good auction is a bad auction, and a bad auction is a good auction." Uh-huh. Good, bad -- dealers were the guys with the gun -- and they shot down the market after the 1:30 p.m. results announcement. The 30-year Treasury bond fell dramatically, and was lately down 15/32 to trade at 86 16/32, bumping the yield up 5 basis points to 6.26%.
What happened? Well, the "when-issued" 30-year bond (that's the bond-to-be) was yielding roughly 6.125% to 6.13% at 1 p.m., when bids were due for the final sale of the
Treasury Department's
quarterly refunding. The market generally expects the Treasury to have sold the new bonds pretty close to that yield. But at 1:30 p.m., the Treasury announced that the high yield awarded for the bonds was 6.144%, 1.5 to 2 basis points greater than expected.
Now, if you're an investor looking to hold bonds long-term, that's a good thing -- they came out cheaper than expectations, a nice deal. If you're a dealer, it indicates that the market collectively didn't bid on the auction very aggressively, and it's just another reminder that the outlook is still bearish. Seizing on that, dealers sold, pushing down the price of both the now off-the-run Treasury bond and the bond futures contract.
"The way the market reacts is to how the dealers are doing," said Gib Clark, head government trader at
Zions First Capital Markets
in Jersey City, N.J. "It's a much lower price and higher yield, so people interpret this to mean demand is not there. As you know, we've been going down for a while, and this exacerbated the trend."
(Ironically, yesterday's 10-year auction was the reverse of this bad-good thing. The 10-year when-issued note was trading at around 6.11%, but the government awarded the notes at a high yield of 6.085%. So while dealers are scrambling to cover their shorts because bidding too high (in yield) has left them out of the auction, they're also pleased that there's some demand in the market.)
Another trader at a primary dealer said he's not worried about today's performance after the auction. This bond is the last to be sold prior to Y2K, and its poised to benefit later in the year if fears of Y2K-related computer problems cause investors to sell riskier assets and buy Treasuries. "We'll have no trouble getting customers to buy," he said.
What do all these machinations have to do with how the market feels about tomorrow's release of the July
? Well, everything and nothing. Clark said, "It has nothing to do with what
dealers think of the PPI, but if they're uncomfortably long the bond they'd want to reduce their risk before the release of the PPI -- and they're selling into a weak market."
Tomorrow's PPI release, unless it's way out of whack with predictions, should confirm what the market is already thinking -- that the
Federal Reserve
believes the threat of inflation is great enough to hike the fed funds target rate from its current 5% on Aug. 24. The
Reuters'
consensus estimate is for a 0.3% increase in the overall PPI and a 0.1% increase in the core PPI, which excludes food and energy prices.
Economists are concerned that price increases will show up for goods in the crude and intermediate stages of processing, on the theory that pressures companies encounter now will eventually result in price increases for consumer goods. This would cause the
to rise in the future. (Both of these reports are key inflation indicators, but the market generally considers the CPI the more important of the two. The CPI is released next Tuesday.)
"There's already 25 in the market, but now the market is going to want to see slowing in the economy," said Maryann Hurley, vice president at
D.A. Davidson
.
Looking at July retail sales, things aren't slowing. Sales rose 0.7%, far ahead of the 0.3% estimate, although excluding autos sales rose 0.3%. But this was blunted by the revision to June's original 0.1% gain to a 0.2% loss.
The market had only a half-hour after the auction to ponder these weighty concerns. The CBOT shut down because
Commonwealth Edison
, the electricity provider, was having trouble generating power in the CBOT's area of Chicago, causing a complete shutdown. The suddenly abbreviated session caused a "quick fluster of covering," said Mike McGlone, vice president at
Aubrey G. Lanston
.
A more-relaxed McGlone, speaking after the forced close, said, "There's not a lot of risk to be taken now -- so we're going home."
TO VIEW TSC'S ECONOMIC DATABANK, SEE:
http://www.thestreet.com/markets/databank/769862.html
And the winner is.... Investment Challenge on TheStreet.com ends August 20th! Who will be in New York with Jim Cramer for the opening bell?
http://www.activefactory.com/thestreet
Copyright 1999, TheStreet.com