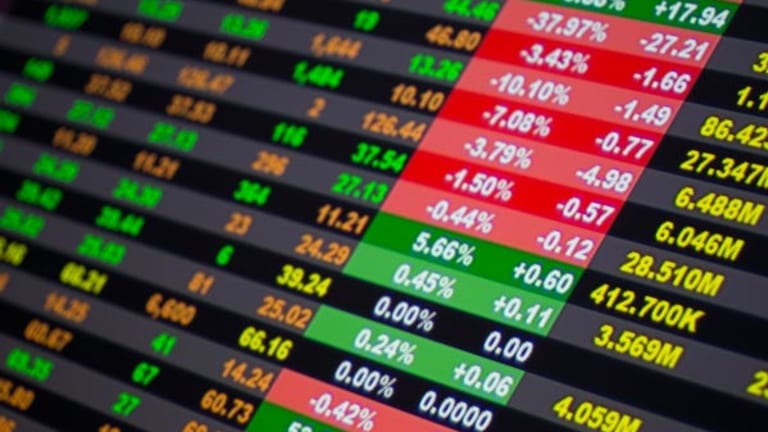 Publish date:
daily07-06-99
TheStreet.com's DAILY BULLETIN
July 7, 1999
http://www.thestreet.com
746870
Market Data as of Close, 7/6/99:
o Dow Jones Industrial Average: 11,135.12 down 4.12, -0.04%
o Nasdaq Composite Index: 2,736.78 down 4.24, -0.15%
o S&P 500: 1,388.12 down 3.10, -0.22%
o TSC Internet: 665.30 up 1.03, 0.16%
o Russell 2000: 456.55 up 0.04, 0.01%
o 30-Year Treasury: 89 05/32 down 13/32, yield 6.043%
Companies in Today's Bulletin:
Goldman Sachs (GS:NYSE)
New Era of Networks (NEON:Nasdaq)
Edgar Online (EDGR:Nasdaq)
fashionmall.com (FASH:Nasdaq)
In Today's Bulletin:
o Brokerages/Wall Street: Revenge of the Analyst-Nerds
o Wrong! Dispatches from the Front: Pumping Irony
o Evening Update: New Era of Networks Warns of Second-Quarter Loss
o Bond Focus: Independence? Not In the Bond Market: Treasuries Slide on Foreign Selling
Also on TheStreet.com:
The TaskMaster: Rally Evaporates, Garzarelli Reappears and the Gloves Are Off
In his debut end-of-day column, Aaron Task muses on old market seers, the New Office Indicator and hoops with Andy S.
http://www.thestreet.com/comment/taskmaster/762244.html
Internet: Ask Jeeves: What's the Big Deal?
A closer look at the newest Internet darling raises some questions about its future.
http://www.thestreet.com/tech/internet/761895.html
Semiconductors: Semtech Sees Allure in Analog
A well-timed hiring binge has the chipmaker poised to advance further as analog chip sales pick up.
http://www.thestreet.com/tech/semis/761702.html
Market Features: Morgan Stanley's Wien, Seeing a 'Vulnerable' Market, Ups Cash
The prominent strategist bucks a phalanx of his peers in seeing both stocks and bonds as pricey.
http://www.thestreet.com/markets/marketfeatures/762185.html
Brokerages/Wall Street: Revenge of the Analyst-Nerds
By
Dan Colarusso
Associate Editor
Two years. $14 million.
That's a good contract for almost anyone. For a sell-side equity analyst, it's an obscene number. But that didn't stop
Goldman Sachs
(GS) - Get Goldman Sachs Group, Inc. (GS) Report
from offering just that -- two years, $14 mill -- to telecommunications analyst Frank Governali to lure him to the firm last month, according to two people familiar with the pay package.
The rich payout is yet another sign that analysts, long the prognosticating nerds of Wall Street, have become critical to the process of marketing deals and making the big investment banks the big money. Rainmaking has gotten more complicated. The big free-agent money is no longer just reserved for bankers. The bankers may do the deals, but it's often the analysts who make the deals work.
Of course, Governali, who left
Credit Suisse First Boston
, benefited from Goldman's need for someone to shepherd coverage of the dynamic telecom sector. Last year, the firm was ready to spend about $25 million to lure
Salomon Smith Barney's
Jack Grubman to 85 Broad Street. That didn't work, so the riches, albeit a smaller pile, went to Governali, who even gets to work from Portland, Maine. As a matter of policy, Goldman declined to comment on employees or their compensation. Goldman didn't respond to a request to talk to Governali.
It's not about whether Governali is or isn't special enough to deserve this kind of dough. It's more that analysts have become the type of deal-making, deal-breaking stars that investment bankers once were.
"If the '80s were the decade of bankers, the turn of the century has become the era of the institutional analyst," says Dave Hart, executive vice president of Wall Street recruiting firm
Hadley Lockwood
.
Analysts can bring credibility to an IPO or a merger. Issuers like it when their investment bank has an analyst who breeds buying confidence among the world's biggest investors. Analysts have the ability to create a buzz about a stock through the press or through clients. That usually translates into a strong stock price. A good analyst even has a bigger impact than any fine-dining banker does on a chief executive's life, especially a chief executive who's compensated in stock options.
"A CEO today has the bulk of his net worth tied up in his company's stock. They kowtow with the analysts not just for shareholders but for themselves," says Gary Goldstein, chief executive of
Headway Corporate Resources
, the holding company for executive recruiter
Whitney Group
.
"Grubman brings business. Frank brings business," Hart adds. "Without the analyst, the banker is not going to get a deal."
When Mary Meeker,
Morgan Stanley Dean Witter's
hotshot Internet analyst,
didn't make herself available enough to Morgan client
NextCard
(NXCD)
on the company's stock issue, NextCard took its $2 million in underwriting fees to
Donaldson Lufkin & Jenrette
. A few years ago, a firm wouldn't have lost a deal just because a client didn't have enough access to one of the firm's analysts.
Even the stupid-money move that gave Solly banker Ben Lorello $70 million earlier this year for a 3 1/2-year commitment to
Warburg Dillon Read
supposedly arose out of the firm's search for a top-flight health care analyst. Analyst Geoffrey Harris, packaged with Lorello and his lieutenants, will be pulling down $20 million over the same period, according to published reports.
With so much money there for the taking, the analysts and the firms that employ them campaign vigorously for inclusion on the prestigious
Institutional Investor
All-Star analyst ranking.
"The value of having a ranked player on the team is unarguable," Hart says. "You either have to get them or get them ranked. We're talking about Goldman and First Boston
regarding Governali. The firms in that tier got to be that way by having the best players."
"Analysts give more credibility to a deal," Goldstein adds. These days, the credibility is just more expensive.
Wrong! Dispatches from the Front: Pumping Irony
By
James J. Cramer
Sometimes the also-rans tell the tale of the tape. I am not a believer in trading by irony. That's where you have to sell when the market gets too crazy. However, the sudden rise of the also-rans really does spook the market.
When
Edgar Online
(EDGR)
and
fashionmall.com
(FASH)
started ramping I quickly pulled up the charts of
Sovereign Bancorp
(SVRN)
and
Florida Banks
undefined
, those two banking also-rans that ignited in April AFTER everything else had taken off. Wouldn't you know it, but it came right at the top of the
TheStreet.com Internet Sector
index (April 13).
Maybe people were simply drawing the same conclusion that when things get so crazy as to send up the busted ones, it is time to take profits. (I saw a similar conclusion made in June of 1996 when
SyQuest
(SYQTQ)
went up in a son-of-
Iomega
(IOM)
ramp. That was too much for people and the whole speculative show cooled off.)
If that happens, it would be a tough call because the Net usually has traded up into
Yahoo!'s
(YHOO)
earnings and then sold off. This would be some serious gun-jumping of the pattern. Again, I like irony in short stories and in movies. It has never made me a ton of money investing.
But then again, I wouldn't call buying some of the stuff that went up today investing either.
******
James J. Cramer is manager of a hedge fund and co-founder of TheStreet.com. At time of publication, his fund was long Yahoo!. His fund often buys and sells securities that are the subject of his columns, both before and after the columns are published, and the positions that his fund takes may change at any time. Under no circumstances does the information in this column represent a recommendation to buy or sell stocks. Cramer's writings provide insights into the dynamics of money management and are not a solicitation for transactions. While he cannot provide investment advice or recommendations, he invites you to comment on his column at
jjcletters@thestreet.com.
Evening Update: New Era of Networks Warns of Second-Quarter Loss
By
Heather Moore
Staff Reporter
New Era of Networks
(NEON) - Get Neonode Inc. Report
warned it will report a second-quarter loss of 12 cents to 22 cents share, significantly below the nine-analyst
First Call
prediction for a repeat of the year-ago profit of 12 cents. The company's stock collapsed to 20 in after-hours trading from a close of 44 1/16. New Era, which makes a system for automating enterprise application integration, blamed infrastructure expenses and sales that didn't close by the end of the quarter.
Long Term Capital Management
, the hedge fund bailed out last fall by a group of 14 banks, said it will return $1.3 billion to investors -- $1 billion to the banks and $300 million to investors other than LTCM insiders and affiliates.
In other postclose news (earnings estimates from First Call; earnings reported on a diluted basis unless otherwise specified):
Earnings/revenue reports and previews
Delta
(DAL) - Get Delta Air Lines, Inc. Report
said its June load factor slipped 1.4% to 77.6%.
Dollar Tree Stores
(DLTR) - Get Dollar Tree, Inc. Report
said its second-quarter same-store sales rose 1.8%. Separately,
Rite Aid
(RAD) - Get Rite Aid Corporation Report
said its June same-store sales jumped 7.9%.
Melita
(MELI) - Get MercadoLibre, Inc. (MELI) Report
said it will report second-quarter earnings of 12 cents to 14 cents a share, below both the four-analyst view of 23 cents and the year-ago 17 cents. The company cited several sales that were expected to be completed in the second quarter but will instead take place in the third quarter.
NCI Building Systems
(NCS) - Get Cornerstone Building Brands Inc Report
said its third-quarter earnings will hop 20% from a year ago, but that's not as much as previously expected. The seven-analyst view called for 82 cents a share vs. the year-ago 58 cents. NCI Building said gains won't reach previous expectations due to cost pressures and inefficiencies in manufacturing operations.
Printronix
(PTNX)
posted first-quarter earnings of 36 cents a share, topping the single-analyst forecast for 32 cents but falling below the year-ago 43 cents.
Respironics
(RESP)
said it expects to report fourth-quarter earnings of 18 cents a share, which would be a dime below the 10-analyst estimate of 28 cents but above the year-ago 17 cents. The company also said it will cut its worldwide workforce by 10% as part of a restructuring to focus on research and development.
Vantive
(VNTV)
said it expects to post a second-quarter loss of 12 cents to 14 cents a share including a 7-cent restructuring charge. The 10-analyst forecast called for earnings of 4 cents vs. the year-ago loss of 31 cents. The company also announced a $10 million repurchase program.
Waste Management
(WMI)
warned it sees second-quarter earnings of 67 cents to 70 cents a share, which would miss the 14-analyst forecast for 78 cents but top the year-ago 41 cents. The company blamed lower-than-expected North American revenue and said the revenue shortfall will similarly hurt future quarters.
Mergers, acquisitions and joint ventures
HCR Manor Care
(HCR) - Get Hi-Crush Inc Report
sold 21 assisted living residences to
Alterra Healthcare
(ALI)
for $140 million.
Magna
(MGA) - Get Magna International Inc. Report
said its
MI Venture
non-automotive group agreed to buy
Gulfstream Park Racing Association
for $87 million.
Oneida
(OCQ)
rejected a $37.50-a-share offer from
Libbey
(LBY) - Get Libbey Inc. Report
. Oneida said it rejected the offer due in part to the absence of committed financing and to significant antitrust issues raised by a possible combination with Libbey.
Telmex
said it received approval from the
Federal Communications Commission
to take control of a long-distance business it once operated jointly with
Sprint
undefined
.
Offerings and stock actions
Ferris Baker Watts
priced
Musicmaker.com's
(HITS:Nasdaq) 8.4 million-share IPO top-range at $14. The company is an online music retailer.
Miscellany
The
Labor Department
sued
Boeing
(BA) - Get Boeing Company Report
, alleging the aerospace giant interfered with government investigations of discrimination.
Franklin Covey
(FC) - Get Franklin Covey Co. Report
said Jon Rowberry resigned as chief executive and that Chairman Robert Whitman will serve as interim CEO while the company conducts a search for a permanent replacement.
Bond Focus: Independence? Not In the Bond Market: Treasuries Slide on Foreign Selling
By
David A. Gaffen
Staff Reporter
Japanese and European bond markets swooned overnight for a reason all too familiar here in the U.S. (the economy is getting better), and Treasuries were tarred and feathered before things got going on this continent. With investors waiting for a wave of corporate supply, most ominously, a rumored $6 billion to $7.5 billion sale from
Ford
(F) - Get Ford Motor Company Report
, bonds stayed lower until technically driven action pared losses in the cash market at the end of the day.
"As we opened up this morning, prices were already falling and were struggling technically as well," said John Canavan, Treasury analyst at
Stone & McCarthy Research Associates
in Princeton, N.J. "In the exceedingly thin trading, it didn't take much to push the market down until Thursday's low held."
Of late, the 30-year Treasury bond had lost 18/32 to 89 6/32. The yield rose 3 basis points to 6.04%. Today's low on the benchmark bond was 88 22/32, near the 88 20/32 low reached
Thursday that Canavan identified as a technical support level.
GovPX
volume was down 33% when compared to the average Tuesday last month, and with so many people seemingly out of the office, it's ironic that Ford is planning on selling its deal now. The company was forced to
pull a planned $3 billion issue from the market two weeks ago due to thin conditions, just before the
Federal Reserve
raised interest rates, when the market sold off rapidly. Admittedly, conditions have improved somewhat. Investors are more likely to buy a corporate bond, a riskier investment than government securities, without quarter-end performance measures to think about. And part of today's meager volume is due to investors waiting out the week until they can get their hands on Ford's massive offering, to be split in three parts.
Ford will sell $1.5 billion in 32-year bonds (yes, 32), while Ford arm
Ford Motor Credit
issues $3 billion to $4 billion in five-year notes and $1.5 billion to $2 billion in three-year floating-rate notes. The global deal is the first of several offerings the company has planned for this year -- the company filed for registration of $10 billion of securities with the
Securities and Exchange Commission
earlier this year. This issue is expected to price Friday or Monday.
"There's little to nothing on this week's
economic calendar, which means corporate supply will become even more important," Canavan said. Federal agency
Freddie Mac
undefined
is scheduled to sell $3 billion of five-year notes this week.
Anything for the market to ignore foreign bonds. The yield on the benchmark 10-year Japanese government bond, or JGB, rose 0.085% to 1.695% overnight following the Monday release of the
tankan
report, a quarterly survey of business sentiment. The sentiment index rose to minus 37 for the April-June quarter from minus 47 the quarter previous. That, coupled with January-March's 1.9%
GDP
gain, the first positive reading in six quarters, provides a bit more evidence that Japan's economy is recovering, and bonds sold off.
European markets continued the game of one-upmanship. Reports that Germany's
unemployment rate
fell below 10% for the first time in three years caused an 11-basis-point selloff in the 10-year Bund, which closed at 1.68%, according to
Reuters
. The 10-year Gilt rose 7 basis points to close at 5.2%.
"Germany is auctioning 10-year Bunds tomorrow, and Spain is auctioning 10-years bonds as well," said one trader. "So there's a lot of supply in the European bond market coming."
TO VIEW TSC'S ECONOMIC DATABANK, SEE
http://www.thestreet.com/markets/databank/761224.html
Get in the trenches with James Cramer... Invest a cool $500,000 without the risk - register for TSC's Investment Challenge and play for prizes, including a trip to NYC and a morning with James Cramer! Pre-registration - June 21. Game begins - June 28.
http://www.activefactory.com/thestreet
Copyright 1999, TheStreet.com