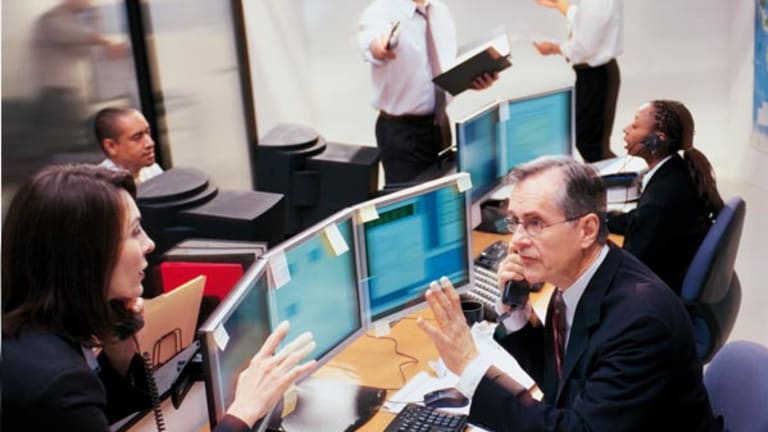 TheStreet.com's DAILY BULLETIN
June 25, 1999
http://www.thestreet.com
DLJdirect
DLJdirect - #1 Rated Online Broker (Barron¿s 1999) FREE 60-day trial of award-winning stock research from DLJ.
24 / 7 customer service.
FAST. RELIABLE. SECURE.
Apply Online invest in minutes!
http://www.dljdirect.com/?tsc
Market Data as of Close, 6/24/99:
o Dow Jones Industrial Average: 10,534.83, down 132.03, -1.24%
o Nasdaq Composite Index: 2,553.99, down 44.13, -1.70%
o S&P 500: 1,315.78, down 17.28, -1.30%
o TSC Internet: 576.06, down 12.55, -2.13%
o Russell 2000: 443.16, down 3.88, -0.87%
o 30-Year Treasury: 87 21/32, down 5/32, yield 6.161%
Companies in Today's Bulletin:
Compaq (CPQ:NYSE)
Paragon Trade Brands (PTB:NYSE)
Tuboscope (TBI:NYSE)
Newpark Resources (NR:NYSE)
In Today's Bulletin:
o Wrong! Rear Echelon Revelations: It's a Hard Knock-Off Life for Paragon
o Hardware & PCs: As AltaVista Deal Looms, It's Still the Same Old Same Old at Compaq
o Evening Update: Tuboscope and Newpark Resources Announce $1.3 Billion Merger
o Bond Focus: Yields Hit 1999 Highs in Another Lousy Session
Also on TheStreet.com:
Wing Tips: Why Frontier Still Appeals
Enthusiastic workers get you off on the right foot with this mover and shaker.
http://www.thestreet.com/comment/wingtips/759184.html
Brokerages/Wall Street: Sellers End Up With Blank Check in CheckFree's Doomed Secondary
Those who sold after the offering ended up fortuitously short the stock as it plunged.
http://www.thestreet.com/stocks/brokerages/759278.html
The Invisible Mouth: The Sorry Truth About a Slowdown
What do all these economic numbers prove? Old predictions of a business-investment slowdown are still wrong.
http://www.thestreet.com/comment/economics/759192.html
Power Lines: Sempra Pulls the Plug on KN Energy Merger
The Southern California utility tells its dance partner the party's over, sending KN Energy back to the drawing board.
http://www.thestreet.com/comment/powerlines/759150.html
Wrong! Rear Echelon Revelations: It's a Hard Knock-Off Life for Paragon
By
James J. Cramer
Ever own a stock and have everything go wrong that could go wrong? You would have to feel that way if you owned
Paragon Trade Brands
(PTB)
.
You may have never even heard of the name Paragon. That would be by design, because Paragon is the largest knock-off maker of diapers in the country. They private label for just about everybody.
Paragon was once a highflying stock, one of the big
Merrill
underwritings, embraced and beloved by the firm's research department during the early 1990s.
This week PTB got delisted, a victim of so many woes that it is worth it to spell them out to remind us, once again, how stocks can be incredibly dangerous to own. You owned it, you got wiped out. Zed.
That's a nasty fall from its incredibly successful IPO in January of 1993, and its subsequent run to 35 during the generic heyday.
That was a time when owning private-label companies was all the rage. Two of these private labels,
Perrigo
(PRGO) - Get Perrigo Co. Plc Report
and Paragon, captured the hearts and minds of a whole host of portfolio managers, who were attracted by their potential for high-profit margins; Paragon and Perrigo were not saddled with the massive promotional or research costs of the major companies that dominate their industries. Plus, generics do great in a slow economy, which was supposed to happen sometime in the 1990s, but alas, never did.
Both Perrigo and Paragon used to pride themselves on how their products were just as good as those made by the major brands. I remember Perrigo in particular saying that nobody could tell the difference, and at one point, it prided itself on even making its bottles and boxes look almost exactly like the "real thing." In fact, I sold some of the major branded companies back in 1994 after I mistakenly bought a bottle of what I thought was
Pepto Bismol
at
Duane Reade
(DRD) - Get DRDGOLD Limited Sponsored ADR Report
. When I got it back to the office, I noticed that the bottle looked just like Pepto, but was really a Perrigo knock-off. Tasted the same too!
Who wanted to own the companies that spent billions building brands when they could be knocked off so easily by a generic competitor that plays hardball?
There was only one problem with PTB's strategy of imitating the majors with their wares.
Procter & Gamble
(PG) - Get Procter & Gamble Company Report
didn't like it. And P&G is a great company, not easily trifled with. P&G, which spends millions on research and patents and on the science of making and manufacturing great products, hated the fact that everything it did was simply knocked off by Paragon Trade Brands.
At first it tried a big price war that, when coinciding with skyrocketing raw costs for diaper materials, led to some serious knocks to earnings. P&G also tried, unsuccessfully, to get PTB to license its patents for all of these newfangled things that make diapers pretty unbelievable, technologically speaking (for those of us who have changed them in the last few years).
But then it sued PTB for patent violations. When P&G sued, every analyst told investors not to worry about the lawsuit. They told them these suits happen all of the time, that they are a hazard of the generic business and they are always settled or go away. Cool.
This one wasn't settled. It didn't go away. And last year P&G won a huge judgment against PTB with liability up to as much as $200 million.
I guess PTB should have licensed those patents.
PTB appealed immediately. But it also filed for Chapter 11. The stock got hammered 50% on the news but stayed trading. P&G, again, not to be messed with, was prepared to place liens on the company and PTB said it had no choice but to be protected by the bankrupcty laws.
When this filing happened, lots of smart value buyers told me that it was all just legal artifice and a great buying opportunity. But the stock never came back and has now ceased to exist.
So often when a company gets hit by a lawsuit, we think it is a giant buying opportunity. We think that way because in the 1980s, we saw huge lawsuits against
Union Carbide
(UK)
(Bhopal) and
Texaco
(TX) - Get Ternium S.A. Sponsored ADR Report
(Pennzoil) create incredibly depressed securities.
This time a lawsuit judgment created a depressed security that never bounced back. Paragon, the great knock-off play, got knocked out. And, after this week, the shareholders are down for the count.
********
James J. Cramer is manager of a hedge fund and co-founder of TheStreet.com. At time of publication, his fund had no positions in any stocks mentioned. His fund often buys and sells securities that are the subject of his columns, both before and after the columns are published, and the positions that his fund takes may change at any time. Under no circumstances does the information in this column represent a recommendation to buy or sell stocks. Cramer's writings provide insights into the dynamics of money management and are not a solicitation for transactions. While he cannot provide investment advice or recommendations, he invites you to comment on his column at
jjcletters@thestreet.com.
Hardware & PCs: As AltaVista Deal Looms, It's Still the Same Old Same Old at Compaq
By
Eric Moskowitz
Senior Writer
Compaq
(CPQ)
executives must be inclined to remain seated in a theater when someone shouts fire. As other PC makers scramble to stake out territory in the Internet economy, Compaq appears ready to surrender its own hyped Web strategy.
Unless Compaq Chairman Ben Rosen has a change of heart, the CEO Compaq is seeking won't have the search engine
AltaVista
at his or her disposal. The planned sale of AltaVista to
CMGI
(CMGI)
-- currently in preliminary negotiations, according to Compaq -- will close in the next week, according to a source familiar with the situation.
Employees at AltaVista are hopeful about a move to CMGI, says the source, because they consider CMGI an ideal breeding ground for a future IPO. AltaVista CEO Rod Schrock will likely retain his role because he and CMGI CEO David Wetherell are "old friends," notes the source, who spoke on the condition of anonymity.
'Compaq has just thrown its credibility out the window.' -- John Mannino, a onetime investor in Compaq
For Compaq, such a move would make the world's leading hardware maker ... the world's leading hardware maker. So much for a monumental transformation for the company. And is selling hardware enough to appease investors looking for change? The early consensus is no.
"I'm not a shareholder anymore and I feel real happy about that," says John Mannino, an individual investor who just sold his Compaq shares and moved into
Dell
(DELL) - Get Dell Technologies Inc Class C Report
instead. "Compaq's in turmoil and I don't have time for it anymore."
Compaq's decision is all the odder because the company recently vowed to embark on an Internet-based strategy that would seek to combine the reach of the world's leading PC maker into an Internet portal player on par with a
Lycos
(LCOS)
or
Excite
, now a part of
Excite@Home
(ATHM) - Get Autohome, Inc. Sponsored ADR Class A Report
. AltaVista, really the only valuable piece of the $9.6 billion pie Compaq acquired in its buy of
Digital Equipment
last year, was going to be its trump card.
But it seems as if Compaq realized the cost would be too great to push Altavista into that top tier of portal sites. The most compelling rationale for a change in Compaq's Internet strategy is its management's realization of the significant investments required during the next two years for AltaVista to compete effectively with well-entrenched competitors like
Yahoo!
(YHOO)
,
Salomon Smith Barney
analyst Richard Gardner said in a Thursday note to clients. Gardner rates Compaq neutral and his firm has done no Compaq underwriting.
This latest shakeup has left Rosen in charge of a company with low morale and a stock price in desperate need of a push. The PC maker's last hope of an Internet strategy, it seems, will be extinguished. "We thought we were going to show Dell a thing or two about the Internet," laments one Compaq executive who requested anonymity.
Compaq's Eckhard Pfeiffer was intent on beating intrastate rival Dell at its own game, says the executive. A Compaq spokesman said the company doesn't discuss rumors or speculation, and the Compaq-CMGI rumors are certainly both at this point. But what about this apparent change of thinking this year? "It's just speculation," reiterated the spokesman.
Now, Compaq's apparent about-face has investors wondering where the company's going next. "I'm hearing their quarterly quotas aren't even close to being achieved by the end of the month," when Compaq's second quarter ends, brags a top executive at a competing company who requested anonymity. Certain people have been bragging that stealing Compaq clients is like "shooting ducks in a barrel," added the executive.
Compaq had a chance to reassure jittery customers at
PC Expo
, a three-day tribute to the PC industry and its indirect channel that ended Thursday. In years past, Compaq hyped the event with full-page ads in all the major print publications. But this year, Rosen's
fiscal constraints have kept his company out of the limelight.
"The company's keeping its low-margin products and throwing out the one asset that gave them credibility," said one PC Expo visitor to Compaq's booth, a CEO at a company that does business with the PC maker. "Strategically it's a disaster."
Mannino, the individual investor who switched to Dell, went one step further: "Compaq has just thrown its credibility out the window." While Michael Dell projects a vision for his company, says Mannino, Compaq's whole Internet marketing plan just fell apart.
At least there may be end in sight to Rosen's tumultuous term as acting CEO: Compaq is likely to conclude its search for a new chief executive by the end of this week, according to another source familiar with the Compaq situation.
John Clifford, a managing director at Boston-based broker/dealer
Kimball & Cross
, seems to have the right kind of attitude for a Compaq investor at this point. Last week's second-quarter
warning from Compaq didn't budge its stock. "I knew there couldn't be any other bad news left that could send this stock lower," says Clifford.
With the way Compaq is executing this year, don't be so sure.
Evening Update: Tuboscope and Newpark Resources Announce $1.3 Billion Merger
By
Heather Moore
Staff Reporter
Oilfield products supplier
Tuboscope
(TBI) - Get TrueBlue, Inc. Report
and oil services firm
Newpark Resources
(NR) - Get Newpark Resources, Inc. Report
announced plans to merge in a $1.3 billion deal. Tuboscope will exchange 0.65 of a share for each Newpark share. Newpark President and Chief Executive James D. Cole will become chairman of the new company; Tuboscope's John F. Lauletta will remain president and chief executive. Newpark climbed 1 3/8, or 14.7%, to 10 3/4 during today's trading in anticipation of the deal.
Outflow from U.S. equity funds for the week ended yesterday totaled $354 million, with most coming from small-cap funds, according to
AMG Data Services
. International equity funds reported inflow into all emerging-market and regional sectors except Europe. Among other categories, taxable bond funds posted inflow of $709 million, with most going to corporate and mortgage funds. High-yield funds posted inflow after six consecutive weeks of redemptions.
In other postclose news (earnings estimates from
First Call
; earnings reported on a diluted basis unless otherwise specified):
Earnings/revenue reports and previews
Bank One
(ONE) - Get OneSmart International Education Group Ltd Sponsored ADR Class A Report
said it expects its new Internet bank,
WingspanBank.com
, to cut its earnings slightly in its first 12 months of operation.
Katy Industries
(KT) - Get KT Corporation Sponsored ADR Report
said it expects its second-quarter earnings to be one-third of the year-ago 32 cents a share. The single-analyst outlook called for earnings of 18 cents. The company, which blamed the warning on weak performance and lower margins at its electronics business, said it will restructure the unit and that it hired
Donaldson Lufkin & Jenrette
to explore options.
Texas Industries
(TXI)
said it sees fourth-quarter earnings coming in around $1.20 to $1.25 a share thanks to record operating income in the cement and concrete business. The six-analyst prediction called for earnings of 87 cents vs. the year-ago $1.60.
Mergers, acquisitions and joint ventures
Private investment firm
Kelso
agreed to buy 95.6% of
Citation
(CAST)
for $18.10 a share, or $643.8 million including assumed and refinanced debt.
EchoStar Communications
(DISH) - Get DISH Network Corporation Class A Report
said it completed its acquisition of high-power direct broadcast satellite assets from
News Corp.
(NWS) - Get News Corporation Class B Report
and
MCI WorldCom
(WCOM)
.
Offerings and stock actions
Goldman Sachs
priced
Juniper Networks'
(JNPR:Nasdaq) 4.8 million-share IPO above-range at $34. Yesterday, the Internet infrastructure firm raised the price range for the offering to $28 to $30 from $21 to $23.
Elsewhere in new issues,
Piper Jaffray
priced
Internet.com's
(INTM:Nasdaq) 3.4 million-share IPO above-range at $14. The company is a network of Web sites, email newsletters and online discussion forums.
Miscellany
The
Food and Drug Administration
approved expanded use of
Ethyol
, a post-radiation therapy developed by
U.S. Bioscience
(UBS) - Get UBS Group AG Report
and marketed by
Alza
(AZA)
.
An FDA panel recommended approval for a prosthetic heart valve and defibrillator made by
Medtronic
(MDT) - Get Medtronic Plc (MDT) Report
.
Hercules
(HPC)
named President and COO Vincent Corbo CEO, effective July 1. He will replace Keith Elliott.
Rock-Tenn
(RKT) - Get Rocket Cos. Inc. Report
said it will close its Jersey City coverboard factory in June.
Bond Focus: Yields Hit 1999 Highs in Another Lousy Session
By
David A. Gaffen
Staff Reporter
Treasuries ended lower today for the fifth straight session, although a bout of short covering late in the day made the score look respectable (sort of like the
Knicks
last night). But the bond futures contract broke through a key technical support level, and that's yet another bearish sign with the market facing an almost certain interest rate hike at next week's
Federal Open Market Committee
meeting.
"We're making new 1999 lows in price and highs in yield," said Charles Reinhard, market strategist at
ABN Amro
. "The signals that we're seeing lead us to think the market is going to continue to slide to 6.25%."
The 30-year Treasury's yield rose 3 basis points to 6.165%, the highest closing yield of this year, but off the day's earlier intraday high of 6.176%. Of late, the bond's price was down 7/32 to 87 20/32.
The June bond futures contract broke through the 113 20/32 level. Until today, this was the lowest contract price of the year. The contract fell to 113 9/32, a new intraday low for the year, before recovering to close at 113 20/32.
Reinhard and two others attributed this late rally to dealers covering their short positions, rather than investors jumping in to take advantage of these low yields. Investors don't want to buy the market prior to the June 29/30 Fed meeting, when it's universally anticipated the
Fed's
monetary policy setting committee will hike the short-term lending target by 25 basis points to 5%.
"We're arguably fairly cheap and priced for a heck of a lot, but nobody is stepping in the way of the Fed meeting because there's no reason for it," said a trader at a primary dealer. "For those wishing to add duration or buy the market they can probably afford to wait for at least a couple of days."
With the outlook for monetary policy following this meeting unclear, it's not certain the market will rally after next week's meeting anyway. Since last Thursday, when the Fed's top dog,
Alan Greenspan
, addressed the
Joint Economic Committee
, the market's been in a bit of a news vacuum, and let its own negativity feed on itself. And even today, when the market received a somewhat favorable
durable goods
report, it ignored it. "I thought the ex-transportation durable goods news actually looked friendly, but that shows you how conditioned the market is to selling upticks," said the trader.
New orders for durable goods rose 1.4% in May, which follows April's 2.3% decline, according to the
Commerce Department
. However, excluding transportation, new orders fell 0.7% on a month-over-month basis, compared with April's 0.9% rise. Other economic data were similarly glossed over --
initial jobless claims
clocked in at 302,000, continuing to orbit the historically low 300,000 level.
The market hit rock bottom today in mid-afternoon, coinciding with heavy selling of European bonds, according to two sources. German 10-year Bunds suffered through an especially bad day, as the yield rose to a 10-month high of 4.58%, losing about 1 point in price. A selloff makes the yield on the U.S. 10-year bond, still currently higher than any other comparable bond from a
G7
country, look less attractive.
VIEW TSC'S ECONOMIC DATABANK:
http://www.thestreet.com/markets/databank/757028.html
Get in the trenches with James Cramer...Invest a cool $500,000 without the risk - register for TSC's InvestmentChallenge and play for prizes, including a trip to NYC and a morning withJames Cramer! Pre-registration - June 21. Game begins - June 28.
http://www.activefactory.com/thestreet
746871
Copyright 1999, TheStreet.com