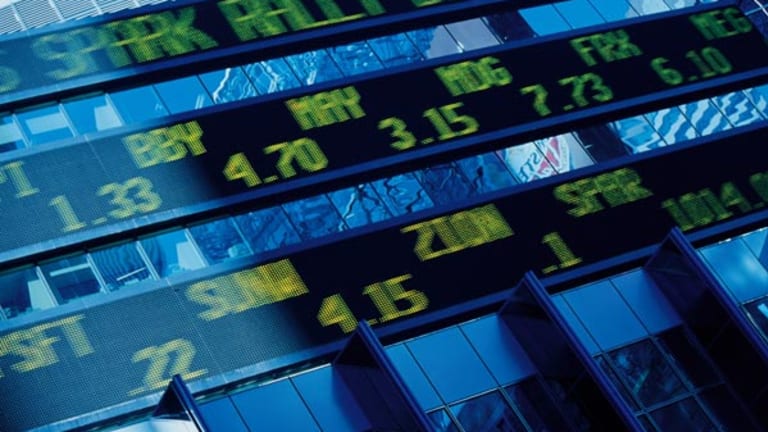 TheStreet.com's DAILY BULLETIN
May 30, 2000
http://www.thestreet.com
Market Data as of Close, 5/29/00:
o Dow Jones Industrial Average: 10,299.24
o Nasdaq Composite Index: 3,205.11
o S&P 500: 1,378.02
o TSC Internet: 752.23
o Russell 2000: 457.37
o 30-Year Treasury: 102 20/32, yield 6.052%
In Today's Bulletin:
o Editor's Letter: The Coming Week on TSC
o The Coming Week: The Fed's Next Move? It's in There!
o The Coming Week in Europe: An Orange Deal Could Prove Doubly Sweet
o The Coming Week in Asia: Jardine's Keswick Family Back on the Defensive
Also on TheStreet.com:
Smarter Money: How to Play the Nightmare, Part 5: It's Time to Capitulate
We won't see a true bottom until there is a widespread recognition that the time for buying is over, for now.
http://www.thestreet.com/funds/smarter/945612.html
Brokerages/Wall Street: The Market's Pain Runs From the Valley to the Alley
Some wounded investors have been forced from the game. Others are watching and waiting.
http://www.thestreet.com/stocks/brokerages/948464.html
Telecom: U.S. Wireless Companies Chomping at the China Bit
An eager wireless telco industry, if it learns the rules of a new game, stands to do well in China.
http://www.thestreet.com/tech/telecom/948522.html
Software: i2 May Be Fit to Survive in the B2B Rubble
The B2B software company gives observers confidence with strong products and a large coffer.
http://www.thestreet.com/tech/software/948012.html
Editor's Letter: The Coming Week on
TSC
By
Dave Kansas
Editor-in-Chief
5/29/00 3:33 PM ET
Memorial Day comes just at the right time for this market. We all needed the long weekend to grill some burgers and stare at sunny skies more than stock markets.
The past several weeks have offered a bruising education for investors who had grown accustomed to easy pickings. The game is definitely far more intense, far more challenging and far more demanding. And we recognize that. Not only are we keeping track of the markets, but we're also looking for interesting investment themes and ideas that will work in this market.
In addition, we are also looking for themes that work on the short side. In a time like this, someone like
Herb Greenberg
, who writes daily -- and throughout the day -- provides excellent insight into some of the short-side ideas that are working.
This week we welcome some new faces.
Bill Meahan
and
Steven Nagourney
, both of
Cantor Fitzgerald
, will begin offering views on the markets beginning on Wednesday. Bill is the chief market analyst at Cantor and Steven is the chief international investment strategist there. Their insights will appear in the Commentary section.
Now a word about our pending relaunch. As we announced earlier this year, we are transforming
TheStreet.com
into a free hub with a network of other sites, including
TheStreet.com's RealMoney.com
, an upgraded version of our current subscription offering. We'll be increasing the subscription rate at launch, which is scheduled for later in June, to $200 a year. However, you can still lock in for the next two years for $200. Click
here for more details, or call our Customer Service department at 1-800-562-9571 to sign up for
RealMoney.com
.
Finally, if you've got any concerns, comments or suggestions, feel free to contact our Customer Service folks at
members@thestreet.com or email me at
dkansas@thestreet.com .
Days are tough, and we're digging for you.
L'Etoile du Nord
Dave Kansas
Editor-in-Chief
Dave Kansas is editor-in-chief of TheStreet.com. In keeping with TSC's editorial policy, he doesn't own or short individual stocks, though he owns stock in TheStreet.com. He also doesn't invest in hedge funds or other private investment partnerships. He welcomes your feedback at
dkansas@thestreet.com.
The Coming Week: The Fed's Next Move? It's in There!
By
Justin Lahart
Associate Editor
5/29/00 12:20 AM ET
It's hard to characterize the last couple of months in the stock market as anything but disastrous.
The strong first quarter unraveled completely, and more than $2 trillion in stock market capitalization went away. Heading into Memorial Day -- the unofficial start of Wall Street's summer season -- the
S&P 500
was down 6.2%. That's its worst performance since 1984.
"This is not simply a valuation shift," said Hugh Johnson, chief investment officer at
First Albany
. "It's not simply that investors are selling overvalued tech stocks and buying undervalued stocks. This is a very defensive market."
Many portfolio managers, Johnson included, have not just shifted to what they see as safer stocks, but have raised cash as well.
It's all about the
Federal Reserve, of course. With spring came the realization that the economy was running too fast for the central bank to continue with the gradualist, quarter-point-hike-at-a-time course that it had been following. The Fed would have to clamp down harder on the economy, and that is exactly what happened two weeks ago, when it raised the fed funds target rate by a half-point, to 6.5%. That's frightening, because with the Fed's battle to tame the economy more pitched, the chances that it will overshoot have grown. "This is classic end-of-cycle stuff," said Johnson. "The market is saying there is a big danger the Fed will be seduced into raising interest rates too high."
It's generally believed that the Fed has more to do, but the extent of the further hikes is unclear. A number of economists have suggested that the
Federal Open Market Committee may cool its heels at its June 27-28 meeting, allowing it to see how much bite the hikes so far have had. Whether or not that happens, however, depends a lot on what the next round of big economic reports looks like. Two of them are due out in the coming week.
The
National Association of Purchasing Management's
May
Purchasing Managers' Index comes out Thursday and the May
Employment Report comes Friday. Though the NAPM will give some indication as to what kind of pricing pressure companies are seeing, the jobs report will be the thing to watch most closely.
"Right now, your major inflation threats are related to tight labor markets, not so much to tight goods markets," explained Mike Cloherty, senior market economist at
Credit Suisse First Boston
.
Predictions for the payrolls numbers are all over the place. There are some factors -- changes in methodology and Census workers -- that make it very hard to come in with a very good forecast. So it will probably be the unemployment rate that the market looks at most carefully. The consensus sees it coming in at around 3.9%, though a handful of economists see it coming in lower than that. Economists at
Morgan Stanley Dean Witter
think it will come in at 3.7%.
Yet they are also among those who think the Fed will hold off on bumping up rates at the next meeting, and then crank them up another half-point in August.
"My view is we're in a transition period from a white-hot economy to one that is just cherry red," said Richard Berner, Morgan's chief U.S. economist. He doesn't buy the idea that a real economic slowdown is upon us -- despite the protests of a number of his firm's equity analysts, who say they're seeing slowing in the industries they follow. But neither does he believe that the Fed will have to aggressively ratchet up rates from here.
"Some people had thought the Fed would have to tighten by 150 basis points, or more," he said. But recently, "the market's outlook has shifted to the position that the Fed doesn't have to be as aggressive." As a result, the yield on the two-year Treasury note has fallen by better than 0.2 percentage points over the past couple of weeks.
Clearly, the stock market is not as confident that the Fed will safely guide the economy lower, one reason it has fallen even as the two-year has done better. And despite economists' frequent scoffing about how bad the stock market is as an economic forecaster, First Albany's Johnson says he'll pay more attention to stocks than the dismal scientists to figure out where things are headed.
"You better know it's 1994 and not a 1981," he said. "The only way you can tell is by watching the stock market carefully."
The Coming Week in Europe: An Orange Deal Could Prove Doubly Sweet
By
Marc Young
German Correspondent
5/28/00 12:35 AM ET
BERLIN -- If published reports are accurate,
France Telecom
(FTE)
is on the verge of acquiring the U.K.'s widely coveted mobile-phone operator
Orange
. Hold the fruit or color cliches -- the deal, if it goes through, could be a big boost for both companies.
When the British telecommunications company
Vodafone
(VOD) - Get Report
took over Germany's
Mannesmann
earlier this year, the entire European telco industry began salivating at the prospect the combined firm would have to unload Orange for competition reasons.
Often considered the most dynamic wireless operator in the U.K., Orange made itself that much more attractive to potential buyers when it nabbed one of the few very expensive U.K. licenses for third-generation mobile-phone services (also known as universal mobile telecommunications services, or UMTS) this spring. Now France Telecom is reportedly in exclusive talks with Vodafone to buy Orange for around $44 billion in cash and stock. Should the talks be successful, an agreement could be announced as early as next week, when Vodafone releases its full-year results on Tuesday.
The deal would simultaneously greatly strengthen France Telecom's pan-European ambitions, while providing Vodafone with more cash to continue scooping up pricey UMTS licenses across the continent.
Mutual funds such as the
(VEUAX) - Get Report
Chase Vista European Equity fund, which has sizable holdings in both companies, should ensure investors on both sides of the Atlantic remain focused on the outcome of the talks in the coming week, which will be shortened by holidays in the U.S. and U.K. On Friday, France Telecom closed up 5.90 euros, or 4.4%, at 141.80 ($129.30) in Paris; Vodafone finished down 5.75 pence, or 2%, at 281.25 ($4.20) in London. In New York, the ADRs of the two companies were up 7 3/4, or 6.3%, and 1/4, or 0.6%, respectively.
With France Telecom's recent purchase of a stake in Germany's
MobilCom
and their partnership to bid for a German UMTS license this summer, successfully acquiring Orange could secure France Telecom's position as a major European third-generation mobile player.
Although according to some observers the price tag for Orange likely won't come cheap for France Telecom, the short-term cost could be more than worth it. "It's the only operator left that allows you to get into mobile in the U.K.," says Sean Johnston, an analyst from
SG Securities
, in London. With that in mind, "they don't want this to go down to a bidding war, so I imagine when they do table an offer it's got to be such that it's going to be difficult for another party to get in." SG has had an investment banking relationship with France Telecom in the past.
To help it fund its bid, France Telecom has obtained a $29 billion loan and has recently announced its intention to liquidate its holding in both
Deutsche Telekom
(DT) - Get Report
and
Telefonos de Mexico
(TMX)
.
France Telecom will need to use all the cash it can lay its hands on because Orange's desirability will most certainly prompt interest from other quarters.
MCI WorldCom
(WCOM)
is thought to be considering a bid, as is
KPN
(KPN)
of the Netherlands, which is backed by Japan's
NTT DoCoMo
(NTT)
. How much Vodafone prefers France Telecom likely won't be know until it's a done deal.
Because Vodafone has to unload Orange regardless, a sale to such an eager party as France Telecom would be considerably more lucrative than a simple de-merger of the wireless unit. For investors, the extra cash should be welcome as it helps Vodafone manage its debt and fund its own buying as pricey UMTS auctions continue.
"I hope they sell
Orange really, really expensively and it helps pay for all the expensive licenses they're bidding for," jokes Rosemary Sagar, who manages the
(UMINX)
Excelsior International fund, which is down 18.6% year to date, but is up 27.5% over the past 12 months. Sagar likes Vodafone because "they are currently the only pan-European mobile play out there."
Even if France Telecom is lucky enough to acquire a rather pricey Orange, it won't yet be able to style itself as a pan-European wireless operator. It will, however, remain in the game.
The Coming Week in Asia: Jardine's Keswick Family Back on the Defensive
By
Philip Segal
Senior Asian Correspondent
5/28/00 12:30 AM ET
HONG KONG -- One of next week's biggest Asian business stories will be taking place not in Asia, but in Bermuda. The island is where Hong Kong's
Jardine Group
fled in 1984 after learning of Britain's plan to hand Hong Kong back to China, and where it remains today after authorities in Hong Kong refused to write the special antitakeover the company demanded.
Times used to be that no one cared where the ruling Keswick family held their meetings, as long as they made money. Now that returns are lagging the market, shareholders want the Keswicks out.
At Thursday's annual general meeting of this most venerable Hong Kong business empire, the Keswicks, long on the defensive against unhappy shareholders and would-be takeover artists, will probably hang on to a complex cross-shareholding arrangement, which has allowed these descendants of the group's founding family to control a huge empire with only about 11% of the stock.
Sadly for those who have stuck with Jardine shares until now, the family's management has been less than stellar. This month,
Brandes Investment Partners
of San Diego, which has a big stake in the flagship
Jardine Matheson
(JARLY)
, has decided they've had enough of the Keswicks. Their case is that the group's two main holding companies, Jardine Matheson and
Jardine Strategic
, essentially supervise each other and allow the Keswicks to run the whole show without anything approaching 50% of the equity.
The company said in its annual report that the arrangement has been in place for years, that most shareholders knew about it when they bought in and that the arrangement provides the stability necessary for proper management.
The problem the shareholders have with the Keswicks is that the companies have long lagged other local conglomerates, including
Hutchison Whampoa
(HUWHY)
and
Swire Pacific,
(SWRAY)
for the simple reason that they don't use their money wisely.
For instance, Jardine may have netted almost $900 million from the sale of its half of brokerage Jardine Fleming (and the subsequent sale of broker Robert Fleming to
Chase Manhattan
), but for independent analyst Tony Measor, a long-time broker and now commentator for Hong Kong Web site
Quamnet
, "the fear is that these proceeds will be given the same cavalier treatment as has been characteristic of the Keswicks' disdain of minority shareholders and will be used to extend and glorify the family's control."
No matter, such feelings didn't stop a lot of excited investors from snapping up Jardine group shares earlier this month, in hopes that Brandes would be successful. As was forecast on
TSC
on
May 15, those hopes have probably already ended in tears. Even before the vote, yet another profit warning from the group's perpetually troubled
Dairy Farm
retailing arm sent that stock down 18% in Friday trading in Singapore.
The profit traders might have made on the Brandes news earlier this month, when Jardine stocks soared, will now have evaporated for those not quick enough to sell. Jardine Matheson was trading at 4 when Brandes announced its challenge, and promptly shot up by 20% to 4 13/16. On Friday, it was back down at 4 5/32. Dairy Farm rose 15% on the Brandes news, but is now actually 21% below where it was when this drama began. Also lower than when the Brandes news broke is the Hong Kong real estate interest in the empire,
Hongkong Land,
which fell 4.4% on Friday.
The problem at Dairy Farm is that for the past six years it has been trying to dig itself out of a series of disastrous acquisitions outside of Asia, while getting outhustled in Hong Kong by Li Ka-shing's Hutchison Whampoa. Now, the company says sales are running below those of last year and it expects to lose $50 million in the first half of the year. The dividend policy is under "review."
Meanwhile, at
Jardine International Motor Holdings,
which is the only Mercedes dealer in tony Hong Kong, investors are also being told by the company chairman that poor performances by the group's British car businesses will have a "negative impact" on earnings this half.
At
Donaldson Lufkin and Jenrette
, which has no underwriting relationship with Jardine, the property team has downgraded Hongkong Land to underperform. Interest rates in Hong Kong continue to rise because the Hong Kong dollar is pegged to the greenback. In addition, DLJ figured "the market has overreacted to the office market rental 'recovery,' and any recovery in office rents will still take a few years to work into corporate earnings."
The firm joins a chorus of analysts in cautioning against buying Jardine stocks, predicting that the only way for Brandes to succeed in unseating the Keswicks would be to sue them on corporate governance issues, and that would take a long time and plenty of money.
Still, analysts are often wrong. So if the vote goes against the ruling family, look for the Jardine stocks to rocket skyward, as investors try to bet that new management might be able to do a lot more with assets trading at 30%-40% below book value.
Copyright 2000, TheStreet.com