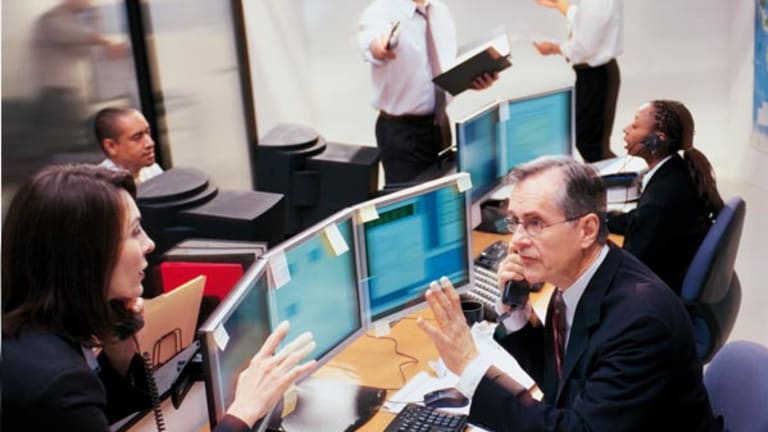 TheStreet.com's DAILY BULLETIN
May 26, 2000
http://www.thestreet.com
Market Data as of Close, 5/25/00:
o Dow Jones Industrial Average: 10,323.92 down 211.43, -2.01%
o Nasdaq Composite Index: 3,205.35 down 65.26, -2.00%
o S&P 500: 1,381.52 down 17.53, -1.25%
o TSC Internet: 746.77 down 24.48, -3.17%
o Russell 2000: 456.17 down 5.57, -1.21%
o 30-Year Treasury: 101 29/32 up 1 06/32, yield 6.097%
Companies in Today's Bulletin:
Goldman Sachs (GS:NYSE)
Merrill Lynch (MER:NYSE)
Lehman Brothers (LEH:NYSE )
Watson Pharmaceuticals (WPI:NYSE)
Schein Pharmaceutical (SHP:NYSE)
In Today's Bulletin:
o Brokerages/Wall Street: Kicked While They're Down: Wall Street Firms Might Not See M&A Fees Materialize
o Wrong! Dispatches from the Front: Goldman Sags
o Evening Update: AT&T's MediaOne Buy Gets Justice Approval; Federal-Mogul Issues Earnings Warning
o Bond Focus: Yields Sink Thanks to a Buyback, the Euro and Stocks
Also on TheStreet.com:
Market Features: Merrill's Goldman Warning Sends Shivers Down Wall Street's Spine
Is this the beginning of the end, or merely a return to more realistic estimates?
http://www.thestreet.com/markets/marketfeatures/947572.html
Internet: At Net Privacy Hearings, McCain Warms to Idea of Legislation
The senator hasn't advocated Internet privacy laws, but bipartisan support appears to be building.
http://www.thestreet.com/tech/internet/947519.html
Biotech/Pharmaceuticals: Watson Plans Schein Buy as Big Generic Drugmakers Look to Beef Up
With the generic market expanding, companies are racing to provide comprehensive services.
http://www.thestreet.com/stocks/biotech/947316.html
The Invisible Mouth: Meritocracy? Neat
The Mouth defends the Fed's action to slow down the wild bull party.
http://www.thestreet.com/comment/economics/947269.html
Brokerages/Wall Street: Kicked While They're Down: Wall Street Firms Might Not See M&A Fees Materialize
By
Dan Colarusso
Associate Editor
5/25/00 8:41 PM ET
Trading volume is down. The IPO pipeline is drying up. That leaves a bustling mergers and acquisitions business as the best hope for securities firms to sustain profits.
Then again, maybe not. M&A, it now seems, can't be relied on either -- or at least not in a huge way.
Back in April, when the initial public offering calendar started to weaken, brokerage experts and bankers pooh-poohed the idea that big Wall Street firms would suffer from overdependence on the massive underwriting revenue of the past two years. Besides, they said, a slowdown in IPOs would mean a pickup in M&A activity, as companies that couldn't launch offerings, or companies that were otherwise under seige, sought buyers instead, generating a new basket of revenue.
While that theory makes all the sense in the world, it may not happen: The Internet and technology companies that investment bankers are trying to bring to the table are suddenly wary of their stocks getting crushed before they're able to wrap up an announced deal.
Lycos
(LCOS)
shares are a good example: They've been pummeled in the days following the announcement of its merger with
Terra
(TRRA)
. And Monday, when
Vignette
(VIGN)
acquired
OnDisplay
(ONDS)
, and
WebMethods
(WEBM)
bought
Active Software
(ASWX)
, all four got knocked around.
Unlike past M&A booms, when firms used leverage and cash, stock deals are now the most popular way of combining. Considering the current market conditions, in which many tech stocks are trading at half of last year's prices, an M&A boom driven by stock-for-stock deals looks questionable.
"I just don't trust the currency. They announce these deals and both stocks go down," says Tom Burnett of
Merger Insight
. "The stocks are so flimsy."
At the same time, buyers are getting choosier. Michael Madden, a merchant banker at
Questor Management
and a former top investment banker at
Kidder Peabody
, says that corporate chieftains may be concerned enough with overall
economic conditions to put off getting bigger through acquisitions.
So with trading volume low, IPOs scarce
and
M&A fees beginning to look a bit shaky, the outlook for the big banks and brokerages that prospered from the New Economy boom may see some bottom-line problems. On Thursday,
Goldman Sachs
(GS) - Get Report
was down 8.75% to 73,
Morgan Stanley Dean Witter
(MWD)
fell 6.2% to 64, and
Lehman Brothers
(LEH)
slid 6.6% to 72 1/2, continuing a losing streak that has dented investor confidence.
The
latest plunge was prompted by
Merrill Lynch
analyst Judah Kraushaar's note on Goldman. Thursday, he cited Goldman's own concerns with the consensus earnings estimates for the quarter. "Most of the company's revenue streams appear to have incrementally weakened each month in the quarter
March through May," Kraushaar's note says. He cited merchant banking, trading and overall "activity in securities markets" putting Street estimates at risk.
He has, however, maintained his intermediate-term neutral/long-term buy rating on Goldman.
Will there be deals? Sure, Burnett says; he sees the potential for plenty of activity. He says he's watching the insurance and banking industries for their much-anticipated consolidation after the repeal of the
Glass-Steagall Act
, which prohibited such activity. He's also hot on the paper-industry trail after the recent bidding war for
Champion
(CHA) - Get Report
.
Those deals are likely to be big, but in the areas of tech where stock prices have been torn asunder, the possibilities aren't quite so large for investment bankers. "The IPO pipelines are drying up and it's great to do 10 $80 million deals but it's not going to pay the bills," says one tech investment banker who requested anonymity.
This could quickly turn ugly. Many bankers and analysts are in the middle of contracts that include bonus guarantees that were to have been funded by a steady stream of IPO fees. Now, firms may start to feel the squeeze earlier than in the past.
According to
Securities Industry Association
statistics, total compensation at securities firms grew to $60 billion in 1999 from $30 billion in 1995.
Things aren't bad enough for layoffs or give-backs on bonuses just yet but the pickings may be slim for a few months. "These conditions could make it tough
to make up the revenue)," Madden says. "The crumbs falling off the table will be fewer."
Wrong! Dispatches from the Front: Goldman Sags
By
James J. Cramer
5/25/00 6:25 PM ET
How could
Goldman Sachs
(GS) - Get Report
bring the whole market down with an earnings-estimate cut? Was it the real culprit? Let's talk about this one. Because I think it says a lot about how intertwined everything has become.
First, Goldman Sachs is perceived to be -- and is -- an extremely well-run firm. It is regarded as the cream of the crop. So if it can't make the numbers, that means things have gotten bad in a whole host of financial sectors. Goldman is a dominant company in mergers, in stock issuance, in fixed income and money management. For it to not be able to make its numbers, all of these divisions have to be hurting.
So, immediately, people take out all of the other players in the business. This makes some sense. If Goldman can't make a lot of money right now, how can the other players who are going up against Goldman? It would be one thing if the problems were Goldman-specific, but the truth is that what ails Goldman is industrywide. The timing of this call could not have been worse for the market. We want to have some leadership here. Lately, the financials have provided it.
Today they gave it up.
This market, after hating cheap and loving expensive for a half-dozen years, had started liking cheap again. The financials are cheap. They are the cheapest of the cheap.
But today, we discovered why they are cheap. The best of them can't make the numbers.
Now we will just have to wait as, one by one, each one of these companies has its numbers cut.
Very sobering.
*******************************************************
James J. Cramer is manager of a hedge fund and co-founder of TheStreet.com. At time of publication, his fund had no positions in any stocks mentioned. His fund often buys and sells securities that are the subject of his columns, both before and after the columns are published, and the positions that his fund takes may change at any time. Under no circumstances does the information in this column represent a recommendation to buy or sell stocks. Cramer's writings provide insights into the dynamics of money management and are not a solicitation for transactions. While he cannot provide investment advice or recommendations, he invites you to comment on his column at
jjcletters@thestreet.com.
Evening Update: AT&T's MediaOne Buy Gets Justice Approval; Federal-Mogul Issues Earnings Warning
By
Tara Murphy
Staff Reporter
5/25/00 7:10 PM ET
The
Justice Department
said it gave its approval for
AT&T
(T) - Get Report
to acquire
MediaOne Group
, citing the divestiture of MediaOne's stake in Web access provider
Road Runner
, as the only stipulation. AT&T already holds a controlling stake in
Excite@Home
(ATHM) - Get Report
, the biggest Internet access provider. The merger must still receive
Federal Communications Commission
approval.
In other postclose news (earnings estimates from
First Call/Thomson Financial
; earnings reported on a diluted basis unless otherwise specified):
Earnings/revenue reports and previews
Ditech Communications
(DITC)
, a fiber-optic communication equipment maker, posted fourth-quarter earnings of 54 cents a share, beating the four-analyst estimate of 43 cents and up from the year-ago penny loss.
Federal-Mogul
(FMO) - Get Report
, an auto parts maker, warned investors that its second-quarter and fiscal-2000 results would miss consensus estimates. The company said it would report second-quarter earnings of about 65 cents a share, below the nine-analyst estimate of a $1.12 profit, while fiscal-2000 earnings should come in at $3.00, which is also short of the 10-analyst estimate of $3.87.
Federal-Mogul blamed the shortfall on softness in the North American aftermarket results and negative currency fluctuations.
Puma Technology
(PUMA)
reported a third-quarter loss of 6 cents a share, narrower than the three-analyst estimate of a 12-cent loss but wider than the year-ago penny loss.
Back to top
Offerings and stock actions
BJ's Wholesale
(BJ) - Get Report
said it increased its current stock buyback plan to $100 million from $50 million.
Duke Energy Field Services
, a division of
Duke Energy
(DUK) - Get Report
and
Philips Petroleum
(P)
said it pushed back its plans for a 26.3 million-share IPO due to the recent market volatility.
Back to top
Miscellany
Standard & Poor's
said
Agilent
(A) - Get Report
would replace holding company
Nacco
(NC) - Get Report
in the
S&P 500 Index
.
Back to top
Bond Focus: Yields Sink Thanks to a Buyback, the Euro and Stocks
By
Elizabeth Roy Stanton
Senior Writer
5/25/00 5:48 PM ET
Treasury prices rose today, thanks initially to the
Treasury Department's
latest buyback and to a rally in the euro. The euro rally pushed European bond prices higher, and Treasuries rode their coattails. Later in the session, the gains swelled as the
Dow Jones Industrial Average collapsed. But low volume exaggerated the move, market watchers said.
Fed Chairman
Alan Greenspan gave a
speech, but didn't comment on the economy or monetary policy.
And there was loads of economic data but none of it was particularly surprising or influential. In the absence of enlightening economic data, and with low volume, the market "felt a larger impact" from the Treasury buyback than would otherwise have been the case, said Christopher Fitzmaurice, co-head of government bond trading at
Salomon Smith Barney
.
The benchmark 10-year Treasury note rose 20/32 to 100 25/32, dropping its yield 8.5 basis points to 6.389%, the lowest since May 2. Shorter-maturity yields fell by comparable amounts. The 30-year Treasury bond gained 1 5/32 to 101 27/32, lowering its yield 8.4 basis points to 6.114%. And at the
Chicago Board of Trade
, the June
Treasury futures contract added 1 4/32 to 94 26/32.
In today's buyback, conducted at 11 a.m. EDT, the Treasury Department bought $2 billion of 30-year bonds issued between 1989 and 1993 from dealers.
The results were positive in two respects,
Merrill Lynch
government bond strategist Jerry Lucas said. First, the $8.114 billion of securities the dealers offered the Treasury Department represented 4.3% of the securities targeted by the operation, a modest percentage. Had the percentage been larger, there might have been selling after the buyback to unload securities the department didn't purchase. After
last week's buyback, when 6.5% of the securities targeted were offered, the market as a whole fell.
Also, the weighted average yield the department paid for the securities it bought -- 6.574% -- was slightly lower than where the market was at the offer deadline, "indicating that the Treasury was an aggressive purchaser," Lucas noted. That also contrasted with past buybacks. "The Street probably made a little money on this
reverse auction," Lucas said. "It's been tough making money on the auctions."
The buyback program, which started in March, uses federal government surplus funds to pay down debt by buying and retiring old Treasury securities.
The Treasury market also benefited from a run-up in European government bond prices as the euro gained ground, market analysts said. The yield on the 10-year German government bond fell to 5.243% from 5.291%. England's 10-year yield fell to 5.300% from 5.391%, and the French 10-year issue rallied to 5.384% from 5.468%.
Treasuries "have been on the cheap side vs. foreign spreads,"
Fuji Securities
president Bernard Jensen said, meaning that U.S. yields have exceeded foreign yields by larger-than-normal amounts lately. "So when they took off we followed suit."
Economic Indicators
The government's preliminary estimate of how fast
GDP
grew during the first quarter was unchanged from its advance estimate of 5.4%. Likewise, its measure of the first-quarter inflation rate, the GDP implicit price deflator, was unchanged at 2.7%.
The revisions to GDP incorporated a slower pace of consumer spending (7.5% vs. 8.3%) and homebuilding (5.2% vs. 6.7%), but those were offset by an upward revision to business investment (25.2% vs. 21.2%) and a downward revision to the trade deficit.
In other news,
existing home sales
fell 6.2% to an annual pace of 4.88 million in April, from a revised 5.20 million in March. But they remain at a very high level by historical standards, in spite of steadily rising mortgage rates over the last year and a half.
The
Help-Wanted Index
rose to 88 in April from 87 in March.
And the weekly tally of
initial jobless claims
rose slightly to 284,000 from a revised 278,000.
Currency and Commodities
The dollar fell against the yen and the euro. It lately was worth 107.43 yen, down from 107.82. The euro was worth $0.9120, up from $0.9030. For more on currencies, please take a look at
TSC's
Currencies column.
Crude oil for July delivery at the
New York Mercantile Exchange
rose to $30.51 a barrel from $29.93.
The
Bridge Commodity Research Bureau Index
fell to 224.54 from 225.47.
Gold for June delivery at the
Comex
fell to $270.70 an ounce, an eight-month low, from $273.80.
TO VIEW TSC'S ECONOMIC DATABANK, SEE:
http://www.thestreet.com/markets/databank/942099.html
Jamie Heller on Slate, Friday, May 26
Jamie Heller will be appearing on Slate's"Breakfast Table" all this week.
Copyright 2000, TheStreet.com