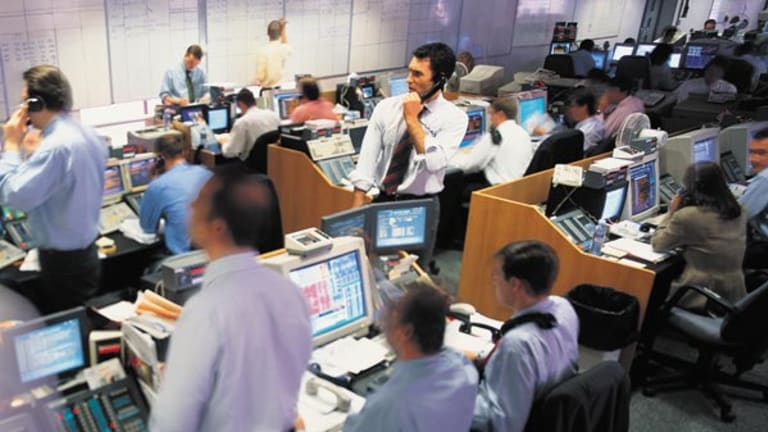 TheStreet.com's DAILY BULLETIN
May 17, 2000
http://www.thestreet.com
Market Data as of Close, 5/16/00:
o Dow Jones Industrial Average: 10,934.57 up 126.79, 1.17%
o Nasdaq Composite Index: 3,717.57 up 109.92, 3.05%
o S&P 500: 1,466.04 up 13.68, 0.94%
o TSC Internet: 929.62 up 48.35, 5.49%
o Russell 2000: 505.98 up 8.17, 1.64%
o 30-Year Treasury: 101 29/32 up 20/32, yield 6.106%
Companies in Today's Bulletin:
Hewlett-Packard (HWP:NYSE)
Lycos (LCOS:Nasdaq)
Nextel (NXTL:Nasdaq)
Terra (TRRA:Nasdaq)
In Today's Bulletin:
o Telecom: Nextel Looks for Ally in Spectrum Bidding War
o Wrong! Tactics and Strategies: Wishing for Time
o Evening Update: Evening Update: Terra-Lycos Deal, H-P Earnings Top Postclose News
o Bond Focus: Long Treasuries Smile Upon Fed's Vigilance
Also on TheStreet.com:
Jim Griffin: What is Alan Really Thinking?
While everyone bets on a quarter- to a half-point rate hike, Greenspan just may have something else in mind.
http://www.thestreet.com/comment/jamesgriffin/940534.html
Nothing but Net: Tech Stocks' Rally Continues Past Fed's Rate-Hike Announcement
Lycos benefits from merger announcement, and other Net stocks rise on news of investment by Saudi billionaire.
http://www.thestreet.com/markets/techupdate/940878.html
The Night Watch: The Night Watch: Lycos Jumps on Terra Acquisition
CMGI, inSilicon and China Prosperity gain as well, while BEA Systems tumbles.
http://www.thestreet.com/markets/nightwatch/941054.html
Software: Oracle Makes Big Promises With Launch of New Software
While analysts agree the idea is a good one, some are questioning if the company can keep its word.
http://www.thestreet.com/tech/software/940994.html
Telecom: Nextel Looks for Ally in Spectrum Bidding War
By
Tally Goldstein
Staff Reporter
5/16/00 9:08 PM ET
With the cost of spectrum for wireless networks skyrocketing,
Nextel Communications
(NXTL)
is shifting gears and looking to partner with another telecom carrier or a content provider to bid more aggressively in upcoming U.S. spectrum auctions, Nextel CFO Steven Shindler said Tuesday. Though Nextel wasn't naming names,
AOL
(AOL)
is seen as a possible Nextel partner in the bidding.
Nextel, under the gun to acquire additional spectrum, decided against going it alone after witnessing what companies shelled out for spectrum licenses in the U.K. last month, Shindler says. The U.K. auction raised $35 billion. Bids for licenses in a U.S. auction could top $50 billion and possibly reach $100 billion.
Nextel, which will strive to win a nationwide license, has about $8.5 billion in free cash flow. "We plan to come out with our guns blazing," Shindler said. "We expect to be a winner."
Nextel is in discussions with AOL, according to one source familiar with the company. But a Nextel spokeman said, "Everyone's talking to everyone. Everything's speculation until the check clears."
"It doesn't surprise me," said wireless analyst Art Poole of
Raymond James
. "AOL is at risk of seeing its customer base erode" as mobile-phone carriers launch their own Internet portals.
VoiceStream
recently launched its Internet portal,
MyVoiceStream.com
, while
Verizon
and
Powertel
(PTEL)
have announced their intention to do the same, Poole said. If AOL were to partner with Nextel, "it would become the Internet entry point for Nextel's customers and would, therefore, share customer ownership," he said.
Nextel has until Aug. 1 to file its registration with a partner for the 700 megahertz auction in September. It also plans to participate in a July auction if it and other established carriers are eligible to do so, the spokesman said. The company should learn in the next few weeks if the July auction will be open to established carriers.
Nextel has enough spectrum for now. But while it can meet its voice and narrow-band data needs, it must have additional spectrum if it wants to be a player in what is widely considered the future of mobile communications -- wireless broadband data transmission (i.e., the ability to rapidly transmit voice, video and text and provide Internet access through mobile devices).
"Future opportunities for incremental penetration, additional services, more revenue and
more cash flow streams are obviously valuable," Shindler said, noting that 2 million of Nextel's 5.1 million subscribers already own mobile phones that can handle data transmission.
Nextel wants a partnership with a company that recognizes the need for financing on three levels: buying the spectrum, building the network and marketing the service, the Nextel spokesman said. But Shindler notes that a partnership could develop in a number of ways, including splitting a bid for spectrum, to splitting the costs associated with buying the spectrum and building the network. Nextel hasn't discounted an overseas partnership, although Shindler says the most serious conversations now are being held with domestic concerns.
Nextel will face hefty competition in these auctions, with other likely participants including
SBC Communications
(SBC)
and
Bell South
(which have combined their cellular operations); Verizon (which includes
Vodafone AirTouch
(VOD) - Get Report
and
Bell Atlantic's
(BEL)
cellular operation) and
AT&T Wireless
(AWE)
. International participants could include
Telefonica
(TEF) - Get Report
,
Deutsche Telekom
(DT) - Get Report
,
France Telecom
,
KPN
and
NTT DoCoMo
.
Without a partner, Nextel likely would be among the smallest bidders. Other relatively small bidders could include
Qwest
(Q)
and
Global Crossing
(GBLX)
.
Motorola
(MOT)
would make a sensible partner for Nextel; it is its second-largest shareholder (after telecom entrepreneur and financier Craig McCaw) and its only equipment vendor. But Shindler says a financial backer would be a "less likely" partner than another telecom carrier or content provider.
Money is not the only hurdle that Nextel and its competitors face. The spectrum to be auctioned off in September -- for the 700 MHz band -- is, in a word, occupied. It's as if a real estate broker was putting a series of mansions up for sale, but each grand space was already temporarily leased.
The telecom carriers want the
Federal Communications Commission
to provide more information about when the band will be clear (i.e., when the tenants are moving) before placing their bids. The auction has already been rescheduled twice and Poole, of Raymond James, says he wouldn't be surprised if it's postponed again. He believes the issues surrounding the 700 MHz spectrum, currently used by more than 130 television stations, will keep auction prices from getting out of hand.
If Nextel and other major carriers are allowed to participate in the July auction, which involves spectrum that was originally sanctioned for start-up carriers, it will help alleviate some of the pressure to capture the 700 MHz licenses, Poole says.
Another issue for the 700 MHz licenses is that they operate in a different frequency and would require Nextel and other operators to issue new mobile phones. "It's not unmanageable," Poole says about needing new phones. "But it's just one more thing in an already complicated situation."
Wrong! Tactics and Strategies: Wishing for Time
By
James J. Cramer
5/16/00 7:58 PM ET
Tonight during the
Yahoo!
chat I had with
Bill Fleckenstein
, we were struck by the simplicity of one question, one stunning question that we all must answer: Surely the market is "worse" than it was before these rate hikes, so isn't it logical to believe that the market will be lower, not higher, in the future?
I am paraphrasing the question, which should be available in
transcript form later this evening. But the simple nub of the question not only can't be ignored, it is central to the real worries we have at our firm.
Until we see definitive signs of a slowdown, we have to expect that the market will be hard-pressed to make new highs. New highs just seem unlikely, given the damage that higher rates do to the system. Individual stocks that are not leveraged to the economy can make new highs as they are not going to fall prey to higher rates. But most companies do worse in this environment, not better. Despite the oblivious nature of
Buzz and Batch, a prime rate that is now at 9.5% will slow down building and construction and deal making. The cost of money does matter.
So why buy stocks? Because, as I said over and over in the
1994 series, if the economy slows, this
Fed
hike will be the last Fed hike and you have to buy the last Fed hike with reckless abandon. Do I think it is the last Fed hike? Check the series. I said the Fed doesn't even know that. Do I think that the economy is slowing down? Yes. Is it slowing down fast enough to please the Fed? Maybe -- after this hike, it is. What happens if we get a slowdown? The Fed gets off our back.
What is missing here is
time
. We need time for earnings to catch up to multiples. We need time for the hikes to slow things down. We need time for the economy to cool. Only then will it be right to go to new highs again. And any time we try to rush that, you can bet we will just be met with more rate hikes, and one of these hikes is going to tip the balance between people putting money in the market and putting it in cash.
Let's hope, for the bull's sake, it doesn't have to get that far.
James J. Cramer is manager of a hedge fund and co-founder of TheStreet.com. At time of publication, his fund had no positions in any stocks mentioned. His fund often buys and sells securities that are the subject of his columns, both before and after the columns are published, and the positions that his fund takes may change at any time. Under no circumstances does the information in this column represent a recommendation to buy or sell stocks. Cramer's writings provide insights into the dynamics of money management and are not a solicitation for transactions. While he cannot provide investment advice or recommendations, he invites you to comment on his column at
jjcletters@thestreet.com.
Evening Update: Evening Update: Terra-Lycos Deal, H-P Earnings Top Postclose News
By
Eileen Kinsella
Staff Reporter
5/16/00 8:23 PM ET
Spanish Internet company
Terra Networks
(TRRA)
agreed to buy Internet search company
Lycos
(LCOS)
for $12.5 billion in stock, or $97.55 a share. The combined company, to be called
Terra Lycos
, will have an estimated 50 million unique users and 175 million daily page views. As part of the agreement, Germany's
Bertelsmann
agreed to purchase $1 billion of advertising, placement and integration services over five years.
For more on this
story, see coverage from
TheStreet.com/NYTimes.com
joint newsroom.
Hewlett-Packard
(HWP)
reported second-quarter earnings of 87 cents a share before items, beating the 23-analyst estimate of 82 cents and the year-ago 73 cents. Total revenues grew 15% to $12 billion from $10.4 billion in the previous year. Hewlett-Packard said the latest results reflect a company reinvention that had set it on a course of consistent double-digit growth.
H-P spinoff
Agilent Technologies
(A) - Get Report
also reported second-quarter results. The company said it earned 36 cents a share in the latest quarter, including a gain of 4 cents. The 11-analyst estimate called for 32 cents, while the year-ago earnings were 41 cents. Agilent said the 11% decline in its operating earnings reflected planned activities related to operating independently.
For more on these
earnings, see coverage from
TheStreet.com/NYTimes.com
joint newsroom.
In other postclose news (earnings estimates from
First Call/Thomson Financial
; earnings reported on a diluted basis unless otherwise specified):
Mergers, acquisitions and joint ventures
TriZetto
(TZIX)
and
IMS Health
(RX)
announced a strategic alliance under which TriZetto will acquire Erisco Managed Care Technologies, a subsidiary of IMS, for TriZetto stock. The alliance overrides an earlier merger pact between the two companies announced in March. IMS Health will receive about 10.63 million TriZetto shares, valuing Erisco at $255 million.
Veritas Software
(VRTS) - Get Report
, a storage management software provider, said it reached an agreement with
IBM
(IBM) - Get Report
to make its software available for IBM's AIX Monterey systems.
Back to top
Earnings/revenue reports and previews
Advanced Digital
(ADIC)
reported second-quarter earnings of 14 cents a share, a penny better than the seven-analyst estimate and up from the year-ago 9 cents.
Nvidia
(NVDA) - Get Report
reported first-quarter earnings of 47 cents a share, well above the three-analyst estimate of 39 cents and the year-ago 18 cents. The company also set a 2-for-1 stock split.
Saks
(SKS)
posted first-quarter earnings of 23 cents a share, in line with the 18-analyst estimate but down from the year-ago earnings of 27 cents. Saks said the drop in profits was due to weaker-than-expected sales growth in its women's apparel business. The company said it set an operating target of 18 cents a share in the second quarter, 25 cents in the third quarter and $1.03 in the fourth quarter. Saks also said excluding its e-commerce unit, it expects fiscal year earnings between $1.75 and $1.80.
SINA.com
(SINA) - Get Report
posted a third-quarter pro forma loss of 20 cents a share, narrower than the single-analyst estimate of a 26 cent loss, but wider than the year-ago loss of 13 cents.
Back to top
Offerings and stock actions
Cross Timbers Oil
(XTO)
said it authorized the repurchase of up to 3 million shares of its common stock, or about 6.5% of shares outstanding.
Iteris
, a traffic safety software developer, asked the
Securities and Exchange Commission
to withdraw its plans for a $45.6 million IPO. In a letter to the SEC, the company said it felt it was no longer in its best interests to proceed with the offering.
Back to top
Miscellany
Semiconductor test equipment maker
Cohu
(COHU) - Get Report
said CEO Charles Schwan will retire effective June 30. Schwan, 61, will be replaced by President and COO James Donahue.
Digital Microwave
(DMIC)
said it named Sam Smookler president and CEO.
Back to top
Bond Focus: Long Treasuries Smile Upon Fed's Vigilance
By
Elizabeth Roy Stanton
Senior Writer
5/16/00 6:05 PM ET
The Treasury market reacted predictably to the
Fed's action on interest rates: Long-maturity issues rallied, since the Fed's vigilance against inflation should keep inflation low, preserving the value of those instruments. But short-maturity yields, which correspond more closely to the short-term
fed funds rate, stayed high, anticipating additional rate hikes later this year.
A slightly better-than-expected performance by the April
Consumer Price Index also supported long-term Treasury prices Tuesday.
"No one's saying that we'll never have inflation again, but the Fed's dealing with it," said Matthew Kuhns, a bond portfolio manager for
Transamerica
. And that's positive for long-maturity Treasuries, he added.
The benchmark 10-year Treasury note ended up 7/32 at 100 17/32, trimming its yield 3 basis points to 6.422%. But the two-year note lost 1/32 to 99 3/32, lifting its yield 2.6 basis points 6.876%.
The 30-year Treasury bond rallied 19/32 to 101 29/32, lowering its yield 4.6 basis points to 6.110%. At the
Chicago Board of Trade
, the June
Treasury futures contract gained 15/32 to 94 17/32.
In a move that virtually every Wall Street forecaster was expecting, the
Federal Open Market Committee hiked the fed funds rate to 6.5% -- the highest since 1991 -- from 6%. It was the sixth rate hike since June, but it was the first rate action larger than 25 basis points since February 1995.
Explaining the move in a
statement, the FOMC said: "Increases in demand have remained in excess of even the rapid pace of productivity-driven gains in potential supply, exerting continued pressure on resources." Left unchecked, it continued, this disparity "could foster inflationary imbalances that would undermine the economy's outstanding performance."
While almost everyone on Wall Street was prepared for the rate action, it appears that some were unprepared for the strong statement, which indicates the Fed is likely to deliver additional rate hikes in the months ahead. At the Chicago Board of Trade, the prices of
fed funds futures fell sharply, indicating a building consensus that the rate is headed up. For example, the contract that, on Monday, discounted a fed funds rate of 6.925% by September, on Tuesday discounted a rate of 6.965%.
"There's a debate on what the Fed has to do down the line," said Richard Bodkin, government bond trader at
Banc One Capital Markets
. "Either there's substantially more tightening to go, or the tightening cycle is nearing completion."
Needless to say, anyone hoping for an indication that Tuesday's action by the FOMC might be its last was sorely disappointed.
Kuhns of Transamerica expects the next rate hike -- either 25 or 50 basis points -- at the FOMC's next meeting June 27-28. With oil prices on the rise again, future inflation reports won't look as nice as Tuesday's CPI, he reasons. "The concern is that they fall behind the curve."
But at the same time, when you consider that Tuesday's action was the Fed's most aggressive in years, the market's performance Tuesday was downright impressive, some say. "If anything was notable it was the lack of volatility, given that this was a pretty aggressive move for a Fed that's been known as unaggressive," said David Connors, government bond trader at
Credit Suisse First Boston
.
Economic Indicators
The Consumer Price Index was unchanged in April following nine months of increases. Economists polled by
Reuters
had forecast a 0.1% gain.
A 1.9% decline in energy prices held consumer prices down. Excluding energy and food prices, the CPI rose 0.2%, in line with the average forecast.
The year-on-year growth rate of consumer prices dropped to 3.0% from 3.7% in March. The rate for core consumer prices dropped to 2.2% from 2.4%.
In other economic news,
real earnings rose 0.7% in April, as unchanged consumer prices did not affect the 0.7% gain in seasonally adjusted average weekly earnings reported by the
employment report.
Meanwhile,
housing starts rose a little more than expected in April. As mortgage rates drifted lower in April, the pace of housing starts quickened to 1.663 million from 1.618 million. But building-permit issuance, a leading indicator of housing starts, slowed to 1.574 million from 1.597 million. Starts peaked at 1.822 million in February.
Finally, the weekly retail sales reports benefited from Mothers Day. The
BTM Weekly U.S. Retail Chain Store Sales Index rose 0.9%, lifting the year-on-year pace to 2.0% from 1.2%, and the
Redbook Retail Average found May sales running 0.3% ahead of April.
Currency and Commodities
The dollar rose against the yen and the euro. It lately was worth 109.57 yen, up from 109.29. The euro was worth $0.9001, down from $0.9115. For more on currencies, please take a look at
TSC's
Currencies column.
Crude oil for June delivery at the
New York Mercantile Exchange
retreated to $29.72 a barrel from $29.92.
The
Bridge Commodity Research Bureau Index
rose to 221.98 from 219.98.
Gold for June delivery at the
Comex
fell to $276.20 an ounce from $276.40.
To view the TSC Economic Databank, see: http://www.thestreet.com/markets/databank/937617.html
Copyright 2000, TheStreet.com